L to R: Chase Elliott, Georgia Governor Nathan Deal and Bill Elliott at the Georgia State Capitol in Atlanta on Feb. 21, 2018 (photo courtesy of Atlanta Motor Speedway via Facebook). By  AMANDA VINCENT NASCAR Hall of Famer Bill Elliott of Dawsonville, Ga., along with son Chase Elliott, driver of the No. 9 Hendrick Motorsports Chevrolet in the Monster Energy NASCAR Cup Series, visited...
NASCAR Cup Series Highlights: Chase Elliott throws a block on Brad Keselowski but gets turned and sets off a big wreck, collecting Danica Patrick and Kevin Harvick.
Danica Patrick's last race of her NASCAR career comes to a premature end.
A few well-timed emojis sent to team owner Rick Hendrick helped make the case for Hendrick Motorsports' number swap for 2018.
Chase Elliott holds off a hard-charging Kevin Harvick to win the second Can-Am Duel at Daytona.
Chase Elliott won the second qualifying race for the Daytona 500. The win temporarily put the brakes on what has been a Team Penske route of Speedweeks.
Chase Elliott makes contact with Erik Jones, sending him spinning and collecting Kyle Larson and Matt Dibenedetto.
Chase Elliott talks with Adam Alexander and Larry McReynolds about still seeking his first win and his chances in 2018 Daytona 500.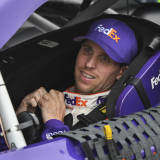 Danny Hamlin was not popular among fans who attended the NASCAR Cup Series race at Martinsville Speedway on Sunday.Hamlin battled with Chase Elliott — who had the lead at the time — on the final few laps of the race, and appeared to tap his opponent's bumper. That spun Elliott out and sent him into the wall, ending his chance of winning the race. The two drivers got into a bit of...
MORE STORIES >>
NASCAR News

Delivered to your inbox

You'll also receive Yardbarker's daily Top 10, featuring the best sports stories from around the web. Customize your newsletter to get articles on your favorite sports and teams. And the best part? It's free!