Found February 17, 2013 on Race Review Online:
It's been a perfect storm for the NASCAR Sprint Cup Series since they've arrived at the Daytona International Speedway this past week. The buzz around this season was big with a new sexy looking car as fans have been raving to see it. Then came the first two practice sessions of the season Saturday. In practice session No. 1, Danica Patrick was on top of the leaderboard for most of the early afternoon session. She was beat out near the end by Joey Logano and Austin Dillon, but that buzz of her speed alone certainly helped NASCAR and Speed gain more viewers for the afternoon session as fans wanted to see where she'd end up. As luck would have it, Patrick set the fastest speed of the day as she was nearly one full mph faster than her teammate and car owner Tony Stewart. That created an even bigger buzz as everyone was raving about how a woman could possibly sit on the pole for the Daytona 500. That gave today's qualifying session the biggest buzz that I could remember for a session in NASCAR racing. Normally, the Daytona 500 qualifying session is one of the most boring qualifying sessions all season long. It's very laid back as really it's out of the drivers hands for qualifying. They just hold the wheel and keep the gas pedal down. It's all on the crews with preparation and set-ups. That usually keeps fans away from watching or attending as there's not much of a buzz around it. Today though I'd have to say was very comparable to Indianapolis 500 qualifying and the 2001 Pepsi 400. Where there's not normally a buzz as most times people watching at home use today as a good time to take a nap. With Patrick laying down a lap early in the session that was quickest it kept people watching with intent on every driver making an attempt. That's big for NASCAR and Fox. Now, with Patrick on the pole there's a whole week build-up for the 500 next Sunday and the media attention for the race may be at an all-time high. There's now going to be more eyes on the race as casual fans or even someone watching for the first time will want to see what Patrick can do. That's why it reminds me of July 2001. Everyone remembers that tragic day on February 18th, 2001 at the Daytona International Speedway. Dale Earnhardt was tragically killed on the last lap blocking for his son Dale Earnhardt Jr. and Michael Waltrip who were running 1-2 running DEI cars for Earnhardt battling for the win. In July, it was very emotional as the series returned to the spot where Earnhardt was killed. Junior was strong on restrictor plate tracks and the buzz surrounding him if he could win would be the momentum the sport needed to put closure on his dads death and moving forward to the next chapter. The buzz was huge around him that July. Junior wound up winning that race getting help from his teammate Waltrip that night and was one of the most emotional fan favorite races in NASCAR history. Obviously, you can't compare the two situations but the buzz created around both are very similar. This will likely be the most watched Daytona 500 in the 55-year history of the race. Patrick created this huge buzz on her own, and NASCAR is capitalizing from it.   Photo courtesy of NASCARmedia.com The post Daytona 500: Danica Patrick's pole comparable to Junior's win in July 2001 appeared first on Race Review Online.
Original Story:
http://racereviewonline.com/daytona-5...
THE BACKYARD
BEST OF MAXIM
RELATED ARTICLES
Danica Patrick pole position at the Daytona 500, sounds great to her fans doesn't it. This is historic so I'll say it again- Danica Patrick pole position. She became the first woman to secure the top spot for any Sprint Cup race, let alone the season-opening Daytona 500. So she'll lead the field at the "The Great American Race" and NASCAR season opener. Yesterday, Patrick...
Daytona Beach, Fla., is steeped in motorsports history. Known as "the birthplace of speed," land speed records have been set on its white sand...
Photo Credit: Credit: Chris Graythen/Getty Images By: Katie Copple – Follow on Twitter @Katie_Copple History has been made and NASCAR has been brought into the national limelight as Danica Patrick clinches the Pole position for the 55th running of the Daytona 500. As Daytona Speedweeks kicked off with NASCAR Media Day on Valentine's Day, it was no secret that Danica was going...
Danica Patrick made history today, taking the top spot for next Sunday's Daytona 500. Patrick put down a best speed of 196.434 mph (45.817 seconds). She'll lead the field to the green flag with Jeff Gordon, who turned a fast lap of 196.292 (45.850 seconds). Danica became the first woman to qualify for the pole in Sprint Cup history, and the first Cup rookie to sit atop the...
Racer finally hits the big time.
photo credit:  getty images DAYTONA BEACH, Fla. (Feb. 17, 2013) – Danica Patrick made NASCAR history today during Coors Light Pole qualifying for the Daytona 500, becoming the first female driver to win a pole at NASCAR's top level – the NASCAR Sprint Cup Series.   During qualifying for the sport's marquee event, Patrick turned a lap of 196.434 mph (45.817 seconds), giving...
Donovan McNabb clearly is not a big NASCAR enthusiast. Much like football, auto racing is not for everyone. On Sunday, Danica Patrick became the first female driver to ever win the pole in a Sprint Cup Series race. The fact that she accomplished the feat at the Daytona 500 makes it even more noteworthy. By topping 196 mph in one of her qualifying laps, Patrick earned the right to...
Danica Patrick is just a natural at Daytona International Speedway...
This is your daily link roundup of our favorite sports posts on the web for Feb. 18. • Danica Patrick won the pole for the Daytona 500. Maybe now...
Photo Credit: Credit: Chris Graythen/Getty Images By: Toby Christie – Follow on Twitter @Tobalical That just happened. Sunday afternoon in Coors Light qualifying for the pole for the Daytona 500, Danica Patrick bested 44 other drivers to take the of the Great American Race. In doing so Patrick becomes the first female driver to ever capture a pole in the NASCAR Sprint Cup Series...
Donovan McNabb was a very good quarterback, media savvy and an astute businessman from what I hear. With that being said he has been known to make a curious comment or two. He didn't know NFL games could end in a tie and then there was this. Congrats to the Illinois native Danica Patrick on her win today. The first female to win in a big race with this magnitude. Big win — Donovan...
• Snowball fight at Dayton (O.) baseball game • Mark Martin: Danica "sitting on the pole" • Video: Screamin' A. Smith on SNL • Ric Flair needs protection from crazy wife • A 64-player NBA one-on-one tourney bracket • Jenna Dewan in her bed wearing THIS! • Um, Sara Jean Underwood cleav-bomb • Kate Upton grabbing a boob Harlem Shake At A Denny's Video of the...
NASCAR News

Delivered to your inbox

You'll also receive Yardbarker's daily Top 10, featuring the best sports stories from around the web. Customize your newsletter to get articles on your favorite sports and teams. And the best part? It's free!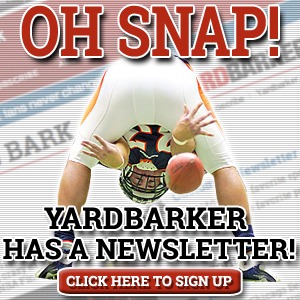 Latest Rumors
The Backyard

Today's Best Stuff

For Bloggers

Join the Yardbarker Network for more promotion, traffic, and money.

Company Info

Help

What is Yardbarker?

Yardbarker is the largest network of sports blogs and pro athlete blogs on the web. This site is the hub of the Yardbarker Network, where our editors and algorithms curate the best sports content from our network and beyond.