Found May 05, 2013 on Start 'N' Park Blog:
NASCAR Sprint Cup Series qualifying was rained out on Saturday at Talladega Superspeedway, so the starting grid for tomorrow's scheduled race has been set according to the rule book. By virtue of being the fastest in Friday's first practice session, Carl Edwards will start on the pole while Marcos Ambrose (3rd) and Joey Logano (4th) will also be among the top-five. MARCOS AMBROSE – No. 9 Stanley Ford Fusion WHAT IS YOUR OUTLOOK FOR TOMORROW? "I'm looking forward to it. We were all driving like idiots out there in that first practice knowing it was probably gonna rain today and we just sort of had to get a run and try to make something happen. I had the 56 behind me in Martin and we had a good run after about two laps and we made the most of it, so it's good to be starting in the front. You always eliminate a lot of accidents if you can stay at the front like that, so our plan tomorrow is to drive aggressive all day and try to stay up there. We know that track position is gonna be a big thing for everybody even though it's a plate race. There were definitely more runs yesterday, I thought, than what there was at Daytona as far as the cars getting more speed to make things happen out there, so I think it's gonna be a great race." KNOWING THE FORECAST, HOW MUCH DID YOU CHANGE YOUR PRACTICE PLAN YESTERDAY? "From our perspective we just knew that getting a lap time early when the pack was biggest was gonna be the way to go about the practice. We didn't change the car any for that. We just tried to position ourselves, not at the very back of the line, but we tried to hang back until the pack started really moving. I saw Martin coming with a few cars and I thought that was a good opportunity for us to get that run into the pack and carry that momentum that you needed to, so I think it was really just a strategy game rather than changing the car's setup to do it. I think that probably half the field was on that plan and the other half didn't really care for it and were just kind of cruising around or weren't even out there. Traditionally, the biggest pack is at the start of practice one here, and you saw that. If there was a 30-car pack at the end of practice yesterday, it would have been a very different order. We were just watching how it was all going down. I think Carl did a very good job to get back out there and set a fast lap at the end because I didn't expect that and I'm sure he got a great run and there were just enough cars out there to get it done." HOW STRANGE WAS IT TO PRACTICE THAT WAY? "You knew what you needed to do and everyone was trying to do exactly the same thing, so you just had to choose when to go and after Martin and I set the fast lap out there, we stayed out for another four or five laps because we didn't know if the pack was gonna go fast or if it was gonna get organized to have another shot at it, so I stayed out there for a while just making sure we weren't gonna get superseded by the pack getting organized because it was unorganized out there. Normally you get out there and you get lined up on the backstretch and you just start running, but it took us two or three laps to really get up to speed because everybody was trying to get to the back." DID THE CAR FEEL DIFFERENT OUT THERE BEING THE FIRST TIME FOR THIS GEN 6 CAR IN A BIG PACK AT TALLADEGA? "It's the same Talladega as what I've experienced here before. The cars get buffeted around a lot in the draft. For me and my package the tail can get moved around just a little bit with packing air to the side of the car. That doesn't necessarily make it loose, it can just slow it down and give it some buffeting effect, but I was impressed yesterday, compared to Daytona, that we were able to do more things out there. We were able to get runs and side draft and make progress out there, which I think at Daytona was difficult for us, whether the drivers are just getting better at learning these cars and making them work, I don't know, but, for me, I felt more racy out there than I expected as far as cars coming and going and making things happen." CARL EDWARDS – No. 99 Fastenal Ford Fusion WHAT IS YOUR OUTLOOK FOR TOMORROW'S RACE? "First of all, do we get the pole award. Am I in the Sprint Unlimited? Two things. I qualified second at Kansas. Matt had the pole, but then he didn't get the pole so it didn't count for him. I texted Mike Helton and said, 'Hey, what do you think? Do we get the pole award?' And he said, 'LOL.' I didn't think it was that funny (laughing) and then this. And the thing is, first of all, it was actually pretty exciting for all the teams yesterday because we looked at this forecast and we were all concerned that there wasn't gonna be single car qualifying. I don't know if you guys noticed, but it was like a heat race out there. Everyone was doing everything they could to lag back and partner up and get the fastest lap times they could and it was pretty exciting. We got the fastest lap with about one minute to go and it was really exciting, so that was our whole mission yesterday and I'm pretty proud of the fact that we ended up with the fastest time. Now the race, from that practice, I learned that these car – I mean, we were four-wide in practice once. That's what my spotter told me. The cars seem to do a really good job of pulling up and actually passing other cars here. Our car was very fast. I don't know if it's just that our car is real fast or if everyone is like that, but it looks like it's going to be a pretty crazy race. There might be a time where everybody falls into it. If we wreck early and everybody gets spooked into taking it a little easier, we might fall into line and try to conserve a little bit for the midpoint of the race, but I'm not even sure that's gonna happen. It looked like it was a pretty wide-open practice session, so I think tomorrow could be any type of race, but I can guarantee you the final couple of laps are gonna be insane." HOW IMPORTANT IS YOUR STARTING SPOT FOR TOMORROW? "I think in qualifying you do get to see whose cars are the fastest and that's something we didn't get to see in practices, who could run fast by themselves, so I haven't looked through the starting grid to see if there are guys that are really fast and if there are historically fast cars in the back. But this race, this track, everything about it is it's so chaotic and unpredictable that I think the stats really don't mean much here. You could have all the stats in the world, but someone could win this race that's not even on the radar up until that victory, so I'm definitely happy that we've got a fast car and that we're starting up front, that's good, but anything can happen. The last lap of this race could turn the field inside-out and anything could happen." JIMMIE JOHNSON HAS A 43-POINT LEAD ON THE FIELD. DO YOU FEEL HE'S THAT MUCH BETTER THAN EVERYBODY ELSE OR ARE THE NUMBERS JUST NUMBERS AT THIS POINT? "First of all, those guys are very, very good. But it was a little bit shocking to me when they said, 'Hey, you're second in point.' I thought, 'That's great,' and then I saw that gap and I thought, 'Man, that's spectacular.' Those guys have done a really good job. I'm not exactly sure, I haven't gone back and looked at how their season has gone. I don't know if they've had better than average luck or if they've run really well. Obviously, they've run really well, but it's still very early. Everybody right now is still in the 'hey, let's be in the Chase.' That's what everybody is focusing on and then once the Chase starts, all of that stuff gets wiped away, but they are very good. None of us like to look up there at the top of the standings and see Jimmie and Chad doing that well because we've all learned through experience that when those guys are good, they're very, very tough." DOES BEING IN THE BOOTH AS A BROADCASTER FOR THE NNS RACES HELP YOU LEARN THINGS AS WELL FOR CUP? "Yes. I feel that our performance at Richmond, there was a small part of that was due to my time in the booth the night before. I got to see, and each time I do the broadcast I get to see the sport from a little different perspective. Number one, I'm forced to really pay attention, which, if I watch it on television or even if I was driving the car, you're not forced to pay attention to everyone's strategies and everyone's mistakes. But being in the booth I watch the way people gain advantages and the mistakes they make and did wrong and right. I thought that helped me specifically at Richmond. I'm really looking forward to this race. I hope I get to broadcast it today because I feel that more than any of the races these restrictor plate race tracks you always wish you could go back and run them again. You always wish that you could start over because it's such an easy track to make a mistake on. I think broadcasting the race I'll watch the guys in the Nationwide Series and it will be very front of mind tomorrow when I'm racing – anything that I need to focus on – so it's been really good. I'm telling you, I'll do anything I can to get that Fastenal Fusion to Victory Lane. Anything I can learn, anything I can glean from these guys that would be great."
Original Story:
http://startnparkblog.com/?p=25573&ut...
THE BACKYARD
BEST OF MAXIM
RELATED ARTICLES
Team: No. 99 Fastenal Ford Fusion Crew Chief: Jimmy Fennig Primary Chassis: RK- 835 which last ran in the Budweiser Duels Backup Chassis:RK – 829 backup which last ran as the primary for the Sprint Unlimited Edwards at Talladega: In his previous 17 starts at Talladega, Edwards has one top-five and four top-10 finishes. Edwards' average start at Talladega is 14.9, his average...
Carl Edwards was awarded the pole for Sunday's Aaron's 499 from Talladega after qualifying was rained out. Martin Truex, Jr., Marcos Ambrose, Joey Logano, and Ryan Newman round out the top five starting positions. The only driver who missed the race was Elliott Sadler. The event will be live on FOX at 1 PM EST. Pos # Driver Team Reason 1 99 Carl Edwards Fastenal Ford...
The tenth race of the NASCAR Sprint Cup Series season will take place on Sunday. Carl Edwards will lead a field of 43 cars to the green flag in the Aaron's 499 from Talladega Superspeedway. Qualifying for the race at NASCAR's biggest track was rained out allowing Edwards to claim the pole based on his speed in practice. The rain also prevented Elliott Sadler from making the race...
Rain interrupted the running of Sunday's Aarons 499 at Talladega Superspeedway. Carl Edwards was in front when rain came after the halfway mark, but NASCAR made use of new track drying equipment to get the field rolling again and finish the distance. After the long delay, drivers fought tooth and nail despite having more than 100 miles remaining in the race. The action was as...
Rain has washed out qualifying for Sunday's race at Talladega Superspeedway. The field was set based on practice times from Friday's first session, and Carl Edwards was fastest to earn the pole in his Roush Fenway Racing Ford. Martin Truex Jr. will start second, followed by Marcos Ambrose and Joey Logano. Ryan Newman will start and Matt Kenseth sixth. Denny Hamlin will...
JOEY LOGANO – No. 22 Discount Tire Ford Mustang HOW WAS YOUR QUALIFYING LAP? "There's not much as a driver you can do here, but the car drove all right. We were trying to max out our temps as much as we can to try to make the most power we can get. I think we all thought we were gonna qualify a little bit better than that, but we'll see what that puts us." HOW DO YOU FEEL...
Rain interrupted the running of Sunday's Aarons 499 at Talladega Superspeedway. Carl Edwards was in front when rain came after the halfway mark, but NASCAR made use of new track drying equipment to get the field rolling again and finish the distance. After the long delay, drivers fought tooth and nail despite having more than 100 miles remaining in the race. The action was as...
Qualifying for the NASCAR Sprint Cup Series race at Talladega Superspeedway was rained out. The rain will allow Carl Edwards to start on the pole for the Aarons 499. Edwards was the fastest in practice for the race which will be run on Sunday. One negative of the rain was the impact on the No. 81 car of Elliott Sadler which is running a limited schedule and needed to qualify for...
Carl Edwards led the way with a lap of 47.958 seconds in the first practice for the Aaron's 499 from Talladega. Rounding out the top five was Martin Truex, Jr., Marcos Ambrose, Joey Logano, and Ryan Newman. Pos # Driver Team Time Behind 1 99 Carl Edwards Fastenal Ford 47.958 Leader 2 56 Martin Truex Jr. NAPA Auto Parts Toyota 47.964 -0.006 3 9 Marcos Ambrose Stanley...
With another week in the books, here are this week's Start 'N' Park Blog Pick 'Em Challenge results. Jason and Matt got the winning pick for Saturday's Nationwide Series race, picking JR Motorsports driver Regan Smith. Smith claimed the victory narrowly over Joey Logano, Brittany's pick. Sunday it was a total crap shoot on the track. Wrecks and chaos on the final laps...
photo credit:  getty images KERRY THARP:  David Ragan, let's hear from our race winner.  He drove the No. 34 Farm Rich Ford for Front Row Motorsports in a one-two finish today.  Congratulations to owner Bob Jenkins, crew chief Jay Guy.  This is David's second win in the NASCAR Sprint Cup Series, his first win at Talladega in the Sprint Cup Series, and David, just take...
NASCAR News

Delivered to your inbox

You'll also receive Yardbarker's daily Top 10, featuring the best sports stories from around the web. Customize your newsletter to get articles on your favorite sports and teams. And the best part? It's free!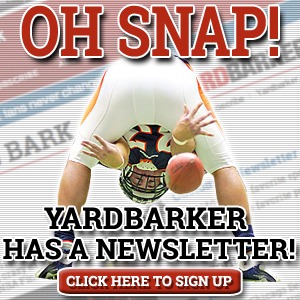 Latest Rumors
The Backyard

Today's Best Stuff

For Bloggers

Join the Yardbarker Network for more promotion, traffic, and money.

Company Info

Help

What is Yardbarker?

Yardbarker is the largest network of sports blogs and pro athlete blogs on the web. This site is the hub of the Yardbarker Network, where our editors and algorithms curate the best sports content from our network and beyond.