Found March 02, 2013 on Start 'N' Park Blog:
BRAD KESELOWSKI – No. 22 Discount Tire Ford Mustang PRESS CONFERENCE – "I thought off of practice that we were gonna have a miserable day, but it was a pleasant surprise we were able to find a little bit of speed and get our car to where we could at least have a respectable day. I thought we might even have a little bit more there if we would have caught the right breaks, but we did catch some good breaks to get a second, but we didn't have anywhere near the speed that the 54 car did. So it was a good day of execution in the race, but we just need a little bit more speed. If we hit both of those, you'll have a day like what that 54 did. That was pretty phenomenal how fast his car was and what he was able to do with it." WHERE DOES THIS FINISH RANK FOR YOU AT PIR? "I don't know about you, but I don't remember 50 years of racing here. I don't know how I could answer that. I would have to watch a lot of tapes. I remember like four or five, but 50? I'm sure there were some really cool races 50 years ago that I never saw, so I don't know. I'd feel like jerk to say that the best race here was today and not even know the rest of the story. My best race? I haven't run 50 here. Maybe one day I will, I'll be like Mark Martin. I don't know. I thought last year's fall race was pretty good, so I would probably put that the best. I don't know beyond that." DID YOU THINK YOU HAD A SHOT WITH YOUR STRATEGY TO WIN? "I knew I had a shot if something happened to Kyle, but you've got to put yourself in a position for good things to happen to you. Kyle's car was so fast that I could have probably had four tires and he could have had none and it wouldn't have mattered, he would have still drove through the field. When you have that much speed, you're pretty much immune to strategy." WERE YOU GOING TO TRY AND STRETCH THE FUEL AS A TEST WITH THIS FORD MOTOR? "I guess you could put it that way. It's definitely a different package, but from what I can tell it's probably a little better package and you never really know until you run it through its measures in a real race situation. It seems like we can go out and test everything and never really find the real answer until you try it in the race, but I guess the best way I can answer it is I would have been very pleased to see us get to a situation where we could have proved it out." KYLE WON TODAY. DO YOU GET MORE CONCERNED WITH HIM ON SUNDAY IF HE WINS ON SATURDAY? "Is that like a psyche question? I didn't go to college and study any of that stuff. I can speak for myself and tell you it doesn't hurt (winning on Saturday and having confidence for Sunday), but everybody is probably a little different on how they react to things like that. The biggest thing is that they had a phenomenal car today, but whether that's my success or his success, or either of our failures in this series, they're still two different days and two different teams and two different cars. Success today or success in the past is never a guarantee of success in the future or failure. It's an indicator, but nothing more." WILL CUTTING THE DOGLEG BE SUCCESSFUL IN THE CUP CAR? "I think the Cup car is definitely a different animal. The little bit more speed you carry in the Cup car seems to make all the difference in the world. It's a little bit more fragile of a car, so I would say probably not." TREVOR BAYNE – No. 6 Valvoline NextGen Ford Mustang ON HIS RACE: "Mike Kelley does great with pit strategy. Our Valvoline NextGen Ford Mustang was OK. It wasn't the best it's ever been, but we had to try to get track position and when we didn't have track position I tried to be smart with it and just keep the fenders on it. I hated that we got together with the 20 there. I don't really know what happened to this point, but I'm excited with a top five. That's what we've got to do every week and just chip away at this points battle and not jeopardize ourselves. Maybe I could have run the 31 a little bit harder and tried for a top three, but that will come later in the season. Right now, with what happened in Daytona, we've just got to have these top fives every week." A GOOD BOUNCEBACK WEEK. "Yeah, it feels good to be able to turn it around after a bad week. These guys never got down one time during the week at the shop. You couldn't even tell that we had something bad happen, and that's what it takes. You can't get down in the valleys or on the mountaintops when you're running good. You've got to stay in the middle ground and I'm proud of them for doing that." SAM HORNISH JR. – No. 12 Detroit Genuine Parts Ford Mustang HOW LONG WAS IT AFTER THE INTIAL INCIDENT THAT YOU WERE GOING TO BE OK? "I felt like from the first couple laps right after we started there that we were gonna be decent, but then, for whatever reason, we took two tires and it was just all over the place. We came back in after I spun and put four tires on it and the car was pretty good, so to be able to come back the way we did just says a lot about this team and the hard work they're putting into it. First off, I feel really blessed you can go through an accident like we got into on lap two and not put a big hole in the radiator and have our day be done." IT'S NOT A LONG RACE, SO IT'S PROBABLY EASY FOR PANIC TO SET IN, BUT YOU GUYS BOUNCED BACK STRONG. "On lap two you never want to be in anything, but usually if you go to Martinsville and something happens you've got another 498 laps to go, not 198, but the good thing was that even though this is a race track that races a lot like a superspeedway in the fact that you need to have aero, we didn't completely kill the front end where we had to pull anything off and have openings. Yeah, it was mangled, but at the end of the day it was still all there, so that was the best part. Whatever is different about our radiators from last year by being in these Fords, if we would have had a hit like that last year, I guarantee we would have been coming back and putting in a new radiator. So whatever Ford Racing and the engineers did to try and get these radiators down a little bit lower helped us out a lot today." TRAVIS PASTRANA – No. 60 Roush Fenway Racing Ford Mustang ON HIS RACE: "They started crashing in front of me. I thought I could get to the inside and I just wanted to try to get down, so once I got in the marbles the first lap and was loose, the second lap came in and I saw them crashing in front of me. I kind of let off, but I just got in the marbles again, so, unfortunately, it was a pretty useless day for learning. We thought we were pretty good at the end of practice, but we were so far off from where Trevor was, so we went with Trevor's stuff just to see if it would work and I have no idea. We just drove around all day. The team did such a great job. If you see the front tire, it's folded over completely, so I don't know how the car survived." IS IT REALLY A SITUATION WHERE YOU WON'T LEARN ANYTHING EVEN IF YOU STAY OUT THERE WITH THE CAR IN THAT SHAPE? "We picked up four points, but I have no idea about the adjustments we made. We know that we had a good qualifying run compared to where we practiced. I think we were on the right track there, but there's not a lot we can pick up because I didn't get one single lap with the tires up to pressure before the entire car was completely different. The front wheel was busted out, the splitter is off the right-front tire. I mean, the team earned their money today. They always do." WHEN YOU GO TO TREVOR'S SETUP IS IT A CASE WHERE YOU HAVE TO ADJUST YOUR DRIVING STYLE BECAUSE IF IT WORKS FOR TREVOR YOU FEEL IT SHOULD WORK FOR YOU? "No. When you go to somebody else's, like what Trevor had, he was quicker in practices. We were so far off that it was like, 'OK, it's probably gonna be way too loose.' So we went with Trevor's, which was tighter, and, honestly, I was still too loose, so I'm really happy that we went that way. I know from the dark fish where his line is and I know where my line is, and if we're not working down where my line was, I was gonna say, 'OK, he was faster anyway up here, so let's do that. Let's have more RPM in the corner.' So just learning where you can run the car, but with this car we never knew because we never had a chance." ARIC ALMIROLA – No. 43 Pilot/Flying J Ford Mustang ON HIS RACE: "It was not what we wanted for sure. We were kind of off the whole time. We came with a little bit different setup than what I've ever run and we just couldn't get a handle on it. We got it decent at times, but never got it where we really needed it, but, all in all, it was a great effort for those guys. I had a lot of fun and I'm thankful I got the opportunity to drive that Pilot/Flying J Ford Mustang. Now we'll get ready for tomorrow's race. I think I learned some stuff." Ford Finishing Order: 2nd – Brad Keselowski 4th – Trevor Bayne 7th – Sam Hornish Jr. 9th – Aric Almirola 28th – Travis Pastrana
Original Story:
http://startnparkblog.com/?p=21899&ut...
THE BACKYARD
BEST OF MAXIM
RELATED ARTICLES
How do the drivers like the NASCAR Generation 6 car so far? Depends who you ask. If you're a driver whose idea of racing is based on green-flag passes for the lead, then it may leave a little to be desired. Sunday's Subway 500 featured 12 lead changes and only Brad Keselowski's pass of Mark Martin on Lap 127 was not made entering, during or coming out of a caution....
The 2012 season was plagued with inconsistent rulings by NASCAR. The same "crime" committed by a driver had multiple different punishments. This made NASCAR's rulings very inconsistent. So far in 2013, NASCAR hasn't had consistency issues but, I do believe if something similar to the Jeremy Clements situation were to happen to a big name Cup driver, the rulings would be different...
NASCAR News

Delivered to your inbox

You'll also receive Yardbarker's daily Top 10, featuring the best sports stories from around the web. Customize your newsletter to get articles on your favorite sports and teams. And the best part? It's free!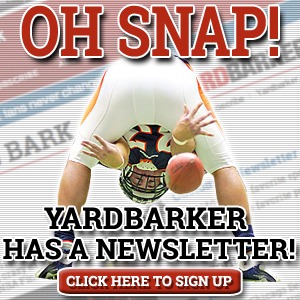 Latest Rumors
Best of Yardbarker

Today's Best Stuff

For Bloggers

Join the Yardbarker Network for more promotion, traffic, and money.

Company Info

Help

What is Yardbarker?

Yardbarker is the largest network of sports blogs and pro athlete blogs on the web. This site is the hub of the Yardbarker Network, where our editors and algorithms curate the best sports content from our network and beyond.