Found March 24, 2013 on Start 'N' Park Blog:
BRAD KESELOWSKI, No. 22 Discount Tire Ford Mustang – Finished 19th "Our day was long. It was a long day. We just missed it at the start of the race and didn't get it close to being right until the end and at that time it was too late. We had to race for strategy and it just didn't fall our way today." TRAVIS PASTRANA, No. 60 Roush Fenway Racing Ford Mustang – Finished 13th "I was trying to follow Trevor's lead right there. That was wild actually. I have never really slid that close to the wall on the outside and when you get close to it it kind of sucks you in a little bit. It also gives you something to lean on. We used the wall probably about 50 or 60 feet but it doesn't look that bad right there. I think that is some good old American engineering right there." HOW HARD WAS THIS TRACK TO MANEUVER FOR YOU WITH THE BUMPS AND SEAMS? "It is just wild that you could really make the car do a lot of different things by how you positioned it and where you put the bumps and seams. If it was a little bad and you hit the wrong one then you were real bad, real fast. I don't know. It is just frustrating to half see the front but never really get there where we want to go. The crew did a good job and I had a great car. I could see Trevor a few times and he ended up in front of us in ninth so we definitely have something to learn from him. On restarts he would just pull away and I kept thinking that we had the same car, so what was he doing that I am not doing? We started leaning on the wall like he was leaning on the wall and we had some fun. It was not exactly what we were trying to do but we got the laps and we got the finish and now we need to figure out the speed." TREVOR BAYNE, No. 6 Cargill Ford Mustang – Finished 9th "We got it way too free there at the end. We were fine for a little while and drove up to fifth but we put fuel in and loosened it up at the same time and I don't know if that was the best thing to do. It took us so long to get that fuel burn off to get it back going again. It is frustrating when you have a car you can run top five with and you give it up from ill handling. The right rear is probably worn out on this thing from letting the wall hold me in the race track. That was all I could do with it though. It is frustrating." REED SORENSON, No. 43 Pilot Ford Mustang – Finished 17th "It was an okay day. We kind of struggled getting front and rear grip. The track is really slick here. It felt like we got better as the race went on and then a little pit strategy at the end – we were hoping for a caution and we took fuel only. The caution never came out so that was the opposite of what we needed to happen. Other than that, I think we made the car better as the race went on, we just needed to get the front end better before the race starts and that would be easier for us to tune on during the race." SAM HORNISH JR., No. 12 Wurth Ford Mustang – Finished 2nd | POST RACE PRESS CONFERENCE SAM, TALK ABOUT YOUR DAY TODAY AND THE ABILITY TO TAKE THE POINTS LEAD INTO THE OPEN WEEKEND. "It feels really good. We started off the year just the way we wanted to and have made sure we took care of the car throughout the first five races as well as we could. We wanted to get out of the box good and I preached that to the team in the off-season. We wanted to get through the first five races in good standing and I am real happy with the way Greg Erwin and the guys on the team have been performing and the job they are doing for me. Everyone is working together and we have a bunch of new guys and some guys that we have had on the team for awhile that are kind of the ones that hold everything together and show them how it needs to be done. Everybody works well together and I am proud of everyone on this Wurth Ford Mustang. We just didn't have enough to beat Kyle (Busch) today. We ran hard and got the lead on the restart a couple times. He would run real hard on the first 50 to 75-percent of the run and slide the car around and wear it out and we would catch him the last 25-percent. We were doing it again on the last run and I just got within about 10 car lengths of him and got greedy and drove it in too hard and got into the wall. We want to win races as bad as we want to win the points. When there was still smoke in the car halfway down the back straightaway I was worried we would end up with a flat tire and I would end up looking real bad. I am glad things worked out the way they did." DO YOU FEEL LIKE IF YOU DIDN'T SCRAPE THE WALL AT THE END THAT YOU MIGHT HAVE RUN KYLE DOWN? "I feel like if I hadn't I might have had a opportunity but I had to drive it that close to being on the edge to be able to catch him the little bit that I did. I could catch him a tenth and a half one lap and then I would stay even with him. It was almost like he was just keeping the gap pretty much the same. The only thing I felt like we might be able to do a little better was run through traffic and we saw it coming but it just wasn't what we were going to need. It was great racing. I thought letting him have the lead earlier and not fighting him for it would let him wear his tires out a little bit more but I overestimated how much I was pushing it and I didn't have much right rear to go on and I had to move up my line to be able to run him down at all."
Original Story:
http://startnparkblog.com/?p=23406&ut...
THE BACKYARD
BEST OF MAXIM
RELATED ARTICLES
Brad Keselowski might not come to the Auto Club Speedway with a victory next to his name, but he does have one thing 42 other drivers wish they had. That would be the points lead. Keselowski currently sits nine points ahead of his former Nationwide Series boss Dale Earnhardt, Jr. in his quest to repeat as Sprint Cup Series champion. While that is great for him, he would still like...
Defending NASCAR Sprint Cup champion Brad Keselowski loved the RPM's the Sprint Cup cars were turning on Auto Club Speedway's 2.0 mile racetrack in Friday's practice sessions. "There is no doubt that this car is so fast that we're carrying more speed than we've ever carried pretty much at every track," Keselowski said before practice. "That isn...
On the official starting lineup sheet Ford drivers Greg Biffle and Brad Keselowski will start second and third respectfully today. In reality, both drivers will start shotgun on the field after both changed engines Friday. Biffle's engine change happened during practice, relegating him to only eight laps on the track before qualifying. Keselowski's change happened right before...
BRAD KESELOWSKI, No. 2 Miller Lite Ford Fusion (Qualified 3rd) ON HIS LAP:"The Miller Lite Ford is pretty fast. I am not a really good qualifier so you know if we qualify well we are going to be a threat. It is a good sign." WHAT DID YOU FEEL OUT THERE AND WHAT CAN WE EXPECT SUNDAY? "My car was really good and it has a lot of grip in qualifying mode. In the race they tend to...
Photo Credit: Jonathan Ferrey/Getty Images By: Toby Christie - Follow on Twitter @Tobalical What an incredible turn of events that unfolded in the closing laps at Auto Club Speedway — a track not normally known for exciting races, or finishes. That all changed after the 2013 Auto Club 400, as the fans will be talking about this race for a long time to come. The latest chapter...
NASCAR News

Delivered to your inbox

You'll also receive Yardbarker's daily Top 10, featuring the best sports stories from around the web. Customize your newsletter to get articles on your favorite sports and teams. And the best part? It's free!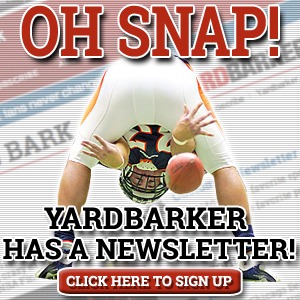 Latest Rumors
The Backyard

Today's Best Stuff

For Bloggers

Join the Yardbarker Network for more promotion, traffic, and money.

Company Info

Help

What is Yardbarker?

Yardbarker is the largest network of sports blogs and pro athlete blogs on the web. This site is the hub of the Yardbarker Network, where our editors and algorithms curate the best sports content from our network and beyond.