Found March 15, 2013 on Fox Sports:
Jeff Gordon said he's never really been a part of something quite like this. He's watched a video put together by Pepsi Max involving a disguised Gordon, a test drive and a terrified salesman go viral. The four-time NASCAR Sprint Cup champion has enjoyed it. "What a fun experience this has been," he said. "I've never been a part of anything like this, that viral video that's gone to this level ... I've had a lot of fun doing it and I've had a lot of fun seeing all the things on Twitter and everywhere else as well as every time I watch it I still laugh." In fact, Gordon wants to show more from the experience. It took two days to film it all, and Gordon himself spent two hours getting into his disguise. He said he's been pushing for more of the behind-the-scenes footage to be shown. "There's so much more that we did that gets edited out," he said. "That's why we had to use a stunt driver. You only have so much time over a two-day period of what you can do. That was something that I would have liked to have done, I think I could have pulled off 90 percent of it, but it's pretty standard practice to have a stunt driver fill in for you." Gordon said he knew he was "putting himself out there" into unfamiliar territory by making the video, but he had fun. "I just laughed," he said. "When I did that, I knew I was putting myself out there quite a bit, and that's sort of unfamiliar territory. You look at yourself and you go, 'Okay, I'm either going to look really dumb here, or this is going to be a hit, and people are going to laugh.' "I know how much fun I had doing it, but after watching, I thought they did an awesome job editing it, making the whole thing really come together and be a lot of fun. I laughed my butt off, to be honest. I've watched it probably six or eight times, and every time I've just cracked up."
Original Story:
http://msn.foxsports.com/nascar/story...
THE BACKYARD
BEST OF MAXIM
RELATED ARTICLES
If this were real, it would be one of the all-time best pranks in the history of the human species. For a new Pepsi MAX advertisement, the production team decided to follow the faux documentary trend, and chronicle Jeff Gordon giving a card dealer the ride of his life. In the ad, Gordon first gets extensive makeup done to make him appear older and unrecognizable. He then proceeds...
Pepsi MAX has come up with a formula for their commercials. Dressing athletes up and completely fooling unsuspecting people. Fits in with the line for the beverage, looks and taste like the real thing without the calories. First there was Kyrie Irving with "Uncle Drew." Now, check out the latest featuring NASCAR driver Jeff Gordon in disguise taking a car salesman on a test drive...
Ed Note: This article first appeared on our sister site, Awful Advertisements. Pepsi MAX disguised Jeff Gordon and sent him to a used car dealership. Gordon then asked one unsuspecting car salesman to go for a test drive - one he won't soon forget. Assuming the car salesman isn't in on it - judging by his believable reactions, we don't think he is - this is one...
The fine folks over at Pepsi Max have already given us NBA player Kyrie Irving as "Uncle Drew" and it appears that NASCAR driver Jeff Gordon has also joined forces with them to prank an unsuspecting used car salesman. Check out Jeff as a guy named "Mike" (who is outfitted with many hidden cameras) whose in the market for a used car. That's when car salesman...
Jeff Gordon says he knew he was "putting himself out there" by making a video that has gone viral...
Video: Every test drive should be like this.
In this classic ad campaign. Wouldn't it be fun to pull this stunt on a car salesman?
Of all the places to get a drug test, Jeff Gordon fools a car salesman, and another Athlete gives the rap game a shot...
Matt Kenseth can not seem to get a break at Bristol. Last year Kenseth was racing with Tony Stewart when the two crashed, resulting in a helmet toss. This year it was the No. 24 of Jeff Gordon losing a tire that resulted in Kenseth's car receiving severe damage. Gordon was leading the Food City 500 when his car lost a right front tire and drove up the track hitting the wall. Kenseth's...
NASCAR News

Delivered to your inbox

You'll also receive Yardbarker's daily Top 10, featuring the best sports stories from around the web. Customize your newsletter to get articles on your favorite sports and teams. And the best part? It's free!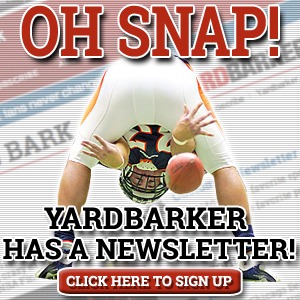 Latest Rumors
The Backyard

Today's Best Stuff

For Bloggers

Join the Yardbarker Network for more promotion, traffic, and money.

Company Info

Help

What is Yardbarker?

Yardbarker is the largest network of sports blogs and pro athlete blogs on the web. This site is the hub of the Yardbarker Network, where our editors and algorithms curate the best sports content from our network and beyond.