Posted May 12, 2012 on AP on Fox
Time has not smoothed things over between Kyle Busch and Kevin Harvick. The two Sprint Cup stars stole the show at the Southern 500 last year with their post-race dustup on the way to the garage after Regan Smith's victory at the track ''Too Tough To Tame.'' Harvick was angered with Busch's tactics late in the race when both were contending for the checkered flag. Busch, Harvick and Clint Bowyer were three-wide on the narrow track during a late restart when all were trying to chase down Smith. Bowyer went sprawling into the interior wall after contact. As cars spun out behind, Busch gathered his machine, then veered down the track and sent Harvick spinning. Smith held on through a green-white-checkered finish for his first Sprint Cup victory. But the real drama was unfolding on pit road as Busch and Harvick drove from the track. Busch was up against Harvick's back bumper when Harvick jumped out and rushed toward Busch's window where it looked like he took a swing at Busch. Busch bumped Harvick's driverless car into the interior wall and headed into the garage. Both were called into the NASCAR hauler and each left composed - although with different versions of what happened. Busch said Harvick engaged in ''unacceptable racing.'' ''I gave him room off of two, I didn't get the room,'' Busch said. Harvick said he was running hard and ''things happen. That's it. What do you do?'' Busch and Harvick were both fined $25,000 and placed on probation by NASCAR after the Darlington tussle. The two said they hadn't talked about what happened last year. ''I tend to be able to let things go and forget about things while others tend to keep dwelling and keep bringing them back up,'' Busch said. That includes Darlington Raceway leaders, who used the incident as part of its promotional campaign. The track urged fans not to miss round two between ''Hitman'' Harvick and ''Rowdy Busch.'' Billboards, radio spots and Internet ads saturated the market with another potential tangle. Harvick understood why the track used the incident to attract fans. He said he hasn't spent too much time worrying about it. ''I don't talk about Kyle or to Kyle,'' Harvick said. --- OLD DARLINGTON?: Is Darlington Raceway again ''Too Tough To Tame?'' Four years after a major repaving project, it seems the old, gnarly, tire-chewing surface is back rearing its ugly head for Sprint Cup's top racers. Howard Comstock with SRT Motorsports Engineering said there were ''Darlington stripes'' on nearly every car you looked at during Friday's practice. ''They tried to pave (tire wear) out of the racetrack when they did the repave in 2008, but it's back,'' Comstock said. The past few years since the repaving have allowed race teams to use two tires near the end to save time and beat rivals out of the pits. Those days, Comstock said, are probably done. ''I think we're back'' to four-tire pit stops all the time, he said. ''I think the track has enough wear on it now that were back to four tires every chance you get,'' he said. Sprint Cup series points leader Greg Biffle said fresh tires are become as important as they were before at Darlington. Biffle won here in 2005 and 2006 before the track's repaving. Four new tires ''picks the speed up a little bit,'' he said. --- REMEMBERING SHELBY: NASCAR drivers, race teams and leaders paid their respects this weekend to driver and sports car designer Carroll Shelby, who died Thursday at age 89. The Nationwide Series race at Darlington Raceway held a moment of silence in Shelby's honor. Track owner Bruton Smith said Shelby was one of his best friends and an innovator in the automotive industry. ''I admired him a great deal and will miss him greatly as a friend and a business partner,'' Smith said. Former Charlotte Motor Speedway President H.A. ''Humpy'' Wheeler said Shelby was a character in the automotive industry that rivaled Bill France Sr., Enzo Ferrari, Smokey Yunick and Barney Oldfield. Shelby ''could see the future of performance better than anyone I ever knew,'' Wheeler said. Two-time Darlington champion Greg Biffle was saddened by Shelby's passing. ''I've got a few of his cars and he was an inspiration to all car collectors and car guys across the country,'' Biffle said. ''I grew up in that era when all the muscle cars were happening and did a lot of stuff for hot rods and other cars.'' --- FIRST FAN: South Carolina Gov. Nikki Haley came to Darlington Raceway for the first time for a tour of the state's NASACAR superspeedway. Haley and her husband, Michael, took part in the drivers' prerace meeting and the first-term leader got to meet her favorite driver, Danica Patrick. ''Michael took a picture of it. It should be up on Facebook soon,'' Haley said. Haley said the Southern 500 brings 60,000 fans and millions of dollars to the area and is a wonderful way to showcase South Carolina. ''It is amazing what goes into these races,'' she said. ''It really tremendous for the state.'' Her biggest surprise of the day? ''That Danica Patrick is tiny. She's absolutely tiny,'' Haley said about the 5-foot-2 racecar driver. --- LUGNUTS: It's Mother's Day weekend, which means Darlington's annual tradition of honoring mom. Several NASCAR moms came out along with their driver sons during prerace introductions, then the group gave the starting call of ''Sons and drivers, start your engines.'' ... Carl Edwards has pointed to Darlington Raceway more than most competitors since ending runnerup to Regan Smith in a green-white-checkered finish. ''We've been waiting since that last restart a year ago to come back here,'' he said. ''Everyone talks about this being one of the biggest races and it really is for our whole team.'' ... Last week's winner at Talladega, Brad Keselowski, is making his 100th career Sprint Cup start. ... Nominations for the 2012 Betty Jane France Humanitarian Award close May 31. The award honors NASCAR fans making an impact with children in communities across the country.
Original Story:
http://msn.foxsports.com/nascar/story...
THE BACKYARD
BEST OF MAXIM
RELATED ARTICLES
Kevin Harvick, driver of the #29 Budweiser Chevrolet, met with members of the media at Darlington Raceway and discussed last year's on-track incident with Kyle Busch, the Sprint All-Star race, Mother's Day, and other topics. WHAT ARE YOUR THOUGHTS ON BEING DUBBED 'THE HITMAN' IN THE BILLBOARDS AROUND THE TRACK? "Things are what they are.  We have tried to move past them...
Those Busch brothers can't seem to avoid the spotlight at Darlington Raceway. A year after Kyle Busch tangled with Kevin Harvick in the pits after Regan Smith's first Sprint Cup win, the crew for Kurt Busch scrummed with Ryan Newman's group while Rick Hendrick and Jimmie Johnson celebrated the car owner's 200th career victory at the Southern 500 on Saturday night...
Jimmie Johnson broke free on a restart three laps from the end in the Southern 500 and held on Saturday night to give Hendrick Motorsports its 200th Sprint Cup victory. Johnson seemed short on fuel and tires and looked vulnerable with Tony Stewart and Kyle Busch right behind and ready to pounce after Kurt Busch and Ryan Newman spun out with six laps left at Darlington Raceway. ...
Make it 200 victories for owner Rick Hendrick. Jimmie Johnson held off Denny Hamlin and the rest of the field on a green-white-checkered restart to win the Sprint Cup race at Darlington Raceway on Saturday night. Johnson's win earned owner Hendrick a 200th career victory. Tony Stewart finished third, followed by Kyle Busch and Martin Truex, Jr. Danica Patrick, in her second...
After a call by crew chief Chad Knaus to stay out during a caution with 61 laps remaining in the Bojangles' Southern 500 at Darlington (S.C.) Raceway on Saturday night, Jimmie Johnson went into fuel conservation mode from behind the wheel of the No. 48 Hendrick Motorsports Chevrolet and went on to claim his second-career win at Darlington. "It really was a lot of drama," Johnson...
The Southern 500 kicked off Saturday night with the longest stretch of green-flag racing at Darlington Raceway since NASCAR started keeping detailed records. The lack of caution periods didn't mean that action was absent, though. By the end, there had been eight cautions for 38 laps, and a number of drivers walked away with Darlington stripes. The Roush Fenway Racing teammates...
The Southern 500 kicked off Saturday night with the longest stretch of green-flag racing at Darlington Raceway since NASCAR started keeping detailed records. The lack of caution periods didn't mean that action was absent, though. By the end, there had been eight cautions for 38 laps, and a number of drivers walked away with Darlington stripes. The Roush Fenway Racing teammates...
Kevin Harvick led the way with a lap of 27.769 seconds in the first practice for the Bojangles' Southern 500 from Darlington. Rounding out the top five was Greg Biffle, Kurt Busch, Carl Edwards, and Tony Stewart. Pos # Driver Team Time Behind 1 29 Kevin Harvick Budweiser Chevrolet 27.769 Leader 2 16 Greg Biffle 3M / OH / ES Ford 27.895 -0.126 3 51 Kurt Busch Phoenix...
NASCAR News

Delivered to your inbox

You'll also receive Yardbarker's daily Top 10, featuring the best sports stories from around the web. Customize your newsletter to get articles on your favorite sports and teams. And the best part? It's free!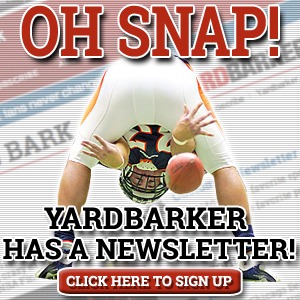 Latest Rumors
The Backyard

Today's Best Stuff

For Bloggers

Join the Yardbarker Network for more promotion, traffic, and money.

Company Info

Help

What is Yardbarker?

Yardbarker is the largest network of sports blogs and pro athlete blogs on the web. This site is the hub of the Yardbarker Network, where our editors and algorithms curate the best sports content from our network and beyond.