Found November 07, 2012 on Race Review Online:
PLAYERS:
Brad Keselowski
,
Clint Bowyer
,
Denny Hamlin
,
Carl Edwards
,
Richard Petty
,
Jeff Gordon
,
Terry Labonte
,
Michael Waltrip
,
Matt Kenseth
,
Kevin Harvick
,
Kyle Busch
,
Ryan Newman
,
Kasey Kahne
,
Darrell Waltrip
,
Danica Patrick
,
Michael McDowell
,
Kyle Larson
,
Joey Logano
,
Dale Earnhardt Jr.
TEAMS:
Cincinnati Bengals
Johnson-Keselowski 'Bare-Knuckle' Brawl Heads West For Jimmie Johnson, it's some serious déjà vu – the good kind. Johnson leads the Chase for the NASCAR Sprint Cup™ by seven points over Brad Keselowski with two races remaining. Four times in his five championship seasons, Johnson has topped the standings after the season's 34th race, making title No. 6 a very real possibility. As the scene shifts to Sunday's AdvoCare 500 at Phoenix International Raceway – where Johnson has four victories, three in the Chase – it's possible the California driver could clinch the championship. Johnson must out-point Keselowski by 41 if he wins and 42 if he doesn't while netting an additional 12 on third-place Clint Bowyer. A third consecutive Chase victory while leading the most laps is the clincher if Keselowski finishes 37th or worse and Bowyer eighth or worse if neither challenger leads a lap. That's the math. The reality? Considering Keselowski's worst finish this season was 36th, nothing will be decided in the Valley of the Sun. Johnson and his No. 48 Chevrolet team have some breathing room but not much – especially in light of last Sunday's paint-scraping throw-down with Keselowski at Texas Motor Speedway. The pair traded body slams before Johnson executed the winning pass on the final, green-white-checker restart. "The gloves are off and it's bare-knuckle fighting," said Johnson, talking about the race and – most likely – the road to this year's championship. Still, Johnson's camp can point to one set of statistics, Keselowski's another. In each of the past two years, the driver ranked second entering the next-to-final race overtook the leader in the season finale at Homestead-Miami Speedway. Johnson vanquished Denny Hamlin in 2010; Tony Stewart caught Carl Edwards a year ago, prevailing on a most wins tie-breaker. "I'd say it's a heads-up match going into Phoenix and probably the same going into Homestead," said Keselowski following the Texas race. "We just have to win the heads-up matches." Sunday's race will be the third on the one-mile Phoenix layout since repaving and reconfiguring in mid-2011. Johnson finished fourth in the spring with Keselowski fifth. The latter finish is Keselowski's only top five in six previous Phoenix races. Johnson's average Phoenix finish is 5.3 vs. Keselowski's 22.2. It hardly would seem a fair fight. But Texas, where Keselowski lacked a top-10 performance, was emblematic of the challenger's maturation – and Penske Racing's ability to race head-to-head with Hendrick Motorsports, by far the current era's most successful organization. Consider that Hendrick has 10 Sprint Cup titles to Penske's none. HMS put all four cars in the Chase while Keselowski's No. 2 Dodge has been a lone wolf. A Dodge driver hasn't won a championship since Richard Petty in 1975. Chevrolet, meanwhile, celebrated its 700th victory in Texas and has won 36 Sprint Cup manufacturer titles. Johnson has qualified for the post season in all nine years of the Chase era, winning 22 times. Keselowski, 28, counts just 18 Chase starts, two wins and is the least experienced among this season's 12 qualifiers. A classic case of David vs. Goliath, but certainly not without precedent. Go back several decades to 1995, when Dale Earnhardt was coming off his seventh championship season and fourth in five years. Earnhardt appeared destined to win an eighth title and break the championship deadlock he shared with Petty, NASCAR's king. Enter relatively untested Jeff Gordon, like Keselowski a driver in just his third full Sprint Cup season. Gordon, 26, had finished 14th the previous season and counted just two career victories. Gordon won seven times to Earnhardt's five as the two rivals battled down to the final race with Gordon winning his first of four championships by a margin of 34 points. The title also was the first for owner Rick Hendrick, who swept the next three championships, as well, with Terry Labonte and Gordon signaling the beginning of a dynasty. Bowyer Satisfied To Fight The Good Fight When the dust finally settles, Clint Bowyer could be crowned 2012 NASCAR Sprint Cup Series champion. Although 36 points out of the standings lead with two races remaining, Bowyer – with some help – could rally for what's become an improbable title. Realistically, the Kansan probably will settle for a career-best season in terms of wins (three) and top-five (nine) and top-10 (22) finishes. If Bowyer retains his current third position in the standings, he'll match his 2007 points effort. To say Bowyer has come out of nowhere is an understatement. With a first-year team, he ignited Michael Waltrip Racing's first journey to the Chase for the NASCAR Sprint Cup™. There's no doubt that MWR, Bowyer and the No. 15 Toyota team's crew chief Brian Pattie will be a stronger presence in 2013. "I've said this all along: It's fun to be racing for the championship but I'm more proud of where we're at contending for that championship," Bowyer said. "We just keep polishing the edges and keep getting better fixing our program week-in and week-out. We'll [eventually] be there." Bowyer probably will be among the final three competitors standing after Sunday's AdvoCare 500. Keselowski and Bowyer are Johnson's only rivals currently within a 49-point championship window – outside of which means title elimination after Phoenix. Three former NASCAR Sprint Cup champions likely must wait for next year to hoist another Sprint Cup. Matt Kenseth andJeff Gordon are fifth and sixth, 72 points behind Johnson. Reigning champion Tony Stewart is eighth, 80 points back. Two Chase qualifiers were eliminated in Texas – Kevin Harvick, 11th, and Dale Earnhardt Jr., whose two-race hiatus due to injury likely will relegate him to 12th in final points. Reluctant Onlooker Busch Could Have Say In Phoenix Kyle Busch had a ringside seat for Sunday's Texas championship rumble between Jimmie Johnson and Brad Keselowski. He just wished there could have been a third fighter in the ring – himself. Unfortunately for Busch, he missed this year's Chase but has run as well – or better – than many of the 12 qualifiers who made the cut into the post season. His third-place finish in the AAA Texas 500 was his fifth top-five finish over the eight Chase races. Two finishes of 28th or worse would have made a title run unlikely but Busch definitely would have been a contender. Still, Busch has scored the fifth-most points in this year's Chase. He'll accept the spoiler's role – not gladly – but Busch's No. 18 Joe Gibbs Racing Toyota is certain to be in the thick of the struggle on Sunday in Phoenix. He finished sixth, just behind Johnson and Keselowski, when the series visited the one-mile track in March. Busch has a victory (2005) and nine top-10 finishes in 15 trips to the Valley of the Sun. "This last 10 weeks have been pretty good. We've run well. We've been fast. We've shown speed," said Busch, who holds 13th place in the standings by a whopping 79 points over Ryan Newman. "It's just a matter of continuing to evolve and get better as a team and communicate because this car is obsolete in two weeks. So we'll work on all of that stuff in 2013." The last time a non-Chase driver won a Chase race was, coincidentally, Phoenix, when Kasey Kahne accomplished the feat last season. Kahne, of course, qualified for this season's Chase field. NASCAR Sprint Cup Series, Etc. Milestone Watch: Carl Edwards will make his 300th NASCAR Sprint Cup Series start on Sunday, becoming the 80th driver to reach that milestone. … For the first time in six races, Jeff Gordon failed to lead a lap last weekend at Texas. His next lap led will tie him with Darrell Waltrip for sixth on the all-time list. He currently has 23,133 career laps led. … Chevrolet, which won its first NASCAR Sprint Cup race in 1955, reached win No. 700 at Texas. Toyota aims for a victory milestone of its own – its next win will be No. 50. Its first win came in 2008. … Danica Patrick, a Scottsdale, Ariz., resident, will make her 10th and final start in the NSCS season at Phoenix on Sunday. She scored her career-best finish (24th) at Texas on Sunday. … Michael McDowell, from Glendale, Ariz., will run the No. 98 Ford for Phil Parsons Racing. Home Tracks Roundup Larson Captures K&N East Crown Kyle Larson's historic NASCAR K&N Pro Series East championship has resonated in the highest levels of the sport. The 20-year-old Larson earned the first NASCAR touring championship for Rev Racing and NASCAR Drive for Diversity. The Elk Grove, Calif., driver also won the series' Sunoco Rookie of the Year, joining only Joey Logano and Ryan Truex in the 26-year history of the series to accomplish that feat of earning the championship as a rookie. A stock-car rookie, Larson came to NASCAR with a pretty impressive open-wheel resume. Not unlike a pair of NASCAR Sprint Cup Series champions Tony Stewart and Jeff Gordon. "I'm just impressed," Stewart said. "There hasn't been too many people in the last 10 years who have really stood out as somebody with a ton of talent. Kyle is one of those guys. He's as close to a throwback racer as we have. He's a guy who can drive anything, and one of the few guys who actually does that now." Kwasniewski Can Claim Title Dylan Kwasniewski, 17, heads into the final race weekend for the NASCAR K&N Pro Series West at Phoenix International Raceway with a slim two-point lead over teammate Greg Pursley. The veteran Pursley is the defending series champion, while Kwasniewski was the series' Sunoco Rookie of the Year last season. The Casino Arizona 50 is Saturday at 5 p.m. MT live on SPEED. NASCAR PR The post Jimmie Johnson and Brad Keselowski poised to continue title fight in Phoenix appeared first on Race Review Online.
Original Story:
http://racereviewonline.com/jimmie-jo...
THE BACKYARD
BEST OF MAXIM
RELATED ARTICLES
All season long Brad Keselowski has turned statistically bad tracks for him into good finishes. Credit his driving style and crew chief Paul Wolfe. Wolfe has normally put Keselowski on different pit strategies on tracks he usually struggles at and hopes it works out in the end for him. This type of strategy worked to perfection at Dover earlier in the Chase and the exact reason he's...
Driver of the Blue Deuce, Brad Keselowski sits seven points behind one of the great Chase closers, Jimmie Johnson, with two races to go in the 2012 season. The Miller Lite Dodge Charger team will race chassis PRS-833 during Sunday's AdvoCare 500 at Phoenix International Raceway. This is a brand-new chassis to the #2 fleet. With just 6 races at PIR, Keselowski has one top five....
By Reid Spencer FORT WORTH, Tex. -- Brad Keselowski was right on the money in most of what he said Sunday night, but he was dead wrong about the one thing that might matter most. Keselowski was right about the nature of the racing in the AAA Texas 500. It was breathtaking. After the next-to-last restart in the AAA Texas 500, Keselowski refused to give up the lead, taking his car...
FORT WORTH, Texas – Brad Keselowski, driver of the Penske Racing No. 2 Miller Lite Dodge Charger in the NASCAR Sprint Cup Series (NSCS), finished second in the AAA Texas 500 – the eighth race in the 2012 Chase for the Championship – at Texas Motor Speedway (TMS) on Sunday evening. Keselowski and series points leader, Jimmie Johnson, provided fans with a thrilling finish as...
On Tuesday, Tireball Sports had the opportunity to talk with Kasey Kahne and ask him about a few things, such as his season thus far, what he thinks about Farmer's and Hendrick Cars partnering to give away a car and what he thought about the door banging between Jimmie Johnson and Brad Keselowski at Texas Motor Speedway. [Read the exclusive interview here]
NASCAR fans couldn't have asked for much more in Texas, as the top two drivers were neck-and-neck down the stretch, with Jimmie Johnson passing Brad Keselowski on a restart with just two laps remaining. Johnson extended his points lead to seven with the victory, and just two races stand between him and a remarkable sixth championship. For a second consecutive week, Keselowski...
The battle for the Sprint Cup Series championship is neck-and-neck heading to Phoenix. Photo Credit: Jared C. Tilton/Getty Images *Editor's Note: This Phoenix race preview is brought to you by Prilosec OTC Wildberry. By: Toby Christie – Follow on Twitter @Tobalical NASCAR has gotten exactly what it wanted out of the Chase For The Sprint Cup "Playoff" format — drama. Last...
NASCAR has had it's share of epic rivalries. Earnhardt and Wallace. Pearson and Petty. Allison and Yarborough. Even last season's Stewart and Edwards. This year's Chase has come down to Jimmie Johnson and Brad Keselowski. While on face value, it hardly has the cache of the others, it has all the makings of an epic battle. The Kid vs The Legend. David vs Goliath. No championships...
Ryan Blaney, driver of the No. 29 Draw-Tite RAM, will make his eight career start in the NASCAR Camping World Truck Series (NCWTS) on Friday evening at Phoenix International Raceway (PIR). Draw-Tite returns for their final race of the season as the primary sponsor on the No. 29 Brad Keselowski Racing (BKR) RAM. Friday evening will mark Blaney's first career NCWTS start at PIR....
We're down to the final two races in the NASCAR season. Jimmie Johnson and Brad Keselowski have dominated the Chase and if you've chosen them in your leagues you're probably sitting pretty right now. Unfortunately, I got burned by not picking them last week and it'll take a major comeback for me to win at this point. But stranger things have happened. The Sprint Cup series...
The battle for the Sprint Cup Series championship is neck-and-neck heading to Phoenix. Photo Credit: Jared C. Tilton/Getty Images *Editor's Note: This Phoenix race preview is brought to you by Prilosec OTC Wildberry. By: Toby Christie – Follow on Twitter @Tobalical NASCAR has gotten exactly what it wanted out of the Chase For The Sprint Cup "Playoff" format — drama. Last...
By Larry McReynolds FOXSports.com This weekends race at Phoenix International Raceway will be the NASCAR Sprint Cup Series' third trip there on this new surface. Its been eight months since weve raced there. That is the longest span of time between two races at a single track in a season. The time difference between the race now and the race when we go back there, race No....
Bengals News

Delivered to your inbox

You'll also receive Yardbarker's daily Top 10, featuring the best sports stories from around the web. Customize your newsletter to get articles on your favorite sports and teams. And the best part? It's free!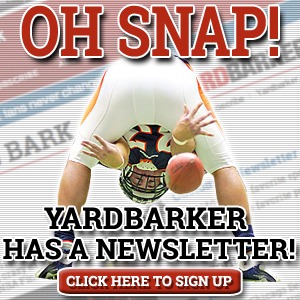 Latest Rumors
Best of Yardbarker

Today's Best Stuff

For Bloggers

Join the Yardbarker Network for more promotion, traffic, and money.

Company Info

Help

What is Yardbarker?

Yardbarker is the largest network of sports blogs and pro athlete blogs on the web. This site is the hub of the Yardbarker Network, where our editors and algorithms curate the best sports content from our network and beyond.