Found June 27, 2013 on Fox Sports:
There is no denying that reigning NASCAR Sprint Cup Series champion Brad Keselowski is fast on the track. After all, you don't win a Cup championship by being the tortoise of the group. But can you believe that with 10 races remaining in the regular season, the champ still hasn't won a race? It's amazing that as consistent as he and the No. 2 Penske Racing team were last year, he hasn't been a regular factor this year. That's surprising. There are two basic reasons for the reversal of fortune in the No. 2 camp this year - luck and the driver's attitude. I don't think many people realize how lucky a team and driver have to be to win a championship. You can have the best equipment or most talented driver, but without a bit of luck on your side, you can't pull it off. Some drivers won't admit when luck plays a role in their success. It sure played a pivotal one in Keselowski's 2012 season. Think back to Talladega during the Chase last year and the big wreck Tony Stewart caused on the final lap that collected several Chase contenders. Keselowski scooted by on the apron and brought his car home to a seventh-place finish. His only DNF of the year came in the Daytona 500, and he had no significant engine failures or tire problems. No amount of talent can produce those scenarios. When Kurt Busch won his championship at Homestead in 2004, if the tire that came off of his car had gone down pit road and not onto the track, there would have been no caution flag and he would have had to pit under green, denying him the chance at the title. Lady Luck, again, helped someone win a championship, or at least not lose one. Now to Keselowski's attitude. While the No. 2 team seems to have lost its lucky horseshoe this year, much of its downward trend can be attributed to the guy driving the car. Yes, the current Cup champion. Why? Because he wasn't ready to be a true champion. His Penske team and crew chief, Paul Wolfe, were ready, but Keselowski wasn't. His fame grew too large, too fast. It started when he tweeted out the picture of the jet dryer explosion aftermath during the 2012 Daytona 500 red-flag period, and his Twitter following exploded. More and more people began to hear about him, and that recognition started going to his head. We saw him insinuate Hendrick Motorsports was cheating, while simultaneously he claimed that Penske Racing didn't work in the gray area. Then we saw just how wrong that statement was earlier this year when the Penske cars got busted in pre-race inspection. Then Keselowski had a stellar season, won five races and the championship last year, rightfully garnering innumerable headlines and fans. However, that all went to his head in no time. Keselowski thinks he's better, cooler, more liked and more respected than he really is, and I think that attitude and his perception of himself are hindering his performance. The kid is extremely talented, but he needs to straighten out what's between his ears. He is not well-received in the garage area among his peers. The only way to earn that respect is to give it and conduct yourself appropriately. Simply winning a championship does not earn a driver respect. Kyle Busch a couple of years ago had gotten to the point where his attitude was outweighing his talent. Fortunately, he now seems to have a much better handle on that. Keselowski, however, is becoming a nightmare for Roger Penske. When a car owner has to publicly apologize, in so many words, for his driver stupidly speaking out against two of the most respected owners in the business - Rick Hendrick and Joe Gibbs - things are bad. Keselowski doesn't seem to have a clue how ridiculous he looks when he acts like this. He reminds me of a middle school kid that no one likes, so he goes to extreme lengths to appear cool and tough. That is immaturity, plain and simple. His ego is the size of Texas, and if he doesn't contain it soon, he will miss the Chase. Lose the chip on your shoulder, Brad. Quit telling everyone how great you are, and just drive the car. You might be surprised at how many people start to like and even respect you.
Original Story:
http://msn.foxsports.com/nascar/story...
THE BACKYARD
BEST OF MAXIM
RELATED ARTICLES
SPARTA, Ky. Brad Keselowski will tell you he likes the track at the Kentucky Speedway. Hell tell you that he feels comfortable on the 1 mile tri-oval in no small part because of his experience at the facility. But ask Keselowski what it is exactly about the track he likes and, well, thats where the 29-year-old defending NASCAR Sprint Cup champion draws the line. I cant tell...
SPARTA, Kentucky — Three of NASCAR's top series are at Kentucky Speedway in Sparta, Kentucky this weekend. Starting with the Trucks on Thursday, racing the UNOH250, the Nationwide series on Friday racing the Feed the Children 300, and ending on Saturday with the Sprint Cup cars with the Quaker State 400. Below you will find this weekends race schedule, including practice and...
Mooresville, NC – Penske Racing driver Brad Keselowski continues to be recognized for his remarkable run to the 2012 NASCAR Sprint Cup Series (NSCS) championship. On Thursday, ESPN announced that Keselowski has been nominated for two awards during this year's ESPY Awards Presentation that will be held on Wednesday, July 17 at the Nokia Theater in downtown Los Angeles. After a...
Is this the weekend Brad Keselowski turns his season around? It's not that the defending NASCAR Sprint Cup champion is in fear of missing this year's Chase -- yet. But without a win this season and the No. 2 Ford teetering at ninth in point standings with a nine-point cushion, it's time for Keselowski to return to his winning ways. "This is a key time, not just...
Brad Keselowski, #19 Reese Towpower Ford Brad Keselowski, driver of the No. 19 Reese Towpower Ford F-150, will make his second start this season in the NASCAR Camping World Truck Series (NCWTS) this Thursday night. Keselowski will pilot the No. 19 BKR Ford F-150 in his fourth career NCWTS start at Kentucky Speedway. Last year, Keselowski, started 17th in the UNOH 225 and brought...
It's been an up and down season for defending NASCAR Sprint Cup Series champion Brad Keselowski. After starting the year off with two fourth place finishes followed by two third place finishes he continued his hot streak on with seven top 10′s in the first eight races of the season. That's where Keselowski's luck ended. In the eight races since, Keselowski has only one finish...
BRAD KESELOWSKI, NO. 2 MILLER LITE FORD PUTTING THE BLUE DEUCE ON TOP IN THE BLUEGRASS STATE: Keselowski enters this weekend's Quaker State 400 as the defending race winner. He led three times for a total of 68 laps at Kentucky last season en route to his seventh career NASCAR Sprint Cup Series (NSCS) victory. STATISTICALLY SPEAKING: In the two NSCS races at Kentucky Speedway,...
SPARTA, Ky. — When you win a rain-shortened race, you can't do a burnout — but Brad Keselowski certainly tried. After being declared the winner of Friday night's Feed the Children 300 NASCAR Nationwide Series race at Kentucky Speedway, 30 laps short of the scheduled finish, Keselowski did donuts on the frontstretch, minus the usual smoke because of the wet, slippery asphalt...
Source: Robert Laberge/Getty Images Brad Keselowski won the Feed the Children 300 at Kentucky Speedway on Friday night after rain forced the end of the race on lap 170 of 200. Austin Dillon began the race on the pole but soon gave way to Kyle Busch. Brad Keselowski and Elliott Sadler would also see time at the front of the field. Championship leader Regan Smith had problems with...
SPARTA, KY- We were destined to what could have been a good battle for the checkered in tonight's NASCAR Nationwide Series Feed the Children 300 race at Kentucky Speedway. Instead, the rain began to fall with 38 laps to go as NASCAR brought out the fifth caution due to the moisture. Brad Keselowski, who passed Elliott Sadler for the lead with 50 laps to go, was the beneficiary...
photo credit:  getty images SPARTA, Ky. — Ty Dillon won the NASCAR Camping World Truck Series UNOH 225 Thursday night at the Kentucky Speedway to notch his second career NASCAR Camping World Truck Series victory, but the win wasn't as important to Dillon as 'how' he won. Once again, Dillon passed Kyle Busch in the closing laps to secure another trip to victory lane...
Series: NASCAR Sprint Cup Series Race: Quaker State 400 Track: Kentucky Speedway Defending Champion: Brad Keselowski Story Lines: The Sprint Cup Series comes back east to the Kentucky Speedway for the third running of the Quaker State 400. It took five years and some right turns, but Martin Truex, Jr. finally found victory lane for a second time in his career. Can he go back to back...
NASCAR News

Delivered to your inbox

You'll also receive Yardbarker's daily Top 10, featuring the best sports stories from around the web. Customize your newsletter to get articles on your favorite sports and teams. And the best part? It's free!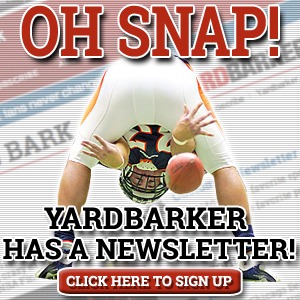 Latest Rumors
The Backyard

Today's Best Stuff

For Bloggers

Join the Yardbarker Network for more promotion, traffic, and money.

Company Info

Help

What is Yardbarker?

Yardbarker is the largest network of sports blogs and pro athlete blogs on the web. This site is the hub of the Yardbarker Network, where our editors and algorithms curate the best sports content from our network and beyond.