Found October 27, 2012 on Fox Sports:
Brad Keselowski faces his nemesis once more on Sunday. No, it's not Martinsville Speedway, though this is far down his list of tracks where he has a shot at a top finish. No, it's not Chase for the Sprint Cup contender Jimmie Johnson or Denny Hamlin, though each is hungering to take a chunk - or all - of his points lead Sunday. No, it's starting deep in the pack for the race once more. Qualifying hasn't gone well for the NASCAR Sprint Cup points leader in the Chase races. For the past three races he's overcome starting deep in the field. But charging from near the rear of the field at Martinsville, a .526-mile track where passing is at best a challenge, poses a new level of problem. At Kansas last Sunday, Keselowski started 25th and finished eighth. At Charlotte the previous Saturday, he started 20th and finished 11th. And three races ago at Talladega Superspeedway, he started 22nd and finished seventh. But he'll start 32nd in the Tums Fast Relief 500 on Sunday. He'll start half a track behind polesitter Johnson. And he'll quickly have to worry as much about being lapped as the men around him. For weeks, critics have pointed to this race as one where Keselowski could stumble. Johnson and Hamlin are stellar here, combining for nine of the last 11 Cup wins at Martinsville. But don't count Keselowski out too soon. First, no one has been as good at digging out of that qualifying hole of late as Keselowski. Second, he's shown vast improvement with each visit to tracks of late, which has vaulted him into the points lead. And third, he's the points leader with four races to go before the title is won. Certainly, incentive and momentum could alter his impact on Sunday's race. Still, this is shaping up early as the worst of the predictions coming to fruition. Not that's it all dismal. While he was 27th fastest in Saturday's first Cup practice but improved dramatically to 13th in the second. For his part, Keselowski took the poor qualifying effort in stride. "Certainly would like to qualify better and that's at the forefront of my mind but I'd much rather race towards the front rather than qualify towards the front if I had to pick between the two," he said shortly after his effort. "I feel like we'll be capable of pulling that off once the race gets started. Just ready to keep going, you know, feeling the season wind down and really feel good about our opportunities in front of us." Beyond that, Keselowski isn't buying into the prospect of added pressure this weekend. He met with the media mere minutes after his lackluster result, and took it all in stride. And while most would argue that Martinsville will be toughest place in which to try to rally back from a setback, he's not among that crowd. "I thought last weekend was harder to pass than this weekend will be, to be honest," he said. "And that's not to say it's going to be easy here at Martinsville but there is quite a few more variables that I think work to your favor with strategies and so forth. I feel confident that it'll work its way out here. Obviously it's a very, very long race with 500 laps around here. There are a lot of tools in our tool chest to help us recover from that." Johnson is significantly less certain that Keselowski can overcome the deficit. After all, it might not be many laps Sunday before he's looming on Keselowski's bumper. "The tough position there is once you get single file and get about 10 laps into the show the leaders are to the 43rd- place car," he said. "You have got to go. Everybody around you has that same mentality too so it can be pretty cutthroat back there. The priority is to get going. You have got to get up into the 20's and get a buffer of cars between you and the leader so that things can kind of spread out and get into a rhythm." Hamlin, too, sees Keselowski as being at a large disadvantage Sunday. "It's big," he said. "It will give you a really bad pit selection, which is the biggest key that I notice that will hurt. Ultimately, at the start of races when you start getting into each other, things happen a little bit worse back there because of the chain reaction. "It takes a little bit longer to get there. That is going to be a challenge. But, we drove from the back to the front here before. Usually if you have a good car, and you don't get in trouble, it takes your second or third run, you'll find yourself in the top five." In fact, both Johnson and Hamlin are cautious when discussing Keselowski's ability to rally from his start - primarily because each has experience doing the same thing. While Hamlin failed to finish from his deepest start of 41st, finishing 37th in April 2006, he started 30th in October of 2007 and finished sixth. Johnson, too, has come from outside the top 30. He started 37th in April 2005, finishing eighth. In the spring of this year, he started 22nd and finished 12th. Does that ability shift, though, with the pressure of the Chase? Keselowski, 28, is in his third year of full-time Cup competition and his second title bid. He's trying to bring team owner Roger Penske his first Cup title after handing him his first Nationwide title in 2010. It's a unique set of circumstances that could, and should, put on the pressure. Yet Keselowski seems to be calmly handling it all. "I don't think he's going to crack," said his previous Nationwide Series team owner Dale Earnhardt Jr. "I think he's going to be hard to beat. I think he will be a tough competitor all the way through. Brad has been waiting on this opportunity all his life so I don't expect him to crack under the pressure. I think he will be tough." So do the men he's battling for the title. Keselowski certainly knows the legacy of the men in the heart of the hunt. Five-time Cup champion Johnson is just seven points back. Veteran Chase contender - and 2010 series runner-up - Hamlin is 20 off the pace. While he certainly respects his contenders, he doesn't necessarily see that as making them favorites when the heat is on in this final stretch - no matter how much ground he'll need to overcome Sunday. "I feel like the people that have all the odds in their favor have earned it because they have been here and achieved success," Keselowski said. "Obviously we have not, so you know that justifies that in my mind. But you know, at some point the torch has to be passed. It's just a question of when."
Original Story:
http://msn.foxsports.com/nascar/story...
THE BACKYARD
BEST OF MAXIM
RELATED ARTICLES
Brad Keselowski talks like racing continues to be business as usual. The 28-year-old is leading the standings in NASCAR'S Chase for the Sprint Cup, and while his margin over five-time champion Jimmie Johnson is only seven points, and perennial contender Denny Hamlin is only 20 points behind, Keselowski quickly dismisses talk that being chased in the chase means pressure. Keselowski...
Jimmie Johnson's championship hopes got a boost Friday when he won the pole position for Sunday's NASCAR Sprint Cup race at Martinsville Speedway while points leader Brad Keselowski qualified 32nd. Johnson, a five-time champion, gained not only the top starting spot, but the stall at the front of pit road, giving him unimpeded access to the track. He trails Keselowski by...
Jimmie Johnson's championship hopes got a boost Friday when he won the pole position for Sunday's NASCAR Sprint Cup race at Martinsville Speedway while points leader Brad Keselowski qualified 32nd. Johnson, a five-time champion, gained not only the top starting spot, but the stall at the front of pit road, giving him unimpeded access to the track. He trails Keselowski by...
Brad Keselowski differed from those who talked about the aerodynamic problems of the 2013 Sprint Cup cars. Keselowski was given a chance on Tuesday and Wednesday to test the 2013 Ford Fusion at Phoenix. Keselowski's chance to drive the car was the first tire test at a one-mile flat track. "I thought it was a great test," Keselowski told the NASCAR Wire Service. "I had heard...
Jimmie Johnson dominated, as expected, at Martinsville Speedway, and Brad Keselowski didn't flinch. This championship duel might go down to the wire after all. Johnson, a five-time series champion, raced to his seventh career victory on NASCAR's trickiest oval Sunday, and the triumph helped him erase a seven-point deficit and supplant Keselowski as the points leader with...
Brad Keselowski kept himself on the championship track with a race-long rally Sunday…
Jimmie Johnson held off Kyle Busch on a restart with five laps to go Sunday and won for the seventh time in his career at Martinsville Speedway. The five-time series champion moved into the lead in the championship standings, two points over Brad Keselowski with three races remaining. Keselowski started 32nd, methodically worked his way forward, and took a late gamble to grab the...
MARTINSVILLE, VA – Ryan Blaney finished eighth at Martinsville Speedway in the No. 29 Draw-Tite RAM on Saturday afternoon. The Brad Keselowski Racing (BKR) driver had an impressive debut in his first race at Martinsville. Blaney qualified in the 11th position on Saturday morning pacing the 0.526 mile oval in 19.842 seconds or 95.434 M.P.H. to begin the Kroger 200. Lap 18 brought...
The NASCAR  Sprint Cup and Camping World Truck Series race into the Martinsville Speedway for this Saturday's Kroger 200 and Sunday's TUMS Fast Relief 500. Brad Keselowski maintains the points lead over Jimmie Johnson on the Cup side, while Ty Dillon is barely edging out James Buescher in the Trucks. The action starts at 11 AM EST with Truck practice and goes all the way until...
Past Martinsville Success An Opportunity For Johnson For Jimmie Johnson, Sunday's Tums Fast Relief 500 represents a huge opportunity – the opportunity to return to the lead of the Chase for the NASCAR Sprint Cup™ and take a major step toward a sixth series championship. With the postseason winding down – just four races remain – the pressure is on Johnson to use his clear...
Jimmie Johnson, driver of the #48 Lowe's Chevrolet, won the pole for Sunday's TUMS Fast Relief 500 from the Martinsville Speedway. After qualifying ended he spoke to the media about the pole win and his outlook for the race. Below is the transcript from that meeting. YOU'VE GOT A LOT OF THOSE CLOCKS OVER THERE JUST TALK ABOUT STARTING UP FRONT OBVIOUSLY A GREAT PLACE TO BE...
NASCAR News

Delivered to your inbox

You'll also receive Yardbarker's daily Top 10, featuring the best sports stories from around the web. Customize your newsletter to get articles on your favorite sports and teams. And the best part? It's free!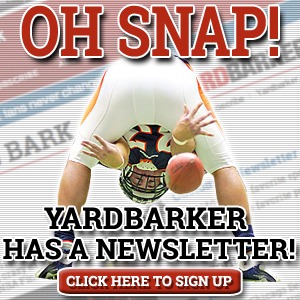 Latest Rumors
The Backyard

Today's Best Stuff

For Bloggers

Join the Yardbarker Network for more promotion, traffic, and money.

Company Info

Help

What is Yardbarker?

Yardbarker is the largest network of sports blogs and pro athlete blogs on the web. This site is the hub of the Yardbarker Network, where our editors and algorithms curate the best sports content from our network and beyond.