Found August 15, 2012 on Start 'N' Park Blog:
MOORESVILLE, N.C. – For the sixth time in NASCAR history, the Nationwide Series will bring their garage across the border to Montreal, Quebec, Canada for the NAPA Auto Parts 200 at the famed Circuit Gilles Villeneuve track. Kyle Busch will make his second attempt at the 2.709-mile road course, in a field laced with road-course experts such as Alex Tagliani, Ron Fellows and Jacques Villeneuve, whose father's name the track is entitled to.  
Busch's past international road-course success includes a win in the Nationwide Series in 2008, at the Autodromo Hermanos Rodriquez track in Mexico City, Mexico. It was his second visit to the Mexico facility. The young, but veteran, driver who holds the record for most wins in the Nationwide Series, first tackled this week's Canada track in 2009, and recorded a 10th-place finish. This week will mark his second visit to the Montreal facility, but first as the owner-driver of the No. 54 Monster Energy Toyota for his first-year Kyle Busch Motorsports (KBM) Nationwide Series team. While he has also enjoyed success on the U.S.-based road course Watkins Glen (N.Y.) International, in the NASCAR Sprint Cup Series, it would be a feat and a NASCAR record, for Busch to record a victory at three different road-course events in three different countries.  
In order to pursue this accomplishment, Busch will work between two race markets and two countries. While the Sprint Cup Series will hold their weekend event at Michigan International Speedway in Brooklyn, Owen Kelly of Tasmania, Australia will help Busch prepare for the Saturday event in Canada. Kelly will support the No. 54 team during practice and qualifying sessions, while Busch remains in the States, preparing his Sprint Cup Series entry for Sunday's race. Busch will make the trip to Montreal Saturday morning prior to race start and will be looking to achieve victory amidst a busy schedule.  
Kyle Busch, Driver of the No. 54 NASCAR Nationwide Series Monster Energy Camry:
This weekend you will pull double duty, racing in Michigan and Montreal. Why is it important for you to make the trip to Canada?   "One of the reasons I wanted to run this race is to win in three different countries. I am not sure, but I don't think any other NASCAR driver has done that before, so it would be really cool."  
Considering a tough weekend on the car and crew, you had a top-10 finish at Watkins Glen. What if anything can you take from that road-course event to the one this weekend?  "Well, the car, for one thing. We made so many adjustments to chassis #001 and feel like it's set up well for another road-course run, that we are bringing back the same ride. The Montreal (Can.) track won't have as much speed or as many inclines and declines as The Glen did, but the car will be adjusted for a slightly more flat surface. We overcame some big hurdles last week, let's hope this week we can be up front again and show that our road-course program is getting stronger."  
It has been a few years since you raced this event and you'll miss practice due to the Cup Series schedule. Do you have any concerns about missing that setup time?  "It is not concerning to miss practice, because I feel I have a really good practice driver in Owen (Kelly), who can set up the car well and get me a good car for the race."  
Mike Beam, Crew Chief of the No. 54 NASCAR Nationwide Series Monster Energy Camry:
How did you choose Owen Kelly as your support driver this weekend?  "Owen has been a road-course test driver for Marcos Ambrose in Montreal before. He practiced second and third fastest in practice sessions and qualified Marcos' race-winning car ninth last year, so his track record is good. Owen is also relatively close in size to Kyle, so the seat, pedals, etc. should all be the same. This is a similar format we used for Kurt, with Colin Braun at Road America, and we look for good things from Owen this weekend."  
Kyle Busch's No. 54 Monster Energy Camry, Chassis KBM-001: KBM will unload car #001, first raced at Phoenix (Ariz.) International Raceway with team owner Kyle Busch, then at Road America in Elkhart Lake, Wisc. with brother Kurt Busch, who yielded an 11th and eighth-place finish respectively. Most recently, chassis #001 was raced by Kyle Busch at Watkins Glen (N.Y.) International and was scored sixth. The backup machine is chassis KBM-002, originally run in Bristol, but now prepared for the Montreal (Can.) road course.
 Crew chief Mike Beam's career statistics at Circuit Gilles Villeneuve in Montreal, Can. include one race ('11), zero wins, zero top-five finishes, one top-10 finish (seventh) and zero laps led.  
Kyle Busch's Nationwide Series career road-course statistics include nine starts, zero poles, one win (Mexico '08), five top-five finishes, eight top-10 finishes and 117 laps led.  
Is there a pattern developing? In the 2008 Mexico City event, Busch started from the sixth position and led 22 of the 80-event laps before earning his first international victory. It was Busch's second time at the Mexico City road course, first attempted in 2006. Similar to then, this week will be Busch's second time at the Montreal, Quebec, Can. road course, first attempted in 2009. Will the result be the same as four years ago?
Number is good mojo: The last time Kyle Busch led a Nationwide Series event was last week at Watkins Glen (N.Y.) International, where he paced the field one time, completing that on lap 51. Prior to that Busch led the NNS event at Indianapolis (Ind.) Motor Speedway, for 51 laps of the 100-circuit event – coincidentally Busch is the winningest driver in Nationwide Series history, with 51 career wins, including at least one win eight straight years from 2004 to 2011.
Kyle Busch's last NNS win came on 9/09/11 at Richmond (Va.) International Raceway. Busch has competed in 13 series races since then, achieving a high-finishing position of second-place twice.  
Kyle Busch's best finish in the No. 54 this season, a second place, happened at Talladega (Ala.) Superspeedway on May 5, 2012.
Original Story:
http://startnparkblog.com/?p=9945&utm...
THE BACKYARD
BEST OF MAXIM
RELATED ARTICLES
Kurt Busch will make his first NASCAR Camping World Truck Series start since 2001 this weekend at Michigan International Speedway. Busch takes over for Jason Leffler who was released by the team on Tuesday. Leffler joined Kyle Busch Motorsports (KBM) over the winter and the team had planned to run him full time in the No. 18 truck. A few weeks KBM announced that Drew Herring would...
"Yes Michigan" became a famous tourism slogan when the Great Lakes State produced a commercial around the theme in 1986 for its 150thbirthday. Fast-forward to some 26 years later and Michigan's tourism board, Travel Michigan, has flourished with its most recent memorable campaign, "Pure Michigan," which also happens to be the title sponsor of Sunday's NASCAR Sprint Cup...
MOORESVILLE, N.C. – Rolling hills with lush green grass, expansive lakes and small, quaint villages are in full view on the drive along U.S. Highway 12 in southern Michigan. Golf courses and vast farmed land also are part of the otherwise tranquil scene. It's a serene setting and one conducive to the quiet country life many enjoy in the area. Any thundering noises that may disturb...
After a major disappointment at Watkins Glen, Kyle Busch looks to rebound at MIS…
Boy, I think the song "Twist and Shout" sure fits well with the end of Sunday's road course race at Watkins Glen. I don't think I have seen so much twisting and shouting at the end of a race in a long time. That might be the best end to a race since that classic moment in time when Ricky Craven and Kurt Busch were coming to the line at Darlington in 2003. I kept...
Some of NASCAR's biggest names are trying to keep their championship hopes alive and the Chase for the Sprint Cup is still about a month away. Carl Edwards, Kyle Busch and Jeff Gordon would all be on the outside looking in if the Chase started now. They have four races to change that, starting this weekend at Michigan International Speedway. The top 10 drivers advance, along...
  Road courses are consistently some of my favorite events of the year. The on-the-track action is almost unfailingly riveting. This weekend's action at Watkins Glen featured many of the things that I love about road course racing: tons of action, varying pit strategies, and constant shuffling of the running order to keep the interest level high even during sustained green...
NASCAR News

Delivered to your inbox

You'll also receive Yardbarker's daily Top 10, featuring the best sports stories from around the web. Customize your newsletter to get articles on your favorite sports and teams. And the best part? It's free!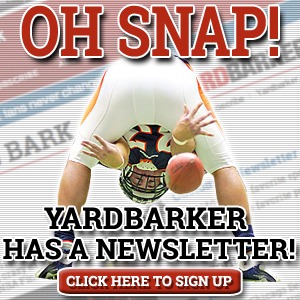 Latest Rumors
Best of Yardbarker

Today's Best Stuff

For Bloggers

Join the Yardbarker Network for more promotion, traffic, and money.

Company Info

Help

What is Yardbarker?

Yardbarker is the largest network of sports blogs and pro athlete blogs on the web. This site is the hub of the Yardbarker Network, where our editors and algorithms curate the best sports content from our network and beyond.