Found August 19, 2013 on Fox Sports:
The reason Mark Martin will replace Tony Stewart in the No. 14 Stewart-Haas Racing Chevrolet SS for 12 of the final 13 races of the 2013 NASCAR Sprint Cup season is that helps the team he's joining, as well as Michael Waltrip Racing, the team he's leaving. Stewart has been sidelined since he broke both his right tibia and right fibula in a sprint car crash Aug. 5 at Southern Iowa Speedway in Oskaloosa, Iowa. On Monday, SHR announced that Stewart is officially out for the balance of the year, to be replaced by Martin. The announcement came one day after Austin Dillon piloted the No. 14 SHR to a 14th-place finish in the Pure Michigan 400 at Michigan International Speedway. Dillon will drive the car again at Talladega Superspeedway in October, with Martin taking over the remainder of the races on the schedule. It's a complicated deal in the sense that it required an awful lot of approvals: - Michael Waltrip Racing had to release Martin from his contract to drive the No. 55 Toyota for the balance of this season. - Toyota had to give its blessing to let Martin change manufacturers. - Aaron's, Martin's sponsor at MWR, had to OK it, as did Stewart's primary sponsors, Bass Pro Shops and Mobil 1. Such cooperation among fiercely competitive race teams, manufacturers and sponsors is unusual. "Things like that are difficult to get worked out," said SHR Competition Director Greg Zipadelli. "Everybody was very respectful of each other, I believe. It just seems to be a good fit for all of us. It's about as close to a miracle as you could have happen in such a short period of time." It was team owner Stewart who pegged Martin as the first choice. "I'll be honest with you, it just kind of happened," said Zipadelli. "Everybody was very cooperative. Michael Waltrip Racing -- hats off to them for allowing Mark to help us out and them getting a jump start on next year. "It was like, 'Hey, you think this would ever work, Mark?' "And he goes, 'I don't know. Let me go check.' It was just that simple, that casual a conversation." "I think all the stars just lined up for this to work out because anyone along the way, including Mobil 1, Chevrolet or Bass Pro Shops could have probably stopped this from happening," said Martin. "So there were so many pieces to this puzzle, it was a lot more complicated than it looked at face value. But the reason it was able to be worked out is because everyone was able to win in this situation." Indeed. Once everyone looked around, they realized it was good for all parties. SHR gets arguably the best available replacement driver in Martin; MWR can put Brian Vickers in the No. 55 for the end of the 2013 season in advance of him taking over that ride full-time in 2014. "It's a really big deal for our organization to be able to get some more races in with Brian and the team as we prepare for 2014," said team founder and co-owner Michael Waltrip. In Martin, SHR is getting an extremely steady and capable fill-in. During his career, Martin has finished second in the NASCAR Sprint Cup points standings five times, most recently in 2009. He has posted 40 race victories, 56 poles, 271 top-fives, 452 top-10s and 12,879 laps led in 870 career Sprint Cup starts. A total of 21 of those victories came at tracks where Martin will drive the No. 14. Just as importantly, he's driven with a wide range of teams -- Roush Fenway Racing, Dale Earnhardt Inc. Hendrick Motorsports and Michael Waltrip Racing among them -- so he should be able to transition easily into the No. 14 car. Or as easily as anyone can on such short notice. Now comes the hard part: making it work. "It is like jumping into ice cold water," said Martin, who takes over from Stewart at Bristol Motor Speedway this weekend. "We're going to go into Bristol and we're going to have to do race setup, qualifying setup and qualifying all on Friday, boom. We don't get another crack at it on Saturday. We don't get another chance to think about it." But Martin said he's up for it. "It's going to be challenging, and challenges are good for me," he said. "... My motivation for racing is not for points, it's for racing. I want to race, and I want to finish if I'm running 20th, I'll bust my butt to run 19th. And that's one more point, but it's for one more position. And I say that just trying to explain the fact that we will race as hard as we can race, and we will finish as high as we can in every race."
Original Story:
http://msn.foxsports.com/nascar/story...
THE BACKYARD
BEST OF MAXIM
RELATED ARTICLES
Austin Dillon appears headed to racing the entire NASCAR Sprint Cup schedule next season. On Monday, Richard Childress Racing announced a sponsorship deal with D.G Yuengling & Son to be a primary sponsor on the No. 3 Yuengling Light Lager Chevrolet with driver Ty Dillon during the 2014 NASCAR Nationwide Series season. Yuengling Light Lager is America's oldest operating brewery...
Eric Maycroft, the front tire changer for Michael Waltrip Racing's No. 56 Sprint Cup team, has been suspended indefinitely by NASCAR for failing his drug test Aug. 16 at Watkins Glen. Maycroft violated Sections 12-1 (actions detrimental to stock car racing) and 19 (Violation of the NASCAR Substance Abuse Policy), according to NASCAR. He has been replaced by Terry Spalding starting...
Three-time Cup champion Tony Stewart will miss the rest of the season because of broken right leg. He will be replaced in the Stewart-Hass No. 14 Chevrolet by Austin Dillon and Mark Martin. Stewart is expected to return in time for preseason testing in January 2014. Martin was granted his release Monday from Michael Waltrip Racing to join SHS. He will drive the No. 14 this weekend...
The major Tony Stewart update is out and Tony Stewart is not going to be back for the rest of the 2013 NASCAR Sprint Cup season.  Mark Martin is going to drive the rest of the season except for the Talladega race where Austin Dillion is going to get the ride. Over at Michael Waltrip Racing Brian Vickers is going to be in 12 of the final 13 races.  Michael Waltrip will get the...
Tony Stewart will not be back in a race car in 2013 after suffering a broken right leg one week ago. That announcement on Monday set off a string of events that made sense, but came as a surprise. Stewart-Haas Racing and Michael Waltrip Racing were able to negotiate the[...]
So it became official on Monday with the Stewart-Haas Racing announcement that Tony Stewart is out for the rest of the season and will go through the rehabilitation of his broken right leg. The other news that came with that announcement is that veteran driver Mark Martin will run 12 of the remaining 13 races for SHR. Austin Dillon will take over the No. 14 duties at Talladega. ...
  Tony Stewart has one of the faces in NASCAR that everyone knows even if they've never watched a NASCAR race a day in their life. USA Today is now reporting that Stewart's face won't be that visible in the NASCAR world for the rest of this season. Doctors have ordered Tony to take the rest of the season off, which will cause him to miss the final 13 races of the season....
Tony Stewart and Stewart/Haas Racing announced Monday afternoon that Stewart will miss the remainder of the 2013 NASCAR Sprint Cup Series season due to injuries suffered in a Sprint Car crash in Iowa nearly two weeks ago. Stewart has missed the last two races at Watkins Glen and Michigan as Max Papis filled in at the Glen and Austin Dillon took the wheel in Michigan. At MIS, rumors...
Mark Martin will be named Tony Stewart's substitute in the No. 14 Stewart-Haas Racing car, sources tell FOX Sports. An announcement is set for Monday afternoon. Stewart broke his right tibia and fibula in a sprint-car wreck Aug. 5. He has missed the last two Sprint Cup races, with Max Papis and Austin Dillon replacing him in the No. 14 car. Martin has split time with Brian...
NASCAR News

Delivered to your inbox

You'll also receive Yardbarker's daily Top 10, featuring the best sports stories from around the web. Customize your newsletter to get articles on your favorite sports and teams. And the best part? It's free!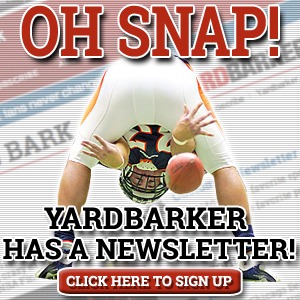 Latest Rumors
The Backyard

Today's Best Stuff

For Bloggers

Join the Yardbarker Network for more promotion, traffic, and money.

Company Info

Help

What is Yardbarker?

Yardbarker is the largest network of sports blogs and pro athlete blogs on the web. This site is the hub of the Yardbarker Network, where our editors and algorithms curate the best sports content from our network and beyond.