Found February 18, 2013 on Race Review Online:
The NASCAR Sprint Cup Series is coming off two miraculous seasons in 2011 and 2012. Tony Stewart and Carl Edwards literally tied for the title in '11 with Stewart winning the tiebreaker based on wins. In '12 Brad Keselowski won his first Cup title in an epic battle with five-time champion Jimmie Johnson. The battle to get in the Chase the last few years has been fun and exciting as well. Many great drivers were left out due to the new rule of the last two wildcard spots going to guys with the most wins. The decision by NASCAR to award wildcards like that has made racing the win more intense–and meaningful–as the regular season draws to an end. Obviously only 12 guys make NASCAR's postseason. Talented drivers were left out last year and I think these are the five that can make the Chase in 2013 and have a shot at dethroning Keselowski. Kyle Busch For the second time in five years with Joe Gibbs Racing, Kyle Busch failed to make the Chase. He was in contention all year and looked to have one of the wildcard spots locked up, but a late end of regular season run by Jeff Gordon forced Busch out. That left him down and in the dumps as he pointed to that as one of his lowest points of his career. I think Busch comes out better than ever in '13 and honestly finally contends for the Sprint Cup title. It's no secret that Busch is one of the most talented drivers in the garage. His problem came with his lack of maturity. He would blow engines or put himself in trouble with his antics and never become a factor in the Chase. He's only finished in the top five of the season standings once and has only cracked the top 10 twice. He won eight races in 2010 but only finished 10th in the final standings. That says all you need to know about his past. But, last year a new Busch as he wasn't penalized once by NASCAR and he showed he's matured. Everyone has said Toyota's would have the strongest cars to start the season off and Busch could capitalize. With a new maturity level and some strong cars I think Busch not only makes the Chase but is a threat to win it. Ryan Newman It's do or die time for the "Rocketman." Ryan Newman is in his final year of his contract with Stewart-Hass Racing and is left without anywhere to go next season. It's likely SHR is bringing in Kevin Harvick in 2014 and with the add of Danica Patick this year that leaves Newman as the odd man out if he doesn't perform this year. SHR has lack of funding for all three cars this year. With brining in Harvick next season they don't have it in their budget to fund Newman out of pocket and add another car. That means he needs to perform well in '13 and make sponsors want him next year or he's out. Newman has struggled the last seven years in Cup competition. Since joining SHR in 2009, he only has three wins and has made the Chase twice. He won last year in Martinsville on April 1st, but could only muster a 14th place finish in the standings after going on a long slump. From 2002-2005 Newman finished 6th, 6th, 7th, and 6th in the final standings. Since, he has yet to get that high as he's finished better than 10th once in 2009. It's time for Newman to prove his worth in the series in '13 or he won't have a top ride in '14. Paul Menard Last year was a breakout season for Paul Menard. After earning his only career victory in the Brickyard 400 in 2011, Menard finished 16th in the season standings in 2012 and was a factor to make the Chase all season long. I think this season Menard reaches victory lane multiple times and could make the Chase as a Wildcard. RCR has a strong program and is getting better by the year. Menard is getting more and more comfortable at the Cup level and I think year three with RCR will be his year he finally gets noticed. Marcos Ambrose Marcos Ambrose was another one of those guys hanging around the Wildcard bubble last season. He won for the second straight year at Watkins Glen and had the best five race stretch near the Chase in all Sprint Cup competition. Like Menard, Ambrose is getting more and more comfortable with the car and the tracks. I think he will once again be a threat at both road courses and could possibly steal another race or two. His consistency and winning at one of the road courses could get the Tasmanian in the Chase for his first time ever. Jamie McMurray It's hard to believe Jamie McMurray has yet to make the Chase. He won the Brickyard 400 and Daytona 500 in the same year in 2010 and looked to be the next rising star in NASCAR. But McMurray and the entire EGR organization have struggled mightily the last two seasons. McMurray finished 27th in the standings in 2011 with having many engine related issues and 19th last season with much of the same issues. EGR decided to make a change and revamp their engine program in the offseason and McMurray could be the biggest beneficiary. He can be strong at all the tracks on the circuit and with the power and reliability he will be tough to beat. I like McMurray to be a threat for the Chase and be near the bubble all season long with finally landing in victory lane for the first time in three seasons. The post NASCAR: 5 Drivers who didn't make Chase in 2012 that can make Chase this season appeared first on Race Review Online.
Original Story:
http://racereviewonline.com/nascar-5-...
THE BACKYARD
BEST OF MAXIM
RELATED ARTICLES
The NASCAR season is back upon us and it is time to get you caught up with everything that happened in the offseason. Start 'N' Park Blog will be going through their list of drivers running the full schedule in 2013 and telling you what you can expect from those drivers in the new year. Today's entry is the driver of the #99 Fastenal Ford, Carl Edwards. Driver: Carl Edwards...
Ross Chastain driver of the No. 19 National Watermelon Association Ford F-Series, will make his first start for Brad Keselowski Racing (BKR) in the NASCAR Camping World Truck Series (NCWTS) during the 2013 season opener on Friday night at Daytona International Speedway. The National Watermelon Association serves as the primary sponsor of the No. 19 BKR entry this week for the first...
MOORESVILLE, N.C. – Since becoming a Toyota-powered competitor in 2008, Kyle Busch has provided the manufacturer with a remarkable 84 victories across NASCAR's top three series, most notably, their first-ever NASCAR Sprint Cup Series victory at Atlanta Motor Speedway in March of 2008. In Friday night's NextEra Energy Resources 250 at Daytona (Fla.) International Speedway, Busch...
Ryan Blaney driver of the No. 29 Cooper Standard Ford F-Series, will make his 10th career start in the NASCAR Camping World Truck Series (NCWTS) during the 2013 season opener on Friday night at Daytona International Speedway. Cooper Standard returns to the No. 29 Brad Keselowski Racing (BKR) entry for their third season with the team and first full schedule of primary sponsorship...
DAYTONA BEACH, Fla. — It's been a rough Daytona Speedweeks start for Kurt Busch.  The Furniture Row Racing driver, who got collected in a practice accident Friday, didn't fare any better Saturday night in the Sprint Unlimited race. After starting in the rear of the field in the scheduled 75-lap event, Busch quickly powered his Furniture Row Chevrolet SS to the front of the...
Ryan Newman, Carl Edwards crash at Daytona.
Carl Edwards, Ryan Newman crash early in Wednesday Daytona 500 practice.
ESVILLE, N.C.- Kyle Busch Motorsports (KBM) announced today that GunBroker.com – which will celebrate its 10th season as a NASCAR team sponsor in 2013 – will adorn Joey Coulter's No. 18 Tundra in the season-opening NextEra Energy Resources 250 at Daytona (Fla.) International Speedway Feb. 22. GunBroker.com, the world's largest online auction of firearms, parts and accessories...
A wreck in the first segment of the Sprint Unlimited ruined the night of six drivers. Tony Stewart attempted to cut down in front of Marcos Ambrose but was unable to, resulting in a pileup in the back of the pack. Kyle Busch hit teammate Denny Hamlin's rear and suddenly Jeff Gordon, Kurt Busch, Jimmie Johnson and Mark Martin were all collected in a wreck.
NASCAR News

Delivered to your inbox

You'll also receive Yardbarker's daily Top 10, featuring the best sports stories from around the web. Customize your newsletter to get articles on your favorite sports and teams. And the best part? It's free!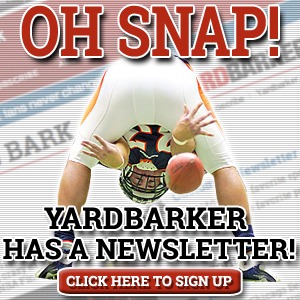 Latest Rumors
Best of Yardbarker

Today's Best Stuff

For Bloggers

Join the Yardbarker Network for more promotion, traffic, and money.

Company Info

Help

What is Yardbarker?

Yardbarker is the largest network of sports blogs and pro athlete blogs on the web. This site is the hub of the Yardbarker Network, where our editors and algorithms curate the best sports content from our network and beyond.