Found April 19, 2013 on Race Review Online:
PLAYERS:
Kyle Busch
,
Richard Petty
,
Bobby Allison
,
David Pearson
,
Kyle Larson
,
Joey Logano
,
Matt Kenseth
,
Kasey Kahne
,
Carl Edwards
,
Jeff Gordon
,
Greg Biffle
,
Denny Hamlin
,
Brian Vickers
,
Aric Almirola
,
Paul Menard
,
Martin Truex, Jr.
TEAMS:
Cincinnati Bengals
Streaking Busch Faces Kansas Challenge The Kyle Busch that won 100 NASCAR national series races at a record clip largely disappeared in 2012. He fashioned just one victory overall and missed the Chase for the NASCAR Sprint Cup™. News flash: He's back. And how. Busch posted his second NASCAR Sprint Cup Series victory of the year in Texas to extend his string of five top-five finishes and advance to third in the standings just 18 points behind leader Jimmie Johnson. Since finishing 23rd in Phoenix, the driver of the No. 18 Joe Gibbs Racing Toyota has gone fourth, second, first, fifth and first. Over that five-race span, Busch has led 435 laps – or an average of 87 per race. Busch needs to lead just 174 laps to enter an exclusive 25,000 laps-led club that currently boasts only five competitors – all members of the NASCAR Hall of Fame. They are Richard Petty, the all-time lap leader with more than 50,000, Cale Yarborough, Dale Earnhardt, Bobby Allison and David Pearson. Adding an exclamation point in the Lone Star State, Busch won his series-record fourth NASCAR Nationwide Series event in the first six races of the season. Two victories would have put Busch in last year's Chase and might well guarantee the Nevada driver a spot in 2013. But he's taking nothing for granted. "We've still got some work to do to get better at some of the tracks that we did struggle at last year, and we know that," he said, pointing to Sunday's STP 400 at Kansas Speedway. The 1.5-mile track, resurfaced last summer, has been a speed bump, of sorts, for Busch. He's without a NASCAR Sprint Cup victory or a top-five finish in 11 starts at Kansas Speedway, where Busch's best performance is a seventh in 2006. Busch also has finished off the lead lap in five races – a rarity. Statistics support Busch's Kansas struggles. His Driver Rating is – by his standards – an anemic 81.8, 17th among current drivers. Busch's average Kansas finish is 21.0 He finished 31st in last fall's Chase race, eliminated by an accident after 181 laps. Busch is aware of the challenge. "That's going to be a battle for us just making sure we've got a good handling car and one that I can drive and push hard and make speed of because that asphalt is pretty new there," he said. Busch will do double-duty at Kansas stepping into his own No. 51 Kyle Busch Motorsports Toyota Tundra for Saturday's SFP 250. NASCAR's Stars Of Tomorrow Shine Today If anything can be taken from last weekend's races, it's that NASCAR's crop of young stars is the real deal. While Kyle Busch was busy dominating the NASCAR Sprint Cup and NASCAR Nationwide races in Texas, Kyle Larson and Ben Kennedy did a little dominating of their own. Drive for Diversity graduate Larson, who is running a full-time Nationwide schedule for Turner Scott Motorsports, competed in the NASCAR Camping World Truck Series event at Rockingham on Sunday, after finishing 32nd in the Friday night Nationwide event in Texas. In the truck race, he led 187 of the 205 laps and held off a hard-charging Joey Logano on the last lap to become the first Drive for Diversity graduate or driver to score a win in a NASCAR national series event in the program's 10-year history. "It feels good to finally win a national race with NASCAR," said Larson. "I got close at Phoenix last year in the truck race, and then again this year at Bristol in the Nationwide Series." In six Nationwide races this season, his first in the series, he has a second, a sixth and a pair of 13th-place finishes. The previous night, in Pensacola, Fla., Kennedy was putting on his own show in the NASCAR K&N Pro Series East race at Five Flags Speedway. Kennedy, the great grandson of NASCAR founder Bill France Sr., led the 150-lap event wire-to-wire after starting on the pole and having the fastest car in practice. "It was really cool to sort of see our own team develop throughout the years and sort of finally come together and finally get out there and be able to get a pole and dominate the race," Kennedy said. His triumph on Saturday night, however, wasn't his first victory in a NASCAR-sanctioned event. Last season, he won the first oval event in the inaugural season of the EURO RACECAR, NASCAR Touring Series at Tours Speedway in France. Kennedy finished 10th and 17th in the first two points races of the NKNPS East season. He will make his first three truck series starts later this season. Record Speeds Expected In Gen-6 Car At Repaved Kansas Speedway Speeds skyrocketed at Kansas Speedway last October following the track's repaving earlier in the year. Every qualifier eclipsed Matt Kenseth's one-lap record of 180.856 mph, with Kasey Kahne topping out at a blistering 191.360. Now comes the NASCAR Sprint Cup Gen-6 car with enhanced down force characteristics. Yes, the speedway's surface has gone through one winter but all indication is that grip will be available in ample quantities. The question probably isn't if Kahne's lap record will fall but rather by how much. Roush Fenway Racing recently tested its Gen-6 Ford Fusion at Kansas Speedway. Carl Edwards' takeaway was this: "It was only our team so we really don't know how we stack up, but it's lightning fast." Edwards believes Sunday's race could be similar to last month's race at Auto Club Speedway, where teams ended up with different tire strategies resulting in a final, 10-lap battle between a dozen or more cars. "I had reservations just because of how different the car is," said Edwards, who hopes to replicate a NASCAR Camping World Truck victory at his home track. "Those last 10 or 15 laps at California pretty much said it all to me. If we can put on that style of race at a track that's two miles long and has all the aero issues that we complain about … I think this car could put on some very, very good races at these mile-and-a-halfs." The STP 400 marks the first time the Gen-6 car has been raced on intermediate tracks in back-to-back weekends. Four Kansas Winners Search For Third Victory Can Kansas Speedway's first three-time NASCAR Sprint Cup Series winner emerge on Sunday? Pick from several who have won twice: Jimmie Johnson, Jeff Gordon, Greg Biffle and Tony Stewart. Each member of the quartet ranks among the top five in Driver Rating with Johnson's whopping 119.5 topping the list. Johnson, who finished sixth in Texas, continues as the series points leader. The five-time Sprint Cup champion's most recent Kansas victory came in the fall of 2011. Johnson's average Kansas finish is 8.0 aided by 11 top-10 finishes. Biffle, a winner in 2007 and fall 2010, isn't far behind Johnson with a Driver Rating of 113.0. Both Gordon (101.5) and Stewart (100.8) have triple-digit Driver Ratings, as does last fall's winner Matt Kenseth (106.4). Teams return to Kansas Speedway in October during the Chase. It's the fourth Chase track to be run this spring along with Martinsville, Texas and Phoenix. Can Kenseth, Truex Match Last Year's 1-2 Finish At Kansas? In the NASCAR Sprint Cup Series' most recent trip to Kansas Speedway, Matt Kenseth led a race-high 78 of the 267 laps to beat Martin Truex Jr. to the finish line by 0.495 seconds. This Sunday, the top-two finishers from last October's race return to the 1.5-mile intermediate track with 41 other competitors all vying for the STP 400 trophy. With one win, five top fives, eight top 10s and one pole in 14 starts at Kansas, Kenseth has the better record between the two. In the past five Kansas races, Kenseth's lowest finish is seventh (fall 2010). Additionally, he has a sixth and a pair of fourth-place finishes during that span. His driver rating in Kansas is third highest among active drivers – 106.4. In nine starts at Kansas, Truex has two top fives and a driver rating of 90.5 (ninth best). After his second-place performance in last weekend's Texas race, which had him visibly upset, the Kansas track could rekindle visions of his second-place angst. He was the runner-up in both 2012 races. The 2012 spring race was particularly hard to swallow after leading the race for a race-high 173 laps, only to give up the lead to Denny Hamlin with 31 laps to go. NASCAR Sprint Cup Series, Etc. Brian Vickers' eighth-place finish in Texas – his first race in relief of injured Denny Hamlin – preserved a top-10 ranking in owners' points for the No. 11 Joe Gibbs Racing Toyota. The team ranks eighth. … Last weekend, Aric Almirola drove the No. 43 Richard Petty Motorsports Ford to its first top-10 finish of the season. Petty is Sunday's Grand Marshal. … Two drivers who have never qualified for the Chase for the NASCAR Sprint Cup™ – Joey Logano (ninth) and Paul Menard (10th) – are among the series top 10 following the year's first seven races. … Sunday's race will mark Juan Pablo Montoya's 225th NSCS start. NASCAR PR The post NASCAR: Will Kyle Busch's hot streak come to an end in Kansas? appeared first on Race Review Online.
Original Story:
http://racereviewonline.com/nascar-wi...
THE BACKYARD
BEST OF MAXIM
RELATED ARTICLES
Joe Gibbs Racing's No. 18 team pulled out a back-up Toyota for last week's Sprint Cup winner Kyle Busch after he glanced off the wall during NASCAR Sprint Cup practice on Friday at Kansas Speedway. Busch had completed just four laps in first practice before hitting the wall exiting Turn 2. Busch's fastest lap was 180.644 mph. The team unloaded the backup car just 20...
Kyle Busch has been on an amazing streak of late. Last Friday and Saturday nights at Texas Motor Speedway, he won both the NASCAR Nationwide and Sprint Cup series races. I think the difference for Kyle from a year ago is that he is back to doing what he does best -- and that's called winning. Last year, a lot of his time and effort were put into Kyle Busch Motorsports to get...
HUNTERSVILLE, N.C. – After his win at Saturday's NASCAR Sprint Cup race at Texas Motor Speedway in Fort Worth, his second of the young season, Kyle Busch said he felt like he was "riding a wave right now that's 30 feet tall and ready to keep riding." Even though the next race on the schedule occurs at land-locked Kansas Speedway in Kansas City, Busch will hope to continue...
MOORESVILLE, N.C. – Kyle Busch sweeps into Kansas Speedway in Kansas City this weekend, where once again he will be pulling double-duty, driving the No. 51 ToyotaCare Tundra in Saturday's SFP 250 NASCAR Camping World Truck Series race and the No. 18 M&M's Camry in Sunday's STP Gas Booster 500. The last two weekend's that the Las Vegas native has pulled double-duty –...
Martin Truex Jr. is still reeling over last weekend's loss to Kyle Busch at Texas Motor Speedway. Truex led 142 of 334 laps in the NASCAR Sprint Cup race at Texas -- the only laps he's led all year -- before Busch beat the No. 56 Toyota off of pit road on the final pit stop to take the lead and the win. Not only did Truex have to accept a second-place finish and endure a...
We're already seven races through the NASCAR Sprint Cup Series season and after Kyle Busch's victory Saturday night at Texas Motor Speedway, a Toyota or Chevrolet engined car has won six of the seven events. With all the attention this year going towards the rivalries between Denny Hamlin vs. Joey Logano or Logano vs. Tony Stewart and Jimmie Johnson and Dale Earnhardt Jr. for...
BREAK OUT THE BROOM IN TEXAS: Camry driver Kyle Busch recorded a weekend sweep at Texas Motor Speedway with wins in both the NASCAR Sprint Cup Series (NSCS) and NASCAR Nationwide Series (NNS) at the 1.5- mile track. In Saturday night's NSCS race, Busch led more than half the race — 171 laps (of 334) — en route to victory lane after starting from the pole. Camry driver Martin...
Welcome to the April 17, 2013 edition of Start 'N' Park Blog's Stock Watch. Each week we'll take a look at who's rising, falling, and treading water in the world of NASCAR. This stretches all division and all aspects of NASCAR, including drivers, owners, crew members, media and fans. Finding their way onto this week's watch includes Kyle Busch, Ron Hornaday, Jr., Kyle...
Welcome to the inaugural season of the Start 'N' Park Blog Pick 'Em Challenge. This will take place all year long and will feature our esteemed panel of experts who will pick a winner in the series running that weekend. For this weekend the Camping World Truck Series and Sprint Cup Series venture to the Kansas Speedway. Points will be given based on how close to firs the pick...
Bengals News

Delivered to your inbox

You'll also receive Yardbarker's daily Top 10, featuring the best sports stories from around the web. Customize your newsletter to get articles on your favorite sports and teams. And the best part? It's free!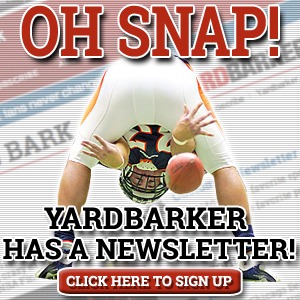 Latest Rumors
Best of Yardbarker

Today's Best Stuff

For Bloggers

Join the Yardbarker Network for more promotion, traffic, and money.

Company Info

Help

What is Yardbarker?

Yardbarker is the largest network of sports blogs and pro athlete blogs on the web. This site is the hub of the Yardbarker Network, where our editors and algorithms curate the best sports content from our network and beyond.