Found May 31, 2013 on Fox Sports:
Ricky Stenhouse Jr. found himself in the doghouse last Sunday not only with his girlfriend Danica Patrick, but also with his former car owner -- and her current car owner -- Tony Stewart. Although Patrick believes that Brad Keselowski triggered the Lap 319 incident in the NASCAR Sprint Cup race at Charlotte Motor Speedway -- since he acknowledged not knowing he was three-wide with the Nos. 10 of Patrick and 17 of Stenhouse -- she also took issue with Stenhouse running into her on Sunday night while racing for the beneficiary position after falling from the lead lap. "At the end of the day, he probably could have gotten out of it because he was a couple laps down," Patrick said. "But I get it, we're always racing hard and he still made something of his day from a couple laps down. I get racing hard, but we were racing for the lucky dog. So we were going for it, too." Patrick ended up in the garage for repairs but returned to the track and finished 29th, 15 laps down. Stenhouse continued his course and finished 14th -- but not before igniting the ire of Stewart, who blamed the rookie for blocking him. Stewart told Sirius XM Racing after the race, "Ricky Stenhouse, I'd choke him right now if I could get to him and I love that kid like he's family." Stewart threatened to "get out of bed early enough" and come to a rookie meeting to ascertain whether racing etiquette is still being taught. When asked about the comment, Patrick replied with a laugh, "Don't you want to choke your kids every now and again? Everybody wants to choke their kids or their dad or their son or their significant other at times. I think the comment came out of love, no doubt." Patrick said Stewart and Stenhouse discussed their differences after the race -- and the comments will remain between the drivers. However, she insists that Stewart "loves (Stenhouse) like a son, and you would never hurt your son, you would only try to help them." Patrick said that if Stewart is traditionally hard on rookies, then she just "thanks the good Lord that I'm on his team. "Tony wants to help teach the rookies and the rookies he respects and feels should get that time of day. If he didn't think they were good, he wouldn't try to help them because they won't be around for long in his opinion. "If there's anyone out there that he says something about, it's only because he knows they're going to be around and he wants them to learn how to play the game the way he learned to play the game and he's been here a long time and been very successful. It's actually a good thing that he wants to help and he would speak up ... you need to take care of those relationships or else they can bite you in the end." Patrick said that she was "a little bit upset" with Stenhouse after the race but the two made up on the ride home. But this wasn't their first on-track spat. Apparently, the couple agreed to disagree after Stenhouse took the competition four-wide at Talladega earlier this month and Patrick "was not a good recipient of that one." But she believes it's just something the drivers "have to deal with." Still, she also "understands" the human-interest side of the wreck considering that she and her significant other were both involved. "He was part of the three-wide that made the accident, too, so it's legitimately something you could ask," Patrick said. "We're just very honest. We keep things simple. We didn't even talk about what we should say. "The only thing to know is that we're honest about the things that happen and it was a racing incident and we're going to give our perspectives on what it was." With qualifying for Dover scheduled for Friday afternoon, Patrick is already looking ahead to this weekend's competition. She's optimistic considering that her teammates Stewart and Ryan Newman both scored top-10 finishes in the Coca-Cola 600, the first time Stewart-Haas Racing has posted multiple top 10s since Phoenix International Raceway in March. Patrick feels the team is gaining grip, "which will help out overall with the car and translate into speed." But her crew chief Tony Gibson is quick to remind her that they're still "only 30 percent there. "We all respond to results on the track and the performance on the cars because that's what we're here for. To have a weekend like Charlotte -- by no means are we running up front -- but we're better. I think everybody is a little bit more happy and excited. "We expected it to come around because it is a good team and with Tony at the helm, he's out there racing the cars, too. It was really just about being anxious about when it would happen. I feel like there's some light at the end of the tunnel but we have to keep working."
Original Story:
http://msn.foxsports.com/nascar/story...
THE BACKYARD
BEST OF MAXIM
RELATED ARTICLES
credit: getty images What happens when your significant other wrecks you during a NASCAR race? "You don't not talk about it because you're riding home together," Danica Patrick told reporters on Wednesday during a testing session at Pocono. "There's a few silent moments for sure, many moments. I was upset. I wasn't necessarily strictly just upset at him. He was there...
Danica Patrick spoke Wednesday about her boyfriend, Ricky Stenhouse Jr., hitting her No. 10 Chevrolet on Sunday during the Coca-Cola 600 that sent her into Brad Keselowski, and caused a wreck on the restart. 
Danica Patrick left the first racing rough patch with boyfriend Ricky Stenhouse Jr. on the track. At home, the relationship is still smooth sailing. Patrick and Stenhouse escaped for some relaxation on a boat after their first dust-up on the track since the NASCAR rookies announced in January they were dating. NASCAR's power couple rubbed each other the wrong way during Sunday...
Danica Patrick and Ricky Stenhouse Jr. had a rough night in Charlotte…
Team: No. 17 Best Buy Ford Fusion Crew Chief: Scott Graves Primary Chassis: RK- 820 – last raced at Kansas– finished 11th. Backup Chassis: RK-811 – chassis raced numerous times by No. 99 in 2012. Stenhouse Jr. at Dover International Raceway: Stenhouse Jr. has one Sprint Cup start at the Monster Mile. He finished 12th in last year's fall race. The two-time Nationwide champion...
It was bound to happen at some point, so it should have not been a surprise when Danica Patrick and Ricky Stenhouse, Jr. got together in last weekend's Coca-Cola 600 from the Charlotte Motor Speedway. The duo, who are dating, expected the media storm that followed. After watching replays of the incident, Patrick was able to put it in perspective as just a racing deal. "I feel...
LOVER'S SPAT
Danica Patrick admits she was mad at boyfriend Ricky Stenhouse Jr. after the two were involved in a crash on Sunday at Charlotte Motor Speedway.
KANNAPOLIS, N.C. – With the two weeks of Charlotte complete, the competitors in the NASCAR Sprint Cup Series now begin the summer stretch of races, the majority of which are conducted in the northern part of the country. For Danica Patrick, it means a lot of races at tracks she is familiar with, just not in the Sprint Cup Series. Of the next eight races on the schedule, Patrick...
As the calendar turns to June, the NASCAR Sprint Cup Series begins the summer stretch of races, the majority of which are in the northern "cold" part of the country. For Danica Patrick, it means a lot of tracks she's familiar with from her Nationwide days. And Danica Patrick is from near the Illinois and Wisconsin border, so she's familiar with the snow belt. Of the next...
Photo Credit: Stewart-Haas Racing 600 grueling miles and over 5 hours of racing left the GoDaddy superstar with a disappointing 29th place finish. The Coca-Cola 600 runs on Memorial Day weekend and on a day where Danica Patrick used to find herself amongst the Indy 500 festivities, she now finds herself sitting back and watching, for the second year in a row. Last season marked Patrick's...
NASCAR News

Delivered to your inbox

You'll also receive Yardbarker's daily Top 10, featuring the best sports stories from around the web. Customize your newsletter to get articles on your favorite sports and teams. And the best part? It's free!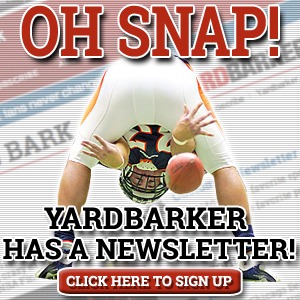 Latest Rumors
The Backyard

Today's Best Stuff

For Bloggers

Join the Yardbarker Network for more promotion, traffic, and money.

Company Info

Help

What is Yardbarker?

Yardbarker is the largest network of sports blogs and pro athlete blogs on the web. This site is the hub of the Yardbarker Network, where our editors and algorithms curate the best sports content from our network and beyond.