Found May 27, 2013 on Start 'N' Park Blog:
CHARLOTTE, NC – In a 10-lap shootout to the finish, Kevin Harvick held off Kasey Kahne to bring his No. 29 Budweiser Folds of Honor Chevrolet SS home for the win ahead of Kahne's No. 5 Time Warner Cable SS. It was Harvick's 21st NASCAR Sprint Cup career win, his second of the 2013 season, and also his second time to visit Victory Lane at the Coca-Cola 600. The win also moved Havick up three places in the series standings to 7th place overall. The bizarre 400 lap/600 mile race was marred by three red flag interruptions to clear debris and nylon rope from a fallen FOX television camera and repair the damaged cars. Kahne, who took fluids for flu-like symptoms prior to the start of the race, had the fastest car in the field and led the race for 161 laps. But he was left with worn tires when he didn't pit on the last stop prior to the final restart, giving Harvick the advantage to take the low side and get by Kahne. Kurt Busch, driver of the No. 78 Furniture Row Racing/Sealy Chevrolet SS rallied back from electrical problems, and finished third; giving Team Chevy the top three finishing spots. Stewart-Haas Racing teammates Ryan Newman, driver of the No. 39 Quicken Loans Chevy SS and Tony Stewart, No. 14 Bass Pro Shops/Mobil 1 Chevrolet SS, finished the race in 6th and 7th place, respectively. That gave the Bowtie Brigade five of the top 10 in the final order. Jimmie Johnson, five-time NASCAR Sprint Cup champion, was caught in a multi-car accident, yet managed to bring his No. 48 Lowe's Patriotic Chevy SS in for a 22nd place finish. Johnson continues to maintain the point lead and holds a 32-point advantage over second place. The next stop on the tour is Dover International Speedway in Delaware on June 2, 2013. KEVIN HARVICK, NO. 29 BUDWEISER FOLDS OF HONOR CHEVROLET SS – WINNER YOU'VE WON A LOT OF BIG RACES IN YOUR CAREER WHAT DOES THIS WIN SAY ABOUT YOU AND THIS NO. 29 TEAM? "Well, first off I want to say I hope everybody is okay from that cable. That is quite a weird incident there. Second, I want to just say thank you to all these guys at RCR (Richard Childress Racing). To win at Charlotte is something that we had to overcome for a long time. We kind of won it on gas mileage last time. We just went and won it this time. Just got to thank everybody from Budweiser, Sprint, all the fans, got this great promotion with the Folds of Honor special beer cans. Five cents from every can goes to Folds of Honor. HOW DID YOU WIN THIS RACE? "Well it was a good strategy call there. The No. 5 stayed out and we were able to have a little bit fresher tires and get in front of him on the restart. Just got to thank everybody, Jimmy John's, Rheem, Hunt Brothers, Realtree, everybody who makes this Chevrolet go around." WELCOME TO VICTORY LANE IN THE COCA-COLA 600 FOR THE SECOND TIME HOW DOES IT FEEL? "It feels great. Just have to thank everybody on this Budweiser Folds of Honor Chevy for just hanging in there. This is a long night. We have been here a lot of times and know that you just have to grind through mile after mile, keep your car running, don't get tore up, don't get a lap down and you're going to be somewhere around at the end. Everybody did that on our Budweiser Chevy tonight and there we were at the end." WHAT WAS YOUR THOUGHT WHEN KASEY (KAHNE) STAYED OUT? ANY HESITATION TO PIT? "No, at that point you hope that everybody behinds you pits. With everybody coming and us being basically in the same spot we would have been we were able to just hold it wide open on the restart, clear him coming off of (turn) two. All from there it was clear sailing." CLEAN AIR WAS HUGE YOU NEEDED TO GET A GOOD RESTART DIDN'T YOU? "Yeah, clean air was really big. Obviously, with him being on old tires we knew that the restart was going to be important to be able to try to get that clear track and it paid off." KASEY KAHNE, NO. 5 TIME WARNER CABLE CHEVROLET SS – FINISHED SECOND BREAK DOWN THE DECISION PROCESS BETWEEN YOURSELF AND KENNY (FRANCIS, CREW CHIEF) ON STAYING OUT WHILE THE OTHERS PITTED: "Well, there was a couple of guys that had just got tires so we thought they would stay out. They were probably around 10th or 12th. So if they stay out then we have a couple… where ours are hot and so are theirs. We didn't think it would be a big deal we could get away. That didn't happen. The whole field pitted. We were in a tough spot. I bet if we pit some of them don't. I think we are just in a tough spot right there. We had a great Time Warner Cable Chevy all night. The pit stops were great. Kenny (Francis, crew chief) made awesome calls. I knew Kevin (Harvick) would be good he has been fast all weekend. Matt (Kenseth) was fast and Kyle (Busch) early on and Kurt (Busch). We raced all day and I thought we were in a really good position there at the end. Just didn't get it done." TALK ABOUT THE DECISION NOT TO PIT: "Well we just thought there would be at least a couple of guys would stay out. I think two or three had just pitted within five or eight laps of there. We thought they would stay out and that would be enough to get away. But the whole field pitted so we just didn't expect that. We had a great Time Warner Cable Chevy all night long. We were in the hunt from the drop of the green. It was a solid night. Wish we could have won it. I felt like we were definitely the car to beat the last 200 laps, maybe the whole race at times. It was solid. It was a great performance by the whole team and the pit stops were awesome. We just didn't get the win." BIG PICTURE YOU GUYS RUN WELL ON THE 1.5-MILE TRACKS AS FAR AS THE CHAMPIONSHIP CHASE YOU ARE LOOKING PRETTY SOLID: "Yeah, we ran second to Matt (Kenseth), second to Matt (Kenseth) again, (Las) Vegas, Kansas and then second to Kevin (Harvick) here. We were the fastest car in all three of those. We just didn't win any of them. I feel good about where we are at absolutely. We are good on these tracks. The team is doing an awesome job we just need to finish it off." KURT BUSCH, NO. 78 FURNITURE ROW RACING/SEALY CHEVROLET SS – FINISHED THIRD TO COME BACK FROM A BATTERY ISSUE TO FINISH THIRD YOU WOULD THINK IS A GOOD NIGHT FOR YOU, BUT COMPETITORS ARE OUT HERE TO RACE 600 MILES TO WIN. HOW DO YOU LEAVE THIS TRACK FEELING? "Still shell shocked, we picked up the lead and then the battery went dead. I don't know what to think of that. We battled back. They guys changed it as fast as they could and we got third. We had a good car. You've got to be perfect to win these things and I was close. We weren't quite there. Thanks to Furniture Row and Monster Energy. It was a great night to run up front and showcase what this team is made of." YOU BATTLED A TV CABLE HITTING YOUR CAR, YOU BATTLED A DEAD BATTERY, YOU BATTLED A LOT, BUT ULTIMATELY YOU CAME BACK WITH A PRETTY STRONG FINISH TONIGHT TALK ABOUT YOUR 600: "Yeah, it was one of those days where you hope it goes smooth and it didn't. We had a battery go dead on us. We had to come from behind with that. When you are back there battling back passing guys it's tough to catch those leaders because they are out front. We really did good with our Furniture Row guys. Thanks to them, Furniture Row, Sealy, Monster Energy, it was a good night to showcase what this team is made of. We just didn't deliver." RYAN NEWMAN, NO. 39 QUICKEN LOANS CHEVROLET SS – FINISHED SIXTH ON HIS RACE: "We had a really good Quicken Loans Chevrolet at the end of the race. If that yellow hadn't come out we would have probably ended up third. We took two tires under caution and couldn't quite get back to where we were. That is a great come back after going a lap down early, and considering where we were one week ago here for the All-Star Race. The Quicken Loans guys did a great job. Tony (Stewart) had a great run too. It was a solid night for Stewart-Haas Racing."   TONY STEWART, NO. 14 BASS PRO SHOPS/MOBIL 1 CHEVROLET SS – FINISHED SEVENTH ON HIS RACE: "We finally got some stability in the car. One change there at the end of the race just made a huge, huge difference." GREG ZIPADELLI, COMPETITION DIRECTOR, STEWART-HASS RACING: "A lot of guys had issues tonight, but all three of our cars made big improvements this week in terms of performance. We ended up with a couple of good finishes. Danica (Patrick) had a bad day, but overall it was certainly an improvement." JIMMIE JOHNSON, NO. 48 LOWE'S PATRIOTIC CHEVROLET SS – FINISHED 22ND SOME DRIVERS WEREN'T THRILLED ABOUT THE FACT THAT NASCAR GAVE EVERYBODY 15 MINUTES TO WORK ON THEIR CARS DURING THE RED FLAG. WHY WAS THAT? "The guys that were running well and didn't have any damage, the last thing you wanted was to see 15 minutes of free open-minded work on other competitor's race cars. But I really think it was the right thing to do. They handled it correctly." TELL US ABOUT YOUR NIGHT. YOU WERE FIGHTING BEING LOOSE ALL NIGHT AND THEN YOU GOT CAUGHT BY THE CAUTION? "Yeah, we were like a fifth place car; somewhere in that area. Maybe third through seventh place most of the night. We got pulled around in Turns 3 and 4 and spun. That really affected our finish from that point. But we did have some issues with the charging system of the car with batteries dying and things like that throughout the race, which added more excitement for us. It was a long night with a lot of issues and unfortunately we got sucked around there in Turn 3 and did some damage to the car." DANICA PATRICK, NO. 10 GODADDY CHEVROLET SS – FINISHED 29TH ON HER RACE: "We obviously started from the back and track position was really important here at Charlotte. We fought our way back to trying to be in a position to be on the lead lap. I felt like we were making real progress and starting to get the car to a place that was really good, and had an accident which is unfortunate because we were moving up. But nothing we can do about it now." -Team Chevy PR
Original Story:
http://startnparkblog.com/?p=26686&ut...
THE BACKYARD
BEST OF MAXIM
RELATED ARTICLES
Kasey Kahne was a force on Sunday night at Charlotte Motor Speedway -- until the final restart. Kahne led 161 of 400 laps in the Coca-Cola 600 but his Hendrick Motorsports team's decision to not pit during the 11th and final caution cost him a shot at his second NASCAR Sprint Cup win in 2013. "We thought a couple of guys would stay out and that would be enough to get away...
Kasey Kahne comes into today's Coca-Cola 600, being run at the Charlotte Motor Speedway, with his confidence through the roof. Kahne is the defending champion of this race and is looking for his fourth Coca-Cola 600 victory. On top of that, he is in a much better place when it comes to points compared to a year ago. "I feel like we have a really strong team.  We've came a...
Kasey Kahne and Kevin Harvick lined up side by side for a restart with 11 laps to go Sunday night at Charlotte Motor Speedway following a NASCAR Sprint Cup Coca-Cola 600 that had been hampered repeatedly by caution periods in the closing laps. Harvick jumped ahead of leader Kahne on the restart -- and held on for the victory. Kahne had stayed out during the caution period that...
Kevin Harvick celebrates in Victory Lane after winning the NASCAR Sprint Cup Series Coca-Cola 600 at Charlotte Motor Speedway on May 26, 2013 in Concord, North Carolina. (Photo by Jared C. Tilton/Getty Images) 14 lead changes. 11 cautions. 2 red flags. It was a crazy night at Charlotte Motor Speedway. In the end it was Kevin Harvick who won a wild Coca-Cola 600 on Sunday night, holding...
Kasey Kahne loses shot at victory in late-race pit scramble…
credit: getty images Kevin Harvick won the Coca-Cola 600 from Charlotte Motor Speedway. Annually run on the Sunday before Memorial Day the Coca-Cola 600 is the longest race on the NASCAR schedule. While Harvick winning may not have been a surprise, the events that lead up to it certainly were. Denny Hamlin set a track record to sit on the pole. Hamlin would lead the opening lap of...
NASCAR's longest night got under way to a fast start Sunday night in the Coca-Cola 600, capping two weeks for teams and drivers at Charlotte Motor Speedway. The prior week's All-Star Race gave plenty of warning of which drivers and teams would be strong Sunday night, and those top runners started where they left off. Strange and unusual events began plucking top competitors...
Photo- Getty Images The longest race of the season had some of the most bizarre events unfold throughout the night. It started out with a cable falling from the sky (actually a camera) and then the full-moon implemented a series of accidents towards the end of the race. Once the smoke settled, Kevin Harvick was standing in victory lane for the second time in the Coca Cola 600. This...
credit: getty images Kevin Harvick may have won the Coca-Cola 600 at Charlotte Motor Speedway but Jimmie Johnson continues to lead the NASCAR Sprint Cup point standings. Johnson entered the race with a 44 point lead over Carl Edwards. He now holds a 32 point lead over Edwards. The win moved Harvick up to seventh in the standings. Unofficial Point Standings after Coca-Cola 600 ...
Kasey Kahne led the way with a lap of 28.633 seconds in the final practice for the Coca-Cola 600 from Charlotte. Rounding out the top five was Kurt Busch, Denny Hamlin, Matt Kenseth, and Greg Biffle. Pos # Driver Team Time Behind 1 5 Kasey Kahne Time Warner Cable Chevrolet 28.633 Leader 2 78 Kurt Busch Furniture Row Racing / Sealy Chevrolet 28.690 -0.057 3 11 Denny...
NASCAR News

Delivered to your inbox

You'll also receive Yardbarker's daily Top 10, featuring the best sports stories from around the web. Customize your newsletter to get articles on your favorite sports and teams. And the best part? It's free!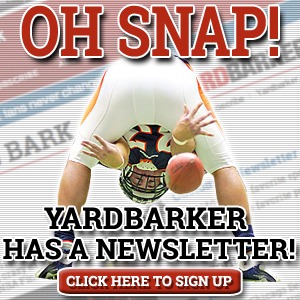 Latest Rumors
Best of Yardbarker

Today's Best Stuff

For Bloggers

Join the Yardbarker Network for more promotion, traffic, and money.

Company Info

Help

What is Yardbarker?

Yardbarker is the largest network of sports blogs and pro athlete blogs on the web. This site is the hub of the Yardbarker Network, where our editors and algorithms curate the best sports content from our network and beyond.