Kyle Busch drove his Joe Gibbs Racing (JGR) No. 18 Interstate Batteries Camry to victory lane at California's Auto Club Speedway Sunday afternoon. It marks the first NSCS win for Toyota at the Fontana, Calif., track — the inaugural 'home' win for the manufacturer. Toyota Motor Sales, U.S.A., Inc. headquarters are located in Torrance, Calif., and TRD, U.S.A. (Toyota Racing Development) is based in Costa Mesa, Calif. Busch swept the two weekend races after winning Saturday's NASCAR Nationwide Series (NNS). The win was Busch's 25th career NSCS victory and makes him the third driver (joining Mark Martin and Matt Kenseth) to have at least 25 wins in both the NSCS and NNS. He has 54 career NNS triumphs. This was the first NSCS victory for Joe Gibbs Racing (JGR) at the two-mile race track. JGR has also won nine consecutive NNS races at Auto Club Speedway. Toyota driver Matt Kenseth (seventh) also earned a top-10 finish on Sunday. Camry driver Denny Hamlin (25th) was involved in a last lap accident and was transported to a local hospital for further evaluation. Other Toyota drivers in the field included Martin Truex Jr. (18th), Bobby Labonte (28th), David Stremme (31st), Joe Nemechek (32nd), David Reutimann (33rd), Travis Kvapil (34th), Clint Bowyer (35th), Mark Martin (37th) and Mike Bliss (43rd). Three Camry drivers are in the top-12 in the unofficial point standings, including Busch (sixth), Hamlin (10th) and Kenseth (11th). KYLE BUSCH, No. 18 Interstate Batteries Toyota Camry, Joe Gibbs Racing | Finishing Position: 1st Photo- Getty Images How did you get to victory lane? "We had to get by before they wrecked. You know, when they both went to the bottom side of (turns) three and four — I'm like, 'Oh man, this is golden. I got enough up here I can make this happen.' Lo and behold, I put my foot to it and drove around the outside of them before they started crashing or maybe as they were crashing, I'm not sure. Man, feels so good to finally win. We weren't going to win if it wasn't for those two (Denny Hamlin and Joey Logano) battling. If they would have been single file and just racing, it would have went down in order. Can't say enough about all of Joe Gibbs Racing. Everybody at TRD — we appreciate their support of course. Being right here in California — finally, finally we get the 'home' win for Toyota. Finally we get a win for Joe (Gibbs, owner). Joe, this one's for you buddy. I drove my butt off right there at the end. You know, what I always do." Where did you come from to win the race? "We were there all day, where did everybody else come from. They had fresh tires — that's what happened. We just ran real hard on that last restart and I was really bad at pushing and really tight and trying to make good time, and doing what I could on the top side. I figured if they come back to me, they come back to me. They got to racing and racing really hard and I think they forgot about me and ran them all down and there when they started getting together a little bit, I was like, 'Man I got to get by them before they crash.' I think I was going by as they were crashing. I can't say enough about Dave Rogers (crew chief) and Interstate Batteries. This one is for Joe Gibbs (owner) — we finally get one for him and it was a lot of fun today." Did you expect to win the race on the final lap that way? "I didn't think that was going to happen. I don't know what the issue is — what the problem is. It's unfortunate for those two. I think the mentality between the two of them was, 'We're both not going to win this race because we're going to crash each other trying for ourselves,' and they gave it to the third-place guy, unfortunately. I was in the right place at the right time." What was your view of the end of the race? "Well, those guys went to racing each other really hard, which is what this sport is all about and what's great about NASCAR. But, unfortunately it got a little dirty there at the end, and it was just running — those guys were running each other really, really hard, especially down the straightaways, just side drafting one another and slowing each other down. That was the easiest time for me to gain time, just being able for me to run my own race right there and to run around the top. I finally got my momentum going and got a little bit of the tight that was in the car out of it, and we ran those guys down, and then was able to pass them there in (turns) three and four before the big wreck ensued. Just hope everybody is all right. Hope Denny (Hamlin) is all right. I heard he had some issues there, but we don't know all the facts right now. That's all we can really say about that. To get Joe Gibbs here in victory lane in California, that's special. To get TRD and Toyota in victory lane here in California, of course that's great, too. It's their home. They're not from too far from here. And, for Dave (Rogers, crew chief) and I — we've been working really hard and everybody at Joe Gibbs Racing has been working really hard. But, to finally seal the deal here today feels good. Didn't look like we were going to be able to seal the deal. But sometimes you've got to have a little luck on your side, and fortunately we had that today, and it worked in our favor, so that's good." Did you see what happened between Joey Logano and Denny Hamlin? "Just side drafting each other. It's hard racing, but it's also dirty sometimes, but you are going for the win. So it's nothing I'm sure other people wouldn't do to me. It's just a product of — I guess clean racing is when you're just running each other hard and you're separated down the straightaways, you're trying not to slow each other down and bring the third car back there into the fray. But it looked like there through (turns) three and four that Joey went to the bottom but didn't quite get all the way down there and knew that Denny (Hamlin) was going to have the run on the outside and slid up a little bit. I'm not sure if he lost his front end or not, but they got together a little bit, and then it turned Denny sideways and then somehow Joey got into the fence, too. But that's just from the minimal replays I've seen. I did win the race today, by the way, so that might be a story. But I'm sure it's not." What does it mean to get a win this early in the season? "We worked so hard last year, and we missed the Chase by three points. And, then it sort of defines your season as missing the Chase. And, then we go off and rattle off great finishes throughout the Chase but we never win. That weighed on both Dave (Rogers, crew chief) and I's shoulders, and of course being able to realize or understand if we could do this together or not. And, then again this year we started out the season and we were running well at Daytona, we had a little issue there, and then Phoenix we had to start in the back. I tried to carry the deal on my shoulders and I messed up. And, then we go to Vegas and run up front, we lead some laps, we just didn't have a good long run car. And, then last week at Bristol we had a good car, we sped on pit road and got back in traffic, never really made our way back up to the front on good tires, and then here this weekend, again, we had the best car, we led the most laps, and felt like it was our race to win, but in reality it was our race to lose when all those guys kept pitting behind us and putting on tires. We felt like track position was the best for us, although tires were worth a lot of speed. So it's just — we finally had a little bit of luck on our side that we didn't have all last year and it seemed like we weren't quite having this year. But we've had some good runs and some strong runs, it's just you've got to keep working, you've got to keep digging in, and Dave and I talked a lot in the last few weeks about what we can do to try to help each other and put our program on the map where we're a bigger force to be reckoned with." DAVE ROGERS, crew chief, No. 18 Interstate Batteries Toyota Camry, Joe Gibbs Racing What was the race like from your point of view? "Yeah, the race was pretty good. Kyle (Busch) did a fantastic job yesterday of predicting the direction the track was going to go, gave us really good feedback, sent me some texts last night, today I think the track is going to do this, this is where I need help. So great feedback, and the guys on the Interstate Batteries crew prepared a great race car. I just decided to make it interesting on Kyle there staying out and letting him go on those tires. We kept getting a lot of two laps, then four laps, and cautions kept coming out, and every time a few people would dip down on pit road and get tires. Before you know it the whole field had tires except for us and the 22 (Joey Logano). Kyle just did a great job of moving around and figuring out how to get the most out of his car with what he had and capitalize when the 22 (Logano) and the 11 (Denny Hamlin) started racing hard." MATT KENSETH, No. 20 Dollar General Toyota Camry, Joe Gibbs Racing | Finishing Position: 7th How was your race? "It was up and down, just got to do the best job there, we sort of missed it a little bit. That last restart, the 17 (Ricky Stenhouse Jr.), he ran into the back of me and knocked me sideways and lost about eight spots and then couldn't quite get back there. I thought we had good strategy, good stops — a great job at fixing all our problems, we were just off all day."
Original Story:
http://startnparkblog.com/?p=23453&ut...
MORE FROM YARDBARKER
NASCAR News

Delivered to your inbox

You'll also receive Yardbarker's daily Top 10, featuring the best sports stories from around the web. Customize your newsletter to get articles on your favorite sports and teams. And the best part? It's free!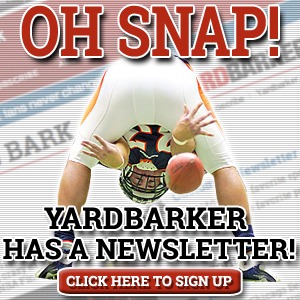 Latest Rumors
Best of Yardbarker

Today's Best Stuff

For Bloggers

Join the Yardbarker Network for more promotion, traffic, and money.

Company Info

Help

What is Yardbarker?

Yardbarker is the largest network of sports blogs and pro athlete blogs on the web. This site is the hub of the Yardbarker Network, where our editors and algorithms curate the best sports content from our network and beyond.