Found July 26, 2013 on Fox Sports:
After the success of Wednesday night's Mudsummer Classic at Eldora with the Camping World Truck Series, can one or both of NASCAR's top tours be far from getting "dirty,'' too? "It might be sooner than you think," one source said. Dale Earnhardt Jr., who fields teams in the Nationwide Series, believes running that running cars on the dirt at Eldora "would be fun." "I think it would be good for them and for the series as well," Earnhardt said on Friday. "The trucks are such a neat choice because of the side force that they create with the way the bodies are on the trucks. I'm not sure how the Nationwide cars or even the Cup cars would run there, but I think it would fun for the series to have a couple of dirt races, to be honest. "Eldora is the perfect place to have this all tested out, and obviously it seems to be really awesome for the fans and something they really enjoyed. So I expect that's something we could see more of. We'll just have to see what NASCAR wants to do." NASCAR Vice President Steve O'Donnell described the Mudsummer Classic as "a terrific night." "It exceeded all of our expectations," O'Donnell said. "The staff at the track was incredible to work with. The competitors put on a terrific show, and so far, based on the fan feedback, it was definitely a win for the entire sport. "Our initial practice viewership doubled, so that was a good trend leading into it. And the race sold out well in advance, so the promoters were happy with that, as well." While he acknowledged it was "possible" that one or both of the higher series could compete at Eldora in the future, O'Donnell said it was necessary to evaluate the event, then talk with the drivers, team owners and track promoters before divulging a plan. But with O'Donnell expecting the schedules of the three national series to be released "in the next 30 days" NASCAR's future at Eldora could become clearer. Throughout the week, Jeff Gordon said Eldora has been all the buzz. As someone who has raced the Big E in the past, Gordon said he would "love to see a Cup race at Eldora." "I think that would be awesome," Gordon said. "I know you know you don't know until you get out there and try. Those guys look like they were having a lot of fun. I think I would rather have Kyle Larson (who finished second) drive my car because I thought he was awesome. He was unbelievable. "Everywhere I've gone this week I've had people that are huge NASCAR fans and people that aren't big NASCAR fans at all that watched it and they were blown away -- they did not expect it to go the way that it did. I thought, why not have more races on a dirt track? I don't think you will ever see a Cup race, there at least not while I'm driving, but I would certainly vote for it. I think it would be very cool to do." From a programming standpoint, the results were clear. According to the SPEED Channel, the Mudsummer Classic was the 10th-most watched truck race in the network's history. The Eldora qualifying and pre-race shows posted the top numbers in each category to date. With 1.4 million viewers and a Nielsen rating of 1.20, the race also was the highest viewed on cable for Wednesday. The event also showed the viability of running more races during the week -- as long as the content remains compelling. "Our sport is unique in that fans tend to travel for three days with a lot of camping and making an event out of it," O'Donnell said. "It would depend on the marketplace to make it work. "Certainly, part of (Wednesday) night's event was to see how it did from an attendance standpoint and viewership and go from there."
Original Story:
http://msn.foxsports.com/nascar/story...
THE BACKYARD
BEST OF MAXIM
RELATED ARTICLES
Dale Earnhardt Jr, driver of the No. 88 Chevrolet for Hendrick Motorsports spoke with media on Saturday at Indianapolis Motor Speedway. Earnhardt Jr. was asked about the rumors of a new sponsor for the team. Earnhardt Jr. said it is too late in the season to expect a multi-year deal. "Anybody who has got any sense about how the corporate world works knows that it's too late into...
It was a difficult day for Dale Earnhardt Jr. - on and off the track. His uncle, Randy Earnhardt, died Sunday morning. Randy was important to Dale in his early racing days and played a role in Dale Earnhardt Inc., which was founded by Dale Sr. and his wife, Teresa, and existed from 1980 to 2009. Dale Jr., who drove for DEI, respected Randy both for his work in racing and his dedication...
For sale by owner: Major sponsorship for NASCAR's most popular driver. Act fast, time is running out. Dale Earnhardt Jr. is not only looking for his first win of the season, he's still hunting for a big-bucks sponsor for 12 Sprint Cup races this season. Earnhardt said he's not worried, a sign that perhaps Hendrick Motorsports has a deal on the horizon. ''It...
For sale by owner: Major sponsorship for NASCAR's most popular driver. Act fast, time is running out. Dale Earnhardt Jr. is not only looking for his first win of the season, he's still hunting for a big-bucks sponsor for 12 Sprint Cup races this season. Earnhardt said he's not worried, a sign that perhaps Hendrick Motorsports has a deal on the horizon. ''It...
Dale Earnhardt Jr. has a love-hate relationship with the Indianapolis Motor Speedway. While the 38-year-old appreciates the history of the track, his results on the two-mile loop have been less than stellar -- until last year. After 13 starts at Indy, Earnhardt posted his first top five behind the wheel of the No. 88 Chevy in the 2012 Brickyard 400. But Junior remembers his first...
POINTS AFTER NEW HAMPSHIRE: Dale Earnhardt Jr. holds the fifth position in the NASCAR Sprint Cup Series championship standings. He trails leader and teammate Jimmie Johnson by 118 points with seven races remaining until the 12-car field is set for the Chase for the NASCAR Sprint Cup. AT THE BRICKYARD: In 13 Sprint Cup starts at Indianapolis Motor Speedway, Earnhardt has recorded...
ROUND TWO AT IMS - Along with the Nationwide Series, JRM's two-car team makes its second trip to the famed Indianapolis Motor Speedway this weekend. The series made its debut at the historic 2.5-mile facility last year. KAHNE BACK IN 5 CAR - Kasey Kahne returns to drive the Great Clips Shark Week Chevrolet this weekend in his eighth of 12 scheduled races for JR Motorsports this season...
This Sunday, America's most famous race track will hold its annual NASCAR race in Indianapolis, Indiana. Ironically, it's no longer called "The Brickyard 400." Instead, the Samuel Deeds 400 at the Brickyard will commence Sunday afternoon, confusing both hardcore NASCAR fans and casual observers alike. NASCAR's most popular races can usually be referred to with one word...
The NASCAR Truck Series stop at Eldora Speedway this week created a lot of buzz that still hasn't died down. Drivers in Indianapolis for this weekend's Brickyard race were talking Friday about a possible Sprint Cup series race at the Ohio track - someday. The race on Wednesday was NASCAR's first stop on a dirt track since Sept. 30 1970. Jeff Gordon said he would like...
Bengals News

Delivered to your inbox

You'll also receive Yardbarker's daily Top 10, featuring the best sports stories from around the web. Customize your newsletter to get articles on your favorite sports and teams. And the best part? It's free!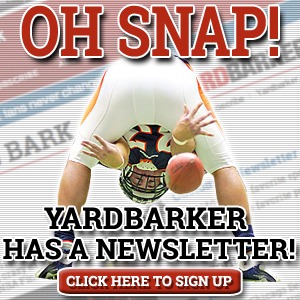 Latest Rumors
The Backyard

Today's Best Stuff

For Bloggers

Join the Yardbarker Network for more promotion, traffic, and money.

Company Info

Help

What is Yardbarker?

Yardbarker is the largest network of sports blogs and pro athlete blogs on the web. This site is the hub of the Yardbarker Network, where our editors and algorithms curate the best sports content from our network and beyond.