Dale Earnhardt Jr. stops by the short track booth to chat with Ted Robinson and Apolo Ohno to talk about his new favorite winter Olympic sport.
Dale Earnhardt Jr. is covering the 2018 Winter Olympics for NBC, gravitating (naturally) to the events involving pure speed.
Since retiring full-time from racing, Dale Earnhardt Jr. has joined with NBC and the network sent him to Pyeongchang to cover the Olympics.
The Daytona 500 is over, and Dale Jr. is off to South Korea.
Dale Earnhardt Jr. retired after 18 seasons in NASCAR on his own terms.
For the first time since 1999, the Daytona 500 will run without Dale Earnhardt Jr.
Tyler Reddick took Dale Earnhardt Jr. to victory lane in a nail-biting opener to NASCAR's second-tier Xfinity Series. Reddick won Saturday at Daytona International Speedway in his debut race for JR Motorsports.
The former driver's narration of the action-packed, dramatic video is sure to get NASCAR fans' blood racing ahead of Sunday's Daytona 500.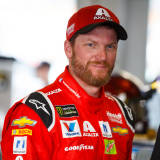 Dale Earnhardt Jr. will end his long and storied career with a final full-time race at the Ford EcoBoost 400 this Sunday. And with that career-ending reality setting in, Earnhardt Jr. has begun to reflect on his 19-year career.In looking back, Earnhardt Jr. acknowledges there are at least a few regrets. Chief among them was his indifferent attitude early on his his career. "If I...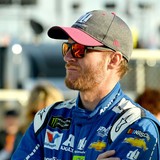 NASCAR legend Dale Earnhardt Jr. is set to retire at the end of the NASCAR Cup Series season, and some of the other drivers, as well as other celebrities and athletes, have been paying tribute to one of the sport's all-time greats.Some of Earnhardt's fellow drivers, namely Brad Keselowski, Martin Truex Jr. and Ryan Blaney, elected to say a few words in producing a tribute video....
MORE STORIES >>
NASCAR News

Delivered to your inbox

You'll also receive Yardbarker's daily Top 10, featuring the best sports stories from around the web. Customize your newsletter to get articles on your favorite sports and teams. And the best part? It's free!