Danica Patrick has several racing options going forward, Stewart said.
Kyle Petty said he will be "forever grateful" for Danica Patrick's contributions to NASCAR.
Danica Patrick has released a statement announcing that after six years with Stewart-Haas Racing she will not return in 2018 to pilot the No. 10 car.
Danica Patrick has her own vineyard in Napa Valley, so it certainly made sense for her to hit it up ahead of her upcoming race at Sonoma Raceway (Toyota/Save Mart 350). While there, she, of course, consumed plenty of vintage wine (always with a splash of champagne, she says), did some yoga and also hung out with some friends (which she called "team building"). Here are some of...
Sunday in Michigan looked like it was going to result in a boring finish for the NASCAR Cup Series. However, a series late cautions changed all of that and the end result was Kyle Larson putting the No. 42 machine into victory lane for the second time this season.Kyle Busch, Kyle Larson and Martin Truex Jr. all dominated Sunday in Michigan at various times during the race. Late in...
NASCAR Cup Series Highlights: Danica Patrick hits the inside wall after making contact with Daniel Suárez on a restart with ten laps to go.
Danica Patrick has faced a lot of pushback throughout her career. Whether it was people telling her she would never be as good as the male drivers or issues with fans liking her for reasons other than her driving ability, Patrick has faced a lot. And after all she's faced throughout her career, Patrick isn't afraid to stand up for herself. That was the case last Friday when after...
It's not easy being a driver in the NASCAR Cup Series. NASCAR drivers deal with several challenges both on and off of the track and one of those challenges happens to be the fans. This weekend at Pocono Raceway, Danica Patrick might have let some NASCAR fans get the best of her. While Patrick was walking back to the garage area, a fan slipped through (where there were supposed...
Could Danica Patrick's time with Stewart-Haas Racing be coming to a close? A clause in her current contract could result in SHR moving on from the driver of the No. 10 machine following the 2017 NASCAR season. All good things must come to an end and if you're SHR and Danica Patrick, it looks like the good thing in question would be their working relationship. Patrick is currently...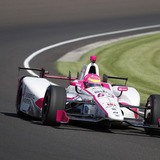 The 1977 Indianapolis 500 was monumental in a variety of ways. A.J. Foyt made history as the first four-time champion of the Indy 500. But the race also signaled a change in the speedway and in modern racing that is still seen 40 years later.It was in 1977 that Janet Guthrie broke the gender barrier and became the first woman in 66 years to race in the "Greatest Spectacle in Racing...
MORE STORIES >>
NASCAR News

Delivered to your inbox

You'll also receive Yardbarker's daily Top 10, featuring the best sports stories from around the web. Customize your newsletter to get articles on your favorite sports and teams. And the best part? It's free!