Found August 19, 2013 on isportsweb.com:
Kevin Durant is a once in a lifetime type of talent. Listed at 6'9, he can do it all. Here are ten reasons why the Oklahoma City Thunder should appreciate #35. 10. Scoring Champ three of the last four year It is no doubt that Kevin Durant is one of the best scorers the NBA has ever seen. With his size, length, and athletic ability, he is able to score the ball almost at ease. That is the one thing that more people love about KD. He can make the game look so easy at times. His jump shot looks almost effortless and his length allows him to finish over any big at the rim. Had it not been for the many blowouts and practically giving Carmelo Anthony the scoring title last year, he would hold a streak of four consecutive scoring titles. In the coming years, look closely at Kevin Durant possibly threatening Kareem Abdul-Jabbar and the record of the most points scored in a career. Kevin Durant can practically score anywhere, anytime.   9. Has great shoes With every great player, there should be a great shoe. Kevin Durant has had one of the more successful shoes brand under Nike. According to Forbes.com, Kevin Durant has the fourth best-selling shoe in the NBA behind LeBron James, Kobe Bryant, and Carmelo Anthony. His shoes are very fashionable and affordable. Maybe he should consider avoiding low-top shoes (Kobe Bryant has always had ankle and foot problems throughout his year. He also sports low-top shoes.) 8. Marketable, clean guy with a great personality Everyone loves a clean guy. Girls included. Many of the basketball players have tattoos everywhere. Look at J.R. Smith and Chris "Birdman" Anderson. This is the cool look. Kevin Durant does have tattoos but decided to keep them right where his jersey is worn in games. His back and chest are all covered in with art work. He has a great smile and keeps a clean haircut. He portrays himself as the regular guy who loves to play ball. On Instagram, he is found playing prank, competing against friends playing 2k13, and dancing. How could you not want him as the face of your organization?! 7. Loves the game and always works on his craft Kevin Durant is a gym rat. He can be seen anywhere over the country in a gym working on his craft. He just loves to play the game of basketball. This is obvious after watching him torch people in summer games two years ago in the summer. He has been documented working out with LeBron James. He loves the thought of getting better and you couldn't ask for anymore out of one player. 6. Brought attention to the small market in OKC Oklahoma City is a small market city. However, everyone pays attention to OKC now mainly because of the success Kevin Durant has brought to the city. These people love their Thunder and they love Kevin Durant! 5. 24 years old and will be able to produce for years to come Kevin Durant is young. He has been in the league 6 years now yet is only 24 years old. He is still approaching his prime years. That is scary. He is crazy good now but still has so much more room for improvement. Again, that is scary. The fact that Kevin Durant avoids injury and doesn't over work his body for buckets is a plus for the Thunder organization. At this rate, he will be able to an effective scorer well into his thirties. 4. Understands the importance of having an aggressive Russell Westbrook Critics often express their hate for the flaws of Mr. Westbrook. He shoots too much. He doesn't defer to Kevin Durant. He is not a real point guard. He turns the ball over too much. The Thunder are better off without Westbrook. These are all criticisms that have been thrown towards Westbrook. Through all the negativity, Durant supported Westbrook and expressed that the Thunder needed Westbrook to simply be Westbrook. The truth all came out when Westbrook went down in the playoffs and the Thunder struggled. Good call, KD. 3. 50-40-90 club Steve Nash, Larry Bird, Mark Price, Reggie Miller, and Dirk Nowitzki. You can also add Kevin Durant to this list. They are the only players in NBA history that have shot 50% from the field, 40% from behind the arc, and 90% or better from the free-throw line. One thing in common with all these players is their ability to shoot the basketball. Not only can Kevin Durant score, he can do so efficiently. That is really what separates him from other scorers like Kobe Bryant and Carmelo Anthony. 2. Represented by Jay Z The fact that he is represented by Jay Z speaks volumes about the player he is. Jay z is at the top of rap game. KD is amongst the top of the NBA. Sounds like a great partnership to me. 1. He is the best thing to happen to the organization since Gary Payton (drops 63 in Seattle ProAm game) Gary Payton to Seattle is equal to Kobe Bryant to the Lakers and Micheal Jordan to the Bulls. He is that one guy who changed the face of the organization. That one person you could never see in another uniform except the one they have always represented. Well, after six years, Seattle and OKC have been blessed with another player that could one day pass Gary Peyton as the most important figure of their organization. How could you not love Kevin Durant?
Original Story:
http://feedproxy.google.com/~r/isport...
THE BACKYARD
BEST OF MAXIM
RELATED ARTICLES
Kevin Durant spent his Saturday handing out ice cream. Yeah, that Kevin Durant. The Oklahoma City Thunder forward rode through the streets of Brooklyn, N.Y., in an ice cream truck as part of Nike's promotional SummerIsSerious campaign for his new KD VI basketball shoes. Take a look at the shoes here. Take a look at Durant passing out the cool treats.
Oklahoma City Thunder: Why the Thunder are the NBA's Most Overrated Team By Mike Elworth: Owner and Publisher/HoopStuff The Oklahoma City Thunder have two of the NBA's top 10 players, in Kevin Durant and Russell Westbrook. They also have Serge Ibaka, one of the best two way big men in the NBA, the league's top shot blocker, is getting better on both ends every year, has improved...
It doesn't seem that long ago that LeBron James took over Game 7 of the NBA Finals and captured his second title of his career. Now that LeBron has answered to the many critics, players such as Carmelo Anthony and Oklahoma City's Kevin Durant, are now at the top of the list of players in which their careers are in need of a championship. Of course, Carmelo seems to be more in...
Ronnie Brewer is wrapping up a contract with the Houston Rockets. Brewer played for the Oklahoma City Thunder and New York Knicks last season.
Thunder News

Delivered to your inbox

You'll also receive Yardbarker's daily Top 10, featuring the best sports stories from around the web. Customize your newsletter to get articles on your favorite sports and teams. And the best part? It's free!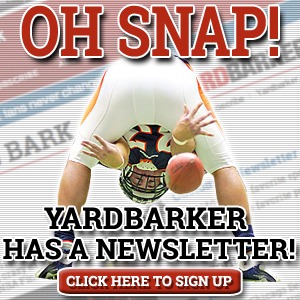 Latest Rumors
Best of Yardbarker

Today's Best Stuff

For Bloggers

Join the Yardbarker Network for more promotion, traffic, and money.

Company Info

Help

What is Yardbarker?

Yardbarker is the largest network of sports blogs and pro athlete blogs on the web. This site is the hub of the Yardbarker Network, where our editors and algorithms curate the best sports content from our network and beyond.