Found October 09, 2012 on Waiting For Next Year:
PLAYERS:
Kyrie Irving
,
Antawn Jamison
,
Anthony Parker
,
C.J. Miles
,
Jeremy Pargo
,
Dion Waiters
,
Tyler Zeller
,
Jon Leuer
,
Bradley Beal
,
Michael Kidd-Gilchrist
,
Tristan Thompson
,
Alonzo Gee
,
Anderson Varejao
,
Dwight Howard
,
Marcus Camby
,
Samardo Samuels
,
Daniel Gibson
,
Byron Scott
,
John Hollinger
,
Luke Walton
,
Omri Casspi
,
Kelenna Azubuike
,
Luke Harangody
,
Donald Sloan
,
Kevin Jones
TEAMS:
Cleveland Cavaliers
,
Los Angeles Lakers
,
Charlotte Hornets
,
New York Knicks
It's the most wonderful time of the year! No, not Christmas. It's NBA preseason! Training camp, conditioning, meaningless preseason games. We've got it all! But the real reason I love this time of year is because it means the NBA season is right around the corner. It's so close I can feel it.
With the excitement Kyrie Irving gave Cavaliers fans last year, most of us can't wait to see what he does this year. So with the 2012-13 NBA Blogger Previews upon us, what better time to look into this upcoming season than now? Let's take our first look at the biggest questions facing this team this year as we dig into this year's iteration of the Cleveland Cavaliers:
Team Name: Cleveland Cavaliers

2011-12 Team Record: 21-45 (5th Central, 13th East)

Key Losses: Antawn Jamison (free agent), Anthony Parker (retired)

Key Additions: CJ Miles (free agent), Jeremy Pargo (trade), Dion Waiters (draft), Tyler Zeller (draft), Jon Leuer (waivers)
1. What significant moves were made in the offseason?
Once again this year, the offseason was all about the draft. The Cavaliers went into draft night armed with draft picks and ambition. We all anticipated a big night, with many of us hoping/expecting the Cavaliers to trade into the top 3 to secure either Bradley Beal or Michael Kidd-Gilchrist. Many were expecting either Beal or MKG to drop to the Cavaliers at #4.
Instead, the Bobcats did the sensible thing and picked MKG, and the Wizards quickly took Beal third, leaving the Cavaliers as the odd man out in this game of musical chairs. The popular pick here among Cavs fans would have been Harrison Barnes, but the Cavaliers surprised everyone and took Dion Waiters. Two years in a row the team has left its fans scratching their head at the #4 pick with Waiters following the previous year's selection of Tristan Thompson.
The Cavaliers then traded back into the first round to take Tyler Zeller at #17. Zeller gives the Cavaliers reliability. Limited upside and potential? Perhaps, but Zeller is excellent at running the floor and starting and finishing fast breaks, has good footwork, and is just a solid, reliable back up. The question of this year's draft will be all about Dion Waiters.
The Cavaliers also made a couple minor moves, acquiring Jeremy Pargo via trade, claiming Jon Leuer off waivers, and signing CJ Miles to a free agent deal. Pargo has a chance to be Kyrie Irving's backup PG, Jon Leuer is a pretty efficient player who is somewhat overlooked, and CJ Miles gives the Cavaliers some added depth on the wings.
2. What is this team's biggest strength?
I'm not sure I would say there a lot of strengths to this team, but I would expect this team to be pretty decent at getting to the hole and rebounding, particularly on the offensive glass. We all saw Kyrie's proficiency at getting into the lane and finishing at the basket. We don't have to worry about that aspect of his game. Now the Cavaliers have added Dion Waiters, another guard who excels at imposing his will in getting to the basket and drawing fouls. Alonzo Gee isn't the best ball handler in the world, but he is yet another player who uses his physical strength to drive to the lane. CJ Miles has shown some ability getting into the lane in the past.
In theory the Cavaliers should be a decent rebounding team as well. Of course, much of that relies on the relative health of Anderson Varejao. Last year the Cavaliers were 4th in offensive rebounding and 8th in ORB%, and that was with Varejao missing the majority of the season. A lot of that has to do with Tristan Thompson, who is one of the better offensive rebounders in the NBA. In fact, Thompson was 2nd in the NBA in ORB% last year at 14.4%.
Strangely, Thompson actually struggles getting defensive rebounds. Of course, that's where Varejao excels. Varejao didn't play in enough games to qualify, but his 26.8% DRB rate would have been good enough for 4th in the NBA behind only Dwight Howard, Marcus Camby, and Tim Duncan. With Thompson and Varejao expected to play a lot of minutes together, the Cavaliers will ideally have rebounding covered on both ends of the court.
The Cavaliers may not excel in a lot of areas this season, but if everyone stays healthy, rebounding should be an area they can have some success. In addition to Andy and Tristan, the Cavaliers should get some rebounding from the likes of Tyler Zeller and Samardo Samuels as well.
3. What is this team's biggest weakness?
Everything? I kid. Sort of. I think the Cavaliers are definitely an improving franchise. Kyrie Irving will ideally build on his rookie of the year season and be even better. Adding Dion Waiters and Tyler Zeller infuses some talent regardless of how well they play this season. Anderson Varejao, if healthy, is a legit player who impacts the game in so many ways and leads his team with his heart, soul, and hustle.
But this team is not even close to where they need to be yet. They are loaded with weaknesses, and I expect their 2 prime weaknesses to be shooting and defense 1 .
Last year the Cavaliers were 2nd to last in the NBA in eFG%. Now, I realize many will point to the loss of Antawn Jamison and say that number surely will improve 2 . Perhaps. But the Cavaliers also added Dion Waiters and CJ Miles. Last season Miles shot 29% on long 2s and 30% on 3s. Waiters had an inconsistent jumper at Syracuse and so far through Summer League and the brief preseason appearances we've seen nothing but poor shooting from Waiters.
Then you throw in Alonzo Gee, another inconsistent shooter, and Tristan Thompson, a player who is working on his outside shot but still has miles to go, and….well, you get the point. Let's talk instead about the players on this team I feel comfortable with shooting jumpers: Kyrie Irving and Daniel Gibson. That's it. And heck, even Gibson struggled with his shot selection last season shooting below 40% from 3 for the first time since 2008-09. Throw in Jon Leuer who has shown a nice shooter's touch in his limited opportunities and that's about it.
The Cavaliers have a bunch of very similar pieces on this team…guys who like to attack the rim, have a scorer's attitude, and draw a lot of fouls. Those are good things. But it comes at a cost. There is not much outside shooting to keep defenses honest. I'd expect to see opponents really packing in the lane this year against Cleveland, putting a premium on their ability to score in transition.
4. What are the goals for this team?
Playoffs? We're talking about playoffs??? 3 Well, sure, why not? The Eastern Conference stinks. And if you're not progressing, you're regressing. So what kind of trajectory do we want this team to be on?
Do I think the Cavaliers will make the playoffs? No, I don't. There are too many holes and too many flaws. But that doesn't mean that shouldn't be this team's goal. In the NBA, all you need is one superstar. Well, maybe that's not all you need, but it's a good start. Kyrie Irving is a game changer. Paired up with the leadership by example and intangibles you get from Varejao, and the Cavaliers have a core. And that core is surrounded by young talented players like Thompson, Waiters, and Zeller, along with some nice enough role players like Gee, Gibson, and Miles.
It would be disappointing for the Cavaliers to not at least be hanging around playoff contention for much of this season. This was a very competitive team last year prior to Andy's injury. By replacing Antawn Jamison and Anthony Parker with Waiters, Zeller, Miles, Leuer, Pargo…look, they may not be stars, but these are some quality 4 players. I think the Cavaliers can and should be better than they were last year.
5. Is Byron Scott the right coach for this team?
I was hard on Coach Scott last season. I thought he was struggling to get this team up to play toward the end of the season. I don't like how atrocious he has let the defense become. I don't think his team practices what he preaches when it comes to "up tempo" basketball.
But I think he is absolutely the right coach for this team. He is a coach who has succeeded getting through to young players in the past, and he has a genuine bond with Kyrie. When your star player buys into the coach, it permeates throughout the whole team, and the rest of the guys fall in line. I like the chemistry of this team.
We've talked a lot about Byron's 2nd Year Leap in the past. Well, it didn't happen in Cleveland, but I don't really count that first season. It was a nightmare. Last year feels like Coach Scott's real first season. And I think this will be his 2nd year where we start to see a leap. I'm hoping he can find a way to get some better defensive principles drilled into this young team's heads and I'm hoping we'll see a better, more consistent effort this season.
6. So what's the story with Dion Waiters?
Ok, so, he showed up to Summer League out of shape 5 and played quite poorly 6 . So how quickly should we all freak out about the #4 overall pick? How soon should we all yearn for Harrison Barnes and think about What Might Have Been?
I hate the negativity surrounding Waiters going into this season. Everyone needs to take a deep breathe and relax. Give the young kid a chance to find his niche and establish his game at this level. It might take time. Highly drafted SGs rarely play well their rookie seasons. It takes time to adjust at that position.
But Waiters has tools. He is a confident young kid who is unafraid to play this game. He attacks the rim, he draws fouls, and provides an instant offensive spark. His skills should be able to perfectly compliment Kyrie Irving's game.
But having said that, the margin for error from the Cavaliers' standpoint is small. They are on a rebuilding path, and one that has played out pretty well for them so far. You can see what they're trying to do. They have a team with a nice mix of young talent and strong role players. They also have loads of cap space. This is the reason the Cavaliers are ranked 12th in John Hollinger's Future Power Rankings.
But how this plays out, and where this rebuilding road ends, will depend largely on Dion Waiters. The Cavaliers cannot afford to have missed on this pick. They struck gold with Kyrie Irving, but the jury is still out on Tristan Thompson. Dion Waiters needs to live up to his ceiling and realize his potential. It's a lot of pressure on a young player, but this is the reality of the NBA.
7. Who's going to make this team?
According to ShamSports.com, the Cavaliers have 13 players with fully guaranteed contracts:


Anderson Varejao


Luke Walton


Kyrie Irving


Tristan Thompson


Dion Waiters


Alonzo Gee


Omri Casspi


CJ Miles


Tyler Zeller


Kelenna Azubuike


Luke Harangody


Jeremy Pargo


Jon Leuer


Daniel Gibson has a partially guaranteed contract, but you know he's going to make this team, so that's 14 players. That leaves one spot for Samardo Samuels, Donald Sloan, and Kevin Jones to fight for. Samuels likely has the inside track, but don't sleep on Kevin Jones. A lot of talent evaluators like a lot of what Jones brings to the table. That's going to be the matchup to watch in camp.
8. Oh, is Omri Casspi still on the team?
Yep.
9. What kind of numbers should we expect from Kyrie Irving this season?
That's the question, isn't it? How much better can Kyrie be? Last year, he let the offense run through Jamison quite a bit. He was a rookie deferring to a veteran. It happens. This year, Kyrie is the unquestioned focal point of the offense.
His usage rate should increase this season, and with it, hopefully his points and assists will increase as well. I think Kyrie's scoring will just naturally increase. He's going to be more comfortable this year and more experienced. But what I really want to see is his assists increase.
I joked last year that we needed a Blown Assists stat. Kyrie's teammates left a LOT of assists on the floor last year. Playing a full year with Varejao, with Andy's ability to catch the ball in traffic, will be a huge help. Being able to feed slashers like Waiters and Miles will help. And just demonstrating a better court vision overall will help.
But make no mistake, assists are nice, but this team needs Kyrie to score. The Cavaliers lost their leading points scorer in Jamison, and Kyrie will need to pick up some of that slack. I'm looking for Kyrie to give us a 21.7 ppg, 6.5 apg type of line this year.
10. Bottom line, what's the Cavaliers' record and where do they finish?
Last year the Cavaliers finished with 21 wins, which translates to 26 wins in an 82 game season. I think the Cavaliers will be better this year. But how much better? A little. I think the Cavaliers will finish with a record of 34-48 and will finish 10th in the East. Time will tell if I am pessimistic or optimistic about this team. Hopefully I'm being a pessimist.
Either way, it's just exciting to have Cavaliers basketball back again. This is only the beginning. Now we get to begin our path of discovery as find out what plotlines and talking points this season has in store for us.
_____
Image source: Cavs.com

___________________________________
yikes…talk about a recipe for bad basketball
addition by subtraction and whatnot
hopefully
not good
even worse
Original Story:
http://www.waitingfornextyear.com/201...
THE BACKYARD
BEST OF MAXIM
RELATED ARTICLES
CLEVELAND -- Kyrie Irving coming off the bench in the preseason is so last year. This year, Cavaliers fans are more concerned with the fact Dion Waiters, the No. 4 overall draft pick, did not start Mondays preseason opener vs. Montepaschi Siena. He may not start in Tuesdays preseason game in Canton, either.Instead, the honor will go to another newcomer -- free-agent pickup C.J. Miles...
Kyrie Irving, the reigning NBA Rookie of the Year, scored 10 points and the Cleveland Cavaliers defeated Italy's Montepaschi Siena 91-85 in their preseason opener Monday night. Samardo Samuels led Cleveland with 14 points and Donald Sloan added 13. The Cavaliers had six players score in double figures. Bobby Brown scored a game-high 22 points for Siena while Matt Janning added...
CANTON, Ohio -- Dion Waiters had a lousy night, that much we know. But perhaps Cavaliers fans should relax. Not to make excuses, but he was playing in his first back-to-back a week into his NBA career. The result: Two points on 1-for-7 shooting in a 97-80 preseason loss to Milwaukee at the Canton Memorial Civic Center. OK, maybe that is an excuse. But its a decent one, dont you...
You reach, guy with the funny hair, and Kyrie Irving will teach! As for Tristan Thompson, he'll be sure to finish the highlight by throwing down with the utmost authority.Considering Irving's incredible ability to break defenders down, I can totally see he and Tristan Thompson becoming one of the most exciting guard-forward combos in the league. More importantly, I can also...
Dion Waiters finished his first preseason game against NBA competition 1 of 7 from the field. He totaled two points, three assists, and four turnovers in 14 minutes. Byron Scott said after the game that he eventually pulled Waiters with 10 minute to go for what he called "a lack of focus". Prior to leaving the Canton Civic Arena last night, I spoke with the Cavaliers rookie...
Tweet Last season, the Cleveland Cavaliers drafted both Kyrie Irving (1st) and Tristan Thompson (4th) in the top-five of the NBA draft to be their dynamic duo for years to come. The combination showed some promise in their first season, with Irving winning Rookie of the Year honors after averaging 18.5 ppg and 5.4 apg, [...]
The Cleveland Cavaliers won their first Preseason game by defeating Montepaschi Siena 91-85. Samardo Samuels led the Cavs with 14 points and grabbed 7 rebounds on 6-8 FG attempts. Donald Sloan also had a strong game for the Cavs with 13 points. Overview of all who main players Starters Kyrie Irving: Stats- 10 Points 3 assists 1-7 FG Kyrie struggled to shoot the ball yesterday...
Nick Mancini checks in with his second of five questions as Cavs open training camp...2. Will Tristan Thompson make the offensive leap we're all hoping he'll make this season? When the Cavaliers made Tristan Thompson the No. 4 overall pick in the 2011 draft, first reaction from many fans might have been "who's that"? He was coming off a season at Texas where he averaged...
CLEVELAND -- If youre looking for an X-factor on the Cavaliers this season, a guy who could emerge out of nowhere and become a vital player on a potential playoff team, you may want to check out Samardo Samuels.At least, thats been the book on Samuels since the summer.He showed up for NBA summer play in Las Vegas looking like a million bucks. He was slim, trim and full of muscle...
OnOctober 9th, FOX Sports Ohio is carrying the Cleveland Cavaliers preseason game, and the network will also have Reds Live postgame show following NLDS Game 3. We are making both available to providers. Please see the programming note below.PROGRAMMING NOTETuesday, October 9Cavaliers v. Bucks preseason game 7pmReds Live postgame show following NLDS Game 3 (approx. 8:30pm)Cavs v...
Each week at around this time, we will point to you to what the various blogs on the Bloguin network are saying about their teams. Be sure to check out all the great blogs for more in depth coverage of your favorite team! When Cleveland selected Dion Waiters with the fourth overall pick in the draft, it raised some eyebrows. Waiters had his issues at Syracuse and no one was quite...
NBA News

Delivered to your inbox

You'll also receive Yardbarker's daily Top 10, featuring the best sports stories from around the web. Customize your newsletter to get articles on your favorite sports and teams. And the best part? It's free!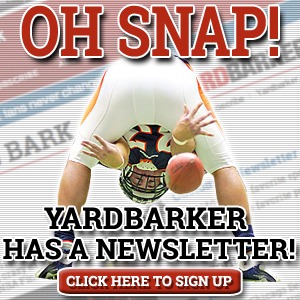 Latest Rumors
Best of Yardbarker

Today's Best Stuff

For Bloggers

Join the Yardbarker Network for more promotion, traffic, and money.

Company Info

Help

What is Yardbarker?

Yardbarker is the largest network of sports blogs and pro athlete blogs on the web. This site is the hub of the Yardbarker Network, where our editors and algorithms curate the best sports content from our network and beyond.