Found June 27, 2012 on isportsweb.com:
  New Orleans Hornets – Anthony Davis 6-11 PF Kentucky- The Hornets franchise will get a huge lift with a lengthy defender who might be the most versatile player since Kevin Garnett.
Charlotte Bobcats – Harrison Barnes 6-8 SF North Carolina- They could go with Thomas Robinson, but I think MJ will like Barnes and the star potential he brings.
Washington Wizards – Thomas Robinson 6-9 PF Kansas- He's a great story and a freak on the boards, but will his lack of shooting range hamper his development in the NBA?
Cleveland Cavaliers – Bradley Beal 6-5 SG Florida- They want to move up to get him, but the opportunity for him to fall to this spot is just as likely to me. The Cavs really need an athletic wing to go with Kyrie Irving.
Sacramento Kings – Michael Kidd-Gilchrist 6-7 SG Kentucky- He will be the second best player in the draft when it's all said and done; this is a steal.
Portland Trail Blazers - Damion Lilliard 6-3 PG Weber State- Prolific scorer in college has shot up the draft boards and is a safer pick here than the inexperienced  Andre Drummond.
Golden State Warriors – Andre Drummond 7-0 C Connecticut- Even though they are a guard heavy offence Drummond can come in and start right away assuming he catches on quickly.
Toronto Raptors – Dion Waiters 6-4 SG Syracuse- Powerful player with a deadly shooting touch. Could develop into a star quickly, but will need to make sure he keeps his emotions in check.
Detroit Pistons – John Henson 6-10 PF North Carolina- A terrific shot blocker and agile on the offensive end. He is way too slender, but so was Dwight Howard when he entered the league.
New Orleans Hornets – Austin Rivers 6-4 PG Duke- The best point guard and best overall player to the same team. Conspiracy? I don't think so, but there will be a lot of luck if they get both of these guys.
Portland Trail Blazers –  Tyler Zeller 7-0 C North Carolina- He isn't the flashiest player in the draft, but he's reliable and almost impossible to defend on the block.
 Milwaukee Bucks – Meyers Leonard 7-1 C Illinois- Very raw and undisciplined at times, but he could turn out to be the best center in the draft.
Phoenix Suns – Jeremy Lamb 6-5 SG Connecticut- A little inconsistent last year, but he is a star in the making. Best shooter to come off the board so far.
Houston Rockets – Terrence Jones 6-9 PF Kentucky- Athletic with a bit of shooting ability. Solid defender as well; safe pick.
Philadelphia 76ers – Perry Jones 6-11 PF Baylor- A lot of indecision about what kind of player he'll be but the 76ers need an athletic big man and there's no denying he's that.
Houston Rockets – Terrence Ross 6-7 SF Washington- They just traded away their small forward so this athletic shooter makes perfect sense.
Dallas Mavericks – Kendall Marshall 6-4 PG North Carolina- Their aging backcourt could use a boost and Marshall is the best passer in the draft.
Houston Rockets – Arnett Moultrie 6-11 PF Mississippi State- Length and athleticism make him intriguing, but he hasn't really played on the big stage yet.
Orlando Magic – Fab Melo 7-3 C Syracuse- Troubled off the court and may be hard to coach, but his ego might be just big enough to replace Howard.
Denver Nuggets – Mo Harkless 6—9 PF St. John's- Harkless is a little raw, but he possesses tons of upside and will be more intriguing here than Sullinger.
 Boston Celtics -  Royce White 6-9 PF Iowa State- Suffers from anxiety and has had a troubled past, but got his game and life in check last year and blossomed into the star he was projected to be.
Boston Celtics – Quincy Miller 6-9 PF Baylor- Very athletic but like Jones, his Baylor teammate, he is an underachiever. Could be a steal though.
Atlanta Hawks – Will Barton 6-6 SF Memphis- Lanky wing with terrific slashing abilities, but will need to work on his jump shot.
Cleveland Cavaliers – Andrew Nicholson 6-10 PF St. Bonaventure- Could be the x-factor of this draft. He can shoot and bang down low so he could contribute right away.
Memphis Grizzlies – Tony Wroten – 6-5 G Washington- PG/SG tweener that can really fill up the stat sheet.
Indiana Pacers – Marquis Teague 6-2 PG Kentucky- Could of used another year to develop his game in college. I don't think he will ever be a star unless he learns how to shoot.
Miami Heat – Festus Ezeli 7-1 C Vanderbilt- The champions have the luxury of gambling on a raw project.
Oklahoma City Thunder – Draymond Green 6-7 F Michigan State- He can do everything and then some. Should be a perfect 6th man in the league for a long time.
Chicago Bulls – Jared Sullinger 6-9 PF Ohio State- Back injuries and weight issues will amount to a huge slide. He is very talented but not athletic enough to go higher than this.    
Oklahoma City Thunder – Evan Fournier 6-5 G France- It wouldn't b an NBA draft without one foreigner.
Original Story:
http://feedproxy.google.com/~r/isport...
THE BACKYARD
BEST OF MAXIM
RELATED ARTICLES
Ben Gordon's days with the Detroit Pistons are over. According to a source close to the team, the Pistons traded Gordan and a lottery-protected first-round pick in 2013 to the Charlotte Bobcats for forward Corey Maggette. Maggette, 6-foot-6 and 225 pounds, averaged 15 points a game in 2012. In three season with the Pistons, Gordon averaged about 12 points a game. Maggette...
Welcome to the second installment of the Detroit Sports Site's preview of the 2012 NBA Draft. Today, we'll shed some light on what we believe the Detroit Pistons should do with the ninth overall pick and beyond, what they will … Continue reading →
Pistons President of Basketball Operations Joe Dumars did what Pistons President of Basketball Operations Joe Dumars does.  He got out from underneath an awful move (Ben Gordon's five-year, $55 million contract he signed him to in 2009) and made something out of it.  This time, it cost him a future first round pick.  Dumars talked the Bobcats into accepting Ben Gordon and a...
Waxing nostalgically — not so much poetically — is all Detroit Pistons have been able to do for the past eight years. Fond memories of the 2004 NBA championship team come and go, in and out, but they remain strong: Chauncey Billups, who led the working man's team; shouts of "Sheeeeed" every time Rasheed Wallace [...]
Time for The Detroit Sports Site's mini-Mock Draft. Here we'll try to guess what the Pistons will do with the 9th, 39th and 44th pick in the NBA Draft Continue reading →
The UConn big man could be a perfect partner for Greg Monroe on the Pistons' ever-improving frontline. Continue reading →
The Detroit Pistons have traded guard Ben Gordon and a future first-round draft choice to the Charlotte Bobcats for swingman Corey Maggette. Gordon averaged 12.5 points last season, including a 45-point outing at Denver in which he tied his own NBA record by making nine 3-pointers without a miss. The NBA's Sixth Man of the Year in 2005 with Chicago spent three disappointing...
DETROIT (AP) -- The Detroit Pistons traded guard Ben Gordon and a future first-round draft choice to the Charlotte Bobcats on Tuesday for swingman Corey Maggette, shedding about 15 million in salary. Gordon averaged 12.5 points last season, including a 45-point outing at Denver in which he tied his own NBA record by making nine 3-pointers without a miss. The NBA's Sixth Man...
The Pistons have a simple goal for Thursday's night draft. They want to find the next Ben Wallace with the ninth pick. The goal is simple. The execution is going to be much tougher. Wallace was a unique player in NBA history a 6'8" forward who was the most dominant defensive player of his generation but the Pistons dearly need to replace his post presence, his shot...
Ten years earlier, Joe Dumars convinced Michael Jordan to take Jerry Stackhouse off his hands and send a younger, less expensive one-dimensional player back to the Detroit Pistons. That player was Rip Hamilton, who blossomed into an all-time Pistons great, learned to be a solid perimeter defender, and gave the Pistons financial flexibility. Fast forward [...]
Pistons News

Delivered to your inbox

You'll also receive Yardbarker's daily Top 10, featuring the best sports stories from around the web. Customize your newsletter to get articles on your favorite sports and teams. And the best part? It's free!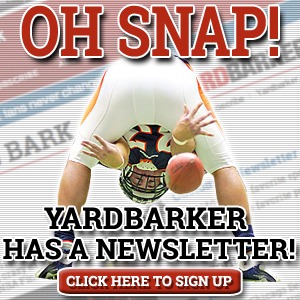 Latest Rumors
Best of Yardbarker

Today's Best Stuff

For Bloggers

Join the Yardbarker Network for more promotion, traffic, and money.

Company Info

Help

What is Yardbarker?

Yardbarker is the largest network of sports blogs and pro athlete blogs on the web. This site is the hub of the Yardbarker Network, where our editors and algorithms curate the best sports content from our network and beyond.