Found July 31, 2012 on Taking Bad Schotz:
PLAYERS:
Dwight Howard
,
Jeremy Lin
,
Raymond Felton
,
James Dolan
,
Jerome James
,
Eddy Curry
,
Jared Jeffries
,
Nick Young
,
Kwame Brown
,
Ray Allen
,
Rashard Lewis
,
Ronny Turiaf
,
Shane Battier
,
Mario Chalmers
,
Stephen A Smith
TEAMS:
Orlando Magic
,
Houston Rockets
,
New York Knicks
,
Miami Heat
,
Portland Trail Blazers
,
Philadelphia 76ers
,
Los Angeles Clippers
,
San Antonio Spurs
This NBA offseason wasn't anymore quiet than usual, as there was a lot of activity across the league. Players continued to be overpaid, Dwight Howard hasn't been traded yet, and Jeremy Lin made headlines.  Seems like this offseason wasn't a surprise after all.  With most teams finished building their teams for next season, it's time to give out the awards for the 2012 NBA Offseason. Team That Has No Idea What It's Doing: Houston Rockets If you look at the Rockets' roster, you will see that they currently have 9 power forwards.They are  so extremely overloaded at power forward that they have very minimal depth at every other position.  Not only that, but they have unofficially made Jeremy Lin their franchise player, a guy with 26 games of experience who was let go for Portland's former Pillsbury Doughboy, Raymond Felton. General Manager Daryl Morey has put together a team to be traded in hopes to exchange for one season of Dwight Howard. Team Who Made Their Fans the Angriest: New York Knicks No owner is more hated in sports than James Dolan, and for good reason.  Dolan always tends to make the wrong decisions when he gets involved, and even Knicks fans thought he couldn't be stupid enough not to match any offer for Lin. And sure enough, the same man who had zero reluctance towards paying Jerome James, Eddy Curry, and Jared Jeffries big contracts, thought Jeremy Lin cost too much money.  What appeared to be the easiest decision James Dolan has had to face his whole career, turned out be another move by Knicks ownership that has drove their fans crazy. Team Whose Transactions Made the Least Sense: Philadelphia 76ers After overachieving last year, the Philadelphia 76ers' idea of improving from a playoff season is amnestying their starting power-forward, replacing their leading scorer with Nick Young, and deciding to draft a player with limited scoring ability to fix their issues on offense.  In addition to those very questionable moves, they decided to sign Kwame Brown, which makes absolutely no sense. I know Stephen A. Smith agrees. Team Who You Thought Couldn't Get Any Better, But Did: Miami Heat The Miami Heat's offseason couldn't have been any better.  They steal Ray Allen away from their biggest rival and sign Rashard Lewis to the minimum, while only losing Ronny Turiaf, who made absolutely no impact.  With Lebron and D-Wade demanding double teams, Shane Battier and Mario Chalmers would always be open from deep, making it impossible for teams to defend them on the perimeter.  After adding two more three-point shooting threats, including the greatest of all-time, it's only going to be tougher.  Right now, Eddy Curry and the Miami Heat look like the clear favorites to win the title again. Team Who Won't Look Any Different Next Season: San Antonio Spurs This award speaks for itself.  With no cap space or 1st round pick, Popovich and company had little room to make improvements. So instead, they decided to keep their core, which led them to the 1st seed of the playoffs last year. Unfortunately for them, their big three isn't getting any younger, and the Spurs' championship window is closing.  Heading into the 2013 season, I would not only rank OKC ahead of San Antonio, but the Clippers and Lakers as well, two teams who made great improvements. -Blewis
Original Story:
http://www.takingbadschotz.com/?p=8029
THE BACKYARD
BEST OF MAXIM
RELATED ARTICLES
WE HAVE A PROBLEM
Houston GM Daryl Morey has had his fair share of detractors this offseason, and now you can add his team's head coach to that list.
Argentinian point guard Pablo Prigioni is set to make his NBA debut this season with the New York Knicks. It is not clear yet how he will fit into the rotation with the Knicks signing Jason Kidd and trading for Raymond Felton, but Prigioni feels confident this three-headed point guard tandem will help the Knicks get past the Jeremy Lin era. "I think we have at that position everything...
Carmelo Anthony gets blamed for lots of things that are not his fault. Just ask him if you do not believe me. One thing in particular he has been unfairly ridiculed for recently is Jeremy Lin leaving New York for the Houston Rockets. Despite glossing Lin the Knicks' Rudy Rudiger in February, and then drowning out the tidal wave of enthusiasm for Linsanity by simply stepping...
Every morning, we compile the links of the day and dump them here… highlighting the big storyline. Because there's nothing quite as satisfying as a good morning dump. The only veteran holdover [for the Houston Rockets] of any consequence is Kevin Martin. Since June 27, Morey has traded or released six rotation regulars from last season, including perhaps his best player, Luis...
NBA News

Delivered to your inbox

You'll also receive Yardbarker's daily Top 10, featuring the best sports stories from around the web. Customize your newsletter to get articles on your favorite sports and teams. And the best part? It's free!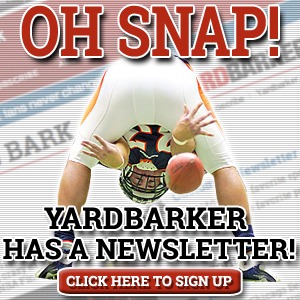 Latest Rumors
Best of Yardbarker

Today's Best Stuff

For Bloggers

Join the Yardbarker Network for more promotion, traffic, and money.

Company Info

Help

What is Yardbarker?

Yardbarker is the largest network of sports blogs and pro athlete blogs on the web. This site is the hub of the Yardbarker Network, where our editors and algorithms curate the best sports content from our network and beyond.