Found August 25, 2012 on CJ Sports NASCAR Talk:
I am going to look into what line up might work best against the World Champion Miami Heat.
I have only taken 6 sets of statistics for this article; they are what each player has achieved per 36 minutes over their career. The 6 sets of statistics are Points, Field Goal %, 3 Point %, Rebounds, Assists & Turnovers.
We all know the Knicks starting lineup will include Chandler, Stoudemire & Anthony but who should be starting SG & PG and play majority of minutes against the Heat?
Firstly, I will compare the SG's of the Knicks with these 6 statistics to see which player leads majority of categories. The player order of the figures will run Brewer, Shumpert then JR Smith.
Points – 9.0 / 11.9 / 18.6 Advantage JR Smith Field Goal % – .501 / .401 / .427 Advantage Brewer 3P% – .244 / .306 / .369 Advantage JR Smith Rebounds – 3.0 / 3.9 / 4.3 Advantage JR Smith Assists – 1.8 / 3.5 / 3.0 Advantage Shumpert Turnovers – 0.9 / 2.3 / 2.2 Advantage Brewer
So with JR Smith leading in 3 out of these 6 categories JR becomes the selection as our starting SG. Now I hear all of you saying I would rather have Shumpert or Brewer because they can defend the perimeter defender.
Original Story:
http://110sportztalk.com/2012-nba-pre...
THE BACKYARD
BEST OF MAXIM
RELATED ARTICLES
The former Tar Heel during his first stint with the New York Knicks As the summer days begin to get shorter, the months to college football and the NFL become weeks and then days, you also know that the National Basketball Association will be coming out of hiatus soon enough. For one former North Carolina basketball player this season might be the most important one in his career...
As if his celebrity status couldn't get any higher as an NBA all-star and M.V.P. candidate, Knicks forward Carmelo Anthony is enjoying his newfound fame as Olympic gold medalist.Speaking to KnicksJournal.com and other members of the media at St. John's University, the site of his ProCamps summer basketball camp, Anthony said, "Everywhere I go, people are asking me...
The Miami Heat are the defending NBA champions, but does that mean they're the favorite to win the NBA title? Maybe not, according to Chris Bosh. The Heat forward appeared on the "Kup & Goldie Show" on WQAM in Miami on Friday and called the Lakers the NBA's best team "on paper." "The Lakers, I think, right now, I mean on paper, they probably have the best team...
Lebron James wants to be the modern day Michael Jordan, as he's saying that he would love to star in the remake of Jordan's 90's film "Space Jam". During his Q&A session he held on his Twitter account with fans, James stated that he loved the "Space Jam" movie and that he wish that there would be a Space Jam 2. "I love the movie! Wish...
New York Knicks power forward Amar'e Stoudemire has been one of the league's most explosive players since being drafted out of high school in 2002. Numerous injuries have taken a toll on Stoudemire though who was noticeably slower and far less explosive last season. But Stoudemire isn't accepting that he is past his prime although he will turn 30 this season. Instead he enlisted...
Now that the Olympics are over and we can stop debating who would win between the 2012 American team and the 1992 Dream Team, we can return to another argument that will never be solved: LeBron vs. MJ. After LeBron James won his first NBA Championship last season and the Miami Heat look like they could go for a few more, the comparisons between him and Michael Jordan started...
New York Knicks: Amar'e Stoudemire has arrived in Shanghai. He was spotted at both a Nike basketball event as well as a Nike skateboarding event.  Baron Davis' agent, Todd Ramasar, says the point guard will remain with the Knicks in 'some capacity'. "The Knicks have been wonderful in terms of just extending support to Baron, whether it be through obviously his physical...
"I'm excited to get this thing going…especially coming off this run we just had with the USA team. To be able to put that team together and still be able to accomplish something. I want to bring that mentality back here to the Knicks." – Carmelo Anthony After their run in London, Anthony wants to take the mindset of Team USA and duplicate it in NY. Which is fine, but other...
  An Orlando judge is having a hard time believing Chris Bosh when he says that he's a resident of Texas and not Miami. The custody/child support case between Bosh and his daughter Trinity's mother, Allison Mathis was in court this week. Orange County Judge Robert Evans will determine  If Bosh is a resident of Florida. [...]
Normally, when I think of fashionable NBA players...Knicks center Tyson Chandler isn't the first person on my list but he recently helped film a promo for "Fashion Night Out".Chandler along with other celebrities such as Usher, Victoria Beckham and Taylor Swift appear in this spot that details the "Fashion Night Out" event on September 6th.The overall gist...
Not until about 10 minutes ago had I ever compared the careers of Baron Davis and Tracy McGrady, but now that I think about it… they've been pretty damn similar.  Both Davis and McGrady possessed incredible natural gifts, and it could certainly be argued that they were once the finest athletes the league had to offer at their respective positions.  Being the highly-skilled...
Chris Bosh is saying what a lot of other players in the NBA are thinking right now. The Los Angeles Lakers have the best team in the NBA right now, at least on paper. During a recent interview, Bosh discussed the moves the Lakers have made this off season. "The Lakers, I think, right now, [...]
NBA News

Delivered to your inbox

You'll also receive Yardbarker's daily Top 10, featuring the best sports stories from around the web. Customize your newsletter to get articles on your favorite sports and teams. And the best part? It's free!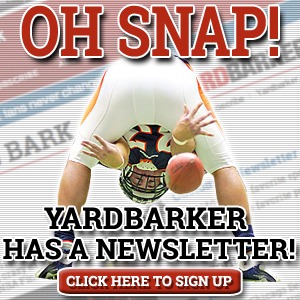 Latest Rumors
The Backyard

Today's Best Stuff

For Bloggers

Join the Yardbarker Network for more promotion, traffic, and money.

Company Info

Help

What is Yardbarker?

Yardbarker is the largest network of sports blogs and pro athlete blogs on the web. This site is the hub of the Yardbarker Network, where our editors and algorithms curate the best sports content from our network and beyond.