In a deal that came late on deadline day, the Phoenix Suns acquired Elfrid Payton from the Orlando Magic for a second round pick.Phoenix has developing young players up and down their roster at every position except for point guard. Tyler Ulis is a nice enough player, but this season has proven he's best utilized as a backup. With Payton, the Suns now have a worthy flyer for the...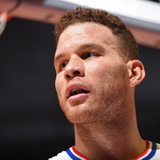 The NBA has a new hotline for players to communicate anonymously about NBA officials. It's a safe space for these seven-foot snowflakes to talk about their feelings, get explanations for rules, and plead their case about NBA discipline. Think of it as the audio version of the comments section from Adam Silver's LiveJournal. We know when that hotline blings, that can only mean one...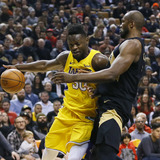 A move back into the starting lineup has helped Lakers forward Julius Randle take his game to another level, Bill Oram of The Orange County Register writes. The 23-year-old has averaged 16.1 points and 9.3 rebounds in just 26.5 minutes of action.Randle, who started the season off the bench after two years as the team's starting power forward, was promoted by Lakers head coach Luke...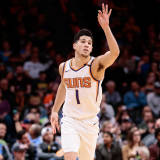 Suns star Devin Booker showed how strong his troll game is during Friday's game against the Nuggets.He did that after attempting a three-pointer during the matchup, with Jamal Murray trying to close out on him. Booker drained the shot. and then made sure to let Murray know about it afterward by doing his signature bow-and-arrow celebration. That's one way to stick it to your opponent...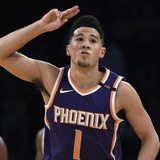 "Once teams found out that I could actually play a little bit, I started seeing teams' best defender," Devin Booker told The Ringer. "So just going in with the focus of taking care of the ball, that was my next step."This is the way you always hear superstars talk about their games — always looking for that extra edge, always looking for ways to improve. There is an intense lack...
Devin Booker may just be the most powerful 21-year-old in the world.Phoenix Suns GM Ryan McDonough told the media on Thursday that the third-year guard will have input in the team's decisions going forward."With his emergence and importance to not only what we're doing in the short term but hopefully in the next decade-plus, I think it's important to make him a partner in the process...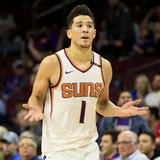 Phoenix Suns guard Devin Booker is among the best young players in the NBA. In just his third season, the 21-year-old Booker is averaging 24.3 points and shooting at a 45 percent clip from the field.As a sophomore last season, the former No. 13 pick from Kentucky put up 70 points in a single game — leading us to compare him to this all-time great (more on that here).Despite this...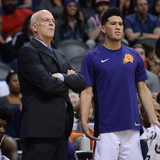 Jay Triano is getting the endorsement that matters — the one from his team's franchise player.Before the Phoenix Suns played the Dallas Mavericks on Monday, Suns guard Devin Booker said that he would like for Triano to remain as head coach."Me and Triano have that relationship. He's somebody I'm comfortable with and somebody I've been around for a long time," said Booker, according...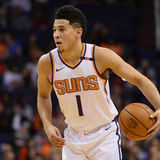 The injury recovery timetable for Devin Booker is not too bad all things considered.ESPN's Adrian Wojnarowski reported on Wednesday that Booker is expected to miss two to three weeks with his adductor strain.Booker suffered the injury late in the Suns' loss to the Raptors on Tuesday night and had to be carried off the floor. He was spotted using crutches afterwards. Both pieces of...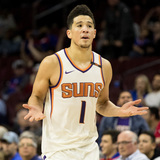 Fresh off scoring 46 points against the Philadelphia 76ers Monday night, talented young Phoenix Suns guard Devin Booker suffered what appeared to be a serious injury against the Toronto Raptors.The injury is apparently to the groin, and Booker couldn't put any weight on his lower body as he was helped off the court.Here's the play in question. This most definitely isn't good news...
MORE STORIES >>
Suns News

Delivered to your inbox

You'll also receive Yardbarker's daily Top 10, featuring the best sports stories from around the web. Customize your newsletter to get articles on your favorite sports and teams. And the best part? It's free!