Found December 04, 2012 on Taking Bad Schotz:
To say the Lakers have started off shaky would be an understatement. 0-12 in the preseason followed by a 1-4 start to the regular season sent coach Mike Brown packing. Bernie Bickerstaff lead the Lakers back to .500 at 5-5, but since D'antoni has been on board, the Lakers have again fallen to 8-9. The problems are endless, both on the court and off. The Lakers seem as though they cannot find their rhythm. I still wouldn't count them out quite yet for 3 reasons. 1. Kobe Bryant Photo Credit: US Presswire This man has won 5 championships with an assortment of pieces. The only consistent piece that has remained throughout all five is himself. Kobe can take over a game at moment's notice and usually does so. And for those who say Kobe ruins the offense by taking too many poor shots, consider his Field Goal %, 3-PT Field Goal %, and Assists per game: each is higher than his career average. Not only that, but Kobe understands what needs to be done to win. He will call out his teammates (Pau Gasol), call out his coaches, and even call out the front office. Kobe doesn't care about anything other than his appointment with the jeweler. Kobe may no longer be the greatest player in the game, but he sure is damn good.  2. The system takes time Photo Credit: AP Photo/Kathy Willens One must realize that the Lakers ideal starting five has yet to play together under their current coach. Mike D'antoni is an excellent coach, but to come in during the middle of the season and try to institute a new system is quite challenging. Not only that, but two of the healthy starting five are new guys. The teams that didn't make big moves this year are also the one's thriving at the beginning of the season because they know how to play with each other (Memphis, San Antonio). I would not at all be surprised to see the Lakers make the playoffs as a #6 seed and make it to the finals. Their record is not good right now, but they will learn how to play well under their new coach's system and flourish. 3. Steve Nash is injured via wrapupp.com It might sound pretty obvious, but I would rather have a two-time MVP in my lineup instead of street clothes. Darius Morris and Jodie Meeks are doing a fine job, but there is something about a team when Steve Nash is running it that looks different. Everything seems to click: players are more open, the defense is more active, and the tempo is ideal. Nash will never credit his skills for his success; rather, Nash's knowledge of the game is what makes him so deadly. He understands the ebb and flow of the offense. Each member of the Lakers will improve substantially when Nash returns Don't count them out. The Spurs, Grizzlies, and Thunder all look great, but I wouldn't count the Purple and Gold out yet. The season is young, and many games still remain. -Greenberg
Original Story:
http://www.takingbadschotz.com/?p=10500
THE BACKYARD
BEST OF MAXIM
RELATED ARTICLES
Steve Nash showed up for his first game as a member of the Los Angeles Lakers wearing the outfit you see above. Pink sweater, navy blue bow tie with pink spots, and manbag in hand. That is just not a good look, Steve. Now just in case you're going to tell me it's a Phoenix Suns thing … take one look at Kobe: Even Kobe Bryant carries a man purse European men's carryall...
Los Angeles Lakers superstar Kobe Bryant scored the 30,000th point of his NBA career during the second quarter of Wednesday night's game against the New Orleans Hornets. At 34 years, 101 days old, Kobe Bryant became the youngest player to score 30,000 points and only the fifth NBA player ever to reach the milestone, joining Kareem Abdul-Jabaar, Michael Jordan, Wilt Chamberlain...
Before Mike D'Antoni, Pau Gasol was averaging 37 minutes a game, with D'Antoni he has trouble seeing the fourth quarter and his minutes have dropped to 31 a game. He's struggled to fit into D'Antoni's system alongside Howard and is forced to play away from the basket, something he isn't accustomed to. He's shooting 39.3% from the field in this new system. So, what's...
Tweet Things are getting testy in Los Angeles. Speaking to the media after the Lakers' 113-103 loss to the Orlando Magic, Kobe Bryant in classic Kobe fashion had some choice words regarding the team's struggles: "I'll kick everybody's ass in this locker room if it doesn't happen," Bryant said. "It's the attitude you have to [...]
Ballertainment Kobe Bryant becomes fifth NBA player to score 30,000 points Kobe Bryant hit a milestone today that put him in a unique "fraternity." He scored his 30,000th career point in the NBA and became the fifth player to do so behind Kareem Abdul-Jabbar, Karl Malone, Michael Jordan, and Wilt Chamberlain. Bryant surpassed Shaquille O'Neal on the list Wednesday when the...
At 34, Kobe Bryant became the youngest player in NBA history to reach 30,000 career points Wednesday night against the Hornets. Kobe is in good company, joining Kareem Abdul-Jabbar (38,387), Wilt Chamberlain (31,419 points) Karl Malone (36,928) and Michael Jordan (32,292) as the only five players in NBA history to reach the 30,000 mark. His 30,000th career point was a right...
This is as good as it gets, and mostly because it is true. On Tuesday night the Rockets came back to beat the Los Angeles Lakers 107-105 after the Lakeshow blew a 13 -point lead in the fourth quarter. As the game was ending, Houston Rockets radio announcer Craig Ackerman went directly in on the Lakers referencing Kobe Bryant's words for Pau Gasol earlier this week. "The game...
NEW ORLEANS -- It took him 17 years -- fighting and clawing every night -- but the competitive genius of Kobe Bryant wouldn't take a day off. Ever. Bryant scored 29 points Wednesday night in a 103-87 victory over the New Orleans Hornets to become the youngest player in NBA history to reach 30,000 points in a career. At 34 years and 104 days old, Bryant surpassed the old...
  We knew the Lakers would have  rocky start this season. This was before Mike Brown was hired and Mike D'Antoni was brought in and the Lakers had to start over again. Things seem to go from one extreme to the other. Following a loss to Dwight Howard's former team the Orlando Magic on Sunday, [...]
In the battle of the not-so-athletic, Glen "Big Baby" Davis walks away the victor after stuffing Pau Gasol's dunk attempt on Sunday night in Los Angeles. This rejection came with about 5:30 to go in the 3rd quarter and stopped a jam that would have put the Lakers up by two points. Not only did the undersized power forward (Davis) swat the 7-foot Gasol's attempt to flush...
HOUSTON -- In complete control for the majority of Tuesday's game, the Los Angeles Lakers collapsed down the stretch and watched the Houston Rockets swipe an improbable 107-105 victory at Toyota Center on Tuesday night. It was not the way the Lakers hoped to open a three-game road trip. The Rockets (9-8) trailed by as many as 17 points and didn't take their first lead...
HOUSTON -- In complete control for the majority of their opener of a three-game road trip, the Lakers collapsed down the stretch and watched the Houston Rockets swipe an improbable 107-105 victory at Toyota Center on Tuesday night. The Rockets (9-8) trailed by as many as 17 and didn't take their first lead until Toney Douglas drilled a corner 3-pointer with 2:30 remaining....
Lakers News

Delivered to your inbox

You'll also receive Yardbarker's daily Top 10, featuring the best sports stories from around the web. Customize your newsletter to get articles on your favorite sports and teams. And the best part? It's free!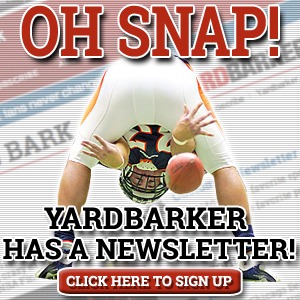 Latest Rumors
Best of Yardbarker

Today's Best Stuff

For Bloggers

Join the Yardbarker Network for more promotion, traffic, and money.

Company Info

Help

What is Yardbarker?

Yardbarker is the largest network of sports blogs and pro athlete blogs on the web. This site is the hub of the Yardbarker Network, where our editors and algorithms curate the best sports content from our network and beyond.