Found April 17, 2013 on Waiting For Next Year:
Before his Cleveland Cavaliers would take the court against the Miami Heat on Monday night, Byron Scott sat in front of the town's media horde and addressed items of past, present and future. In looking long term, Scott would say that the next several months set the stage for what is a "big summer" for Kyrie Irving, his All-Star, 21-year-old point guard who had seemingly taken a turn for the worst and has become the subject of scrutiny throughout the league. Scott, ostensibly, was speaking more from a physical point of view as the 190-pound guard has taken his fair share of abuse since entering the league. The undertones, however, also insinuated that while Irving had some bulking up to do, he also had plenty of growing up to do. He used words like "disappointed," and "surpirsed." When discussing the team, "immaturity" became operative, but no one player on the Cavs had shown as much as Iving over the last several weeks. While it is difficult to envision exactly where this Cavalier team would be within the Eastern Conference standings had Irving not missed 23 games with various ailments. The team's record with Irving, presently 19-38 (.328), is by no means a success rate to brag about. When Irving was not on the floor this season, their win percentage fell to .217, showing that while the struggles were present through the entire year, they were that much worse when the All-Star was in street clothes 1 . That a team is better with it's All-Star than it is without it should come as no surprise. What has caught many off-guard, however, is the way that a 21-year-old who had previously been dubbed an "old soul" by his father Dred could turn into a petulant child over the course of two months. It was not all that long ago when the budding superstar was on top of the world. He took home an award at the Greater Cleveland Sports Awards, deeming him the city's best professional athlete. On this same night, Irving would hear the news ((Seriously, click on that link and check out the image that accompanies the post. When's the last time you saw Irving smile like that?)) that he would be provided the opportunity to win over the nation with in Houston during All-Star weekend. And did he ever. Irving was not back in Cleveland for more than two weeks before he was handed an award for Eastern Conference Player of the Week. Everything seemed to be looking up as the Cavaliers compiled their first .500 month in Byron Scott's tenure. The team appeared to be gelling. The morale was as high as it had been in years. Byron Scott was Irving's "basketball father." At some point—whether it was the blown loss to the Knicks, the injury sustained in Toronto or his 21st birthday party—the bottom had fallen out. Irving sat courtside and watched as his teammates dropped seven of their next eight games heading into April. Set to miss the majority of the regular season with a strained shoulder, Irving insisted that he return earlier than expected to help stop the team's free fall. Irving's body language had changed dramatically. A player who typically spoke softly while carrying a huge game began showing increasing signs of frustration—eye-rolls, flailing arms, and arguing with officials. He started getting into spats on Twitter, allegedly stemming from issues with his girlfriend 2 . His discourse with the media became reduced to one- and two-word answers, mostly repetition of items either iterated earlier by Scott or a re-hash of clichés from earlier contests. At some point, the always-smiling (and always-winning) kid from Jersey became a disgruntled employee of adulthood. The results, at least on the floor, were moments of indifference and lapses in decision-making. In the team's recent loss to the lottery-bound Philadelphia 76ers, Irving played just 19 minutes of lifeless basketball, shooting 1-for-6 from the floor and committed his fifth foul in the third quarter. He claimed he forgot how many fouls he had been assessed. Not long after Scott finished his address to the media on Monday night, Irving could be found spending time with fans who had arrived earlier than most, signing basketballs and cards and the brims of hats 3 . At one point during the session, several security guards rushed near the tunnel as the weight of all of the people attempting to get that much closer to the All-Star forced the barricade to dislodge itself and nearly tumble into the path leading to the locker room. Kyrie cared. The fans, even more. But after another loss, when the rest of his teammates would give away the shirts off of their backs, Irving was nowhere to be found. In what appeared to be one of the biggest cover-ups of the season, the media would be told that Irving had to go to the locker room to get his heel examined as it was allegedly injured earlier in the game despite the complete lack of a press release or line-item update dictating such. A staff member would find himself in an impromptu sprint, gathering an Irving jersey and a pair of shoes to give away to a fan—the rest of the Cavaliers would hand their threads over on their own. Irving subsequently joked in the locker room, showing a complete disregard for what he had just done, but managed to wrap up his post-game address by saying that the fans were "awesome." Through whatever means, Irving caught wind that his actions were unacceptable and simply darkened the black eye that had been brewing for the last several weeks, and apologized via Twitter. All season, the Cavaliers iterated how many games the team had lost by six-or-fewer points. While they were using this as a silver lining to all of the gloom, as the losses—regardless of the actual "Diff"—had started to pile up, the finger-pointing began. The veteran players stressed accountability, and for a player like Irving who has made zero strides on the defensive end, this may have added some fuel to the smoldering that had seemingly been brewing for months. Following games, Irving would be one of the first to leave the locker room while players like Luke Walton and CJ Miles hung back, re-living and dwelling, grieving. Where this all leaves Irving's "basketball father" remains to be seen. Reports are circulating, stating that Scott will be relieved of his duties this coming weekend following a season that left a lot to be desired. Given multiple chances at standing up for Scott, Irving said little until this past Monday when he said that he undoubtedly wants Scott to return for next season 4 . But is it all too little, too late? Are the apologies merely attempts to save face as the backlash begins to pile up on the player who could once do no wrong? The NBA continues to be a young-man's game, but a lot of players who enter its ranks are more mature than their age would infer. LeBron James repeatedly said that he was forced to grow up sooner than he had planned, having lived with several different families in several different homes as a child—few of these included his mother, none of these included his father. But even in LeBron's case, it can be argued that his maturity did not drastically improve until he was lambasted for the good part of two years following The Decision. He was 25 years old. Unlike James, Irving's body isn't exactly fit for a Greek Mythology book. While their mutual ability to get to the rim is praised throughout the league, LeBron's body can take the blows—and form tackles—while Irving typically finds himself laying next to the stanchion. But similar to James, Irving has immense skill and  is being counted on to take that next step as a professional. It's a step that includes fewer eye-rolls and increased levels of mental toughness; one that doesn't let girl problems trickle on to the court; and one that is able to recall, at any point in time, how many fouls he has. He will always find a way to get to the rim, making would-be defenders look helpless and making fans rise out of their seats. He may have world class handles when it comes to the basketball, but his grip on the nuances of being a professional still need a few extra drills.  Even if Irving is not suiting up for next year's Fan Appreciation Night, it can be assumed that he will be front and center for the post-game festivities. Let's just hope that, thanks to these next few months, it is his decision to do so. – (Photo by David Liam Kyle/NBAE via Getty Images) ___________________________________ For those keeping track of the blown 20-point leads, Irving was in uniform in Phoenix, against New York and in Indiana. He was not available against the Miami Heat. This was also timed right around his 21st birthday Hats, not caps. Scott's contract has an option that had already been picked up by the team
Original Story:
http://www.waitingfornextyear.com/201...
THE BACKYARD
BEST OF MAXIM
RELATED ARTICLES
INDEPENDENCE, Ohio -- When people asked for my take on Byron Scott before the season, I said two things: 1. Its not often a coach misses the playoffs for three straight years and holds on to his job. 2. The Cavaliers bad losses at home need to end. Neither happened, and Scott was fired Thursday. Scotts first problem was the Cavs defense. Not only did opponents regularly shoot...
Kyrie Irving seemed particularly distraught about the news that Cavaliers coach Byron Scott had been fired Thursday.
INDEPENDENCE, Ohio — Byron Scott's days of trying to turn around the Cavaliers are done. Scott was fired Thursday following a third straight losing season with Cleveland, an 82-game rollercoaster that included injuries, blown leads and a dismal final few weeks. Scott went 64-166 in his three years with the Cavs, who were weakened by injuries this season but also showed little...
The Cleveland Cavaliers have decided to part ways with head coach Byron Scott, per a report from the Akron Beacon-Journal. "I have tremendous respect for Byron professionally and a great deal of admiration for him personally. At the same time, it is critical for where we are as a team to ensure that we capitalize on every opportunity for development and success and we have fallen...
The Cleveland Cavaliers have reportedly fired head coach Byron Scott after only three seasons of coaching. He will be exiting with a 64-166 record and his .278 winning percentage which is the lowest in team history among all coaches (minimum one full season). According to Ohio.com: Rumors over Scott's future intensified over the past couple of weeks as the Cavaliers regressed...
The Cleveland Cavaliers have released Head Coach Byron Scott, 52, the team announced today. The Cavaliers' record during Scott's tenure was 64-166, including a 24-58 mark this season. "I have tremendous respect for Byron professionally and a great deal of admiration for him personally. At the same time, it is critical for where we are as a team to ensure that we capitalize...
BallertainmentByron Scott sent packing by Cleveland Cavaliers Coach Byron Scott has been fired by the Cleveland Cavaliers. Three losing seasons and poor defensive output saw to that. Of his firing, Scott said… I want to thank (general manager) Chris Grant, (owner) Dan Gilbert and the Cavaliers organization for the opportunity I had to coach this team the last three seasons,"...
"You be quiet now, boy. I'm trying to watch 'Quincy.'" When Byron Scott stands glowering on the Cavaliers' sideline, he looks like that strict uncle you were always a little bit afraid of. The kind of old-school disciplinarian not shy about pulling out his belt to deliver a whoopin' on whoever was fixin' for one, dagnabbit. Scott...
Yesterday afternoon, at the end of the annual Boston Marathon, two bombs exploded behind the crowd by the finish line.  Three people were killed.  The toll of people who were injured was originally 30, but has been climbing since then to approximately 90 and perhaps more.   Many of the injured victims of the attacks suffered severe grotesque and disabiling injuries.  Lives were...
Phil Jackson wants to come back to the NBA in some sort of role. It is not completely known whether he wants to be a head coach, a front office executive or be both. With the Cleveland Cavaliers he could do both, by coaching the team and having the final say on all personnel decisions. Cleveland may be a small market for Jackson, but they already has a rising roster that could become...
The first time Byron Scott was fired, Lawrence Frank took his job. Now they're both looking for work, and the NBA's coaching carousel is already spinning in three cities. Scott was fired by the Cleveland Cavaliers, Frank was ousted by the Detroit Pistons and Doug Collins resigned as coach of the Philadelphia 76ers, all three Thursday, a day after the end of the regular season...
While We're Waiting serves as the early morning gathering of WFNY-esque information for your viewing pleasure. Have something you think we should see? Send it to our tips email at tips@waitingfornextyear.com. "Can we expect this to continue? Masterson's biggest problem has always been his ability to contain left-handed hitters. Chucking the ball from a three-quarter angle...
NBA News

Delivered to your inbox

You'll also receive Yardbarker's daily Top 10, featuring the best sports stories from around the web. Customize your newsletter to get articles on your favorite sports and teams. And the best part? It's free!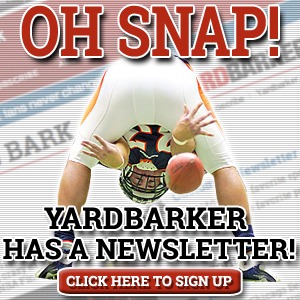 Latest Rumors
Best of Yardbarker

Today's Best Stuff

For Bloggers

Join the Yardbarker Network for more promotion, traffic, and money.

Company Info

Help

What is Yardbarker?

Yardbarker is the largest network of sports blogs and pro athlete blogs on the web. This site is the hub of the Yardbarker Network, where our editors and algorithms curate the best sports content from our network and beyond.