Found January 11, 2013 on Taking Bad Schotz:
At the beginning of the season, it seemed like the Lakers had it all. Kobe Bryant, one of the best players in NBA history. Dwight Howard, who is widely considered as the best center in the game. Steve Nash, who will end his career as one of the top three assist leaders in NBA history. Pau Gasol, one of the top five international players to ever play the game. Not to mention a supporting cast that included Metta World Peace, Antawn Jamison, and Jordan Hill. Yet here the Lakers are, with the eighth playoff spot only getting further away. Yes, there have been injuries. Yes, there has been a controversial coaching change. Yes, the defense is downright abysmal. But there is a deeper, underlying problem that the Lakers face that will be nearly impossible to shake this season: stability. Mike Brown starts 1-4 (with Steve Nash hardly appearing in two games). Fire him. Antawn Jamison can't hit a few shots. Bench him. Pau Gasol looks "soft" and is struggling to fit into a new system that he has never played in. Trade him. Dwight Howard is still recovering from major offseason back surgery and is slower on the court. He just doesn't want to play defense anymore. This has been the appalling mindset of Laker fans all season long, and it truly shows a lack of knowledge, as well as a lack of respect for the process of forming a championship team. I have been ashamed to call myself a Lakers fan this season, and not solely because of their performance on the court. The negative attention that both the fans and media give the team each and every night is ruthless.  The Lakers have turned into the laughing stock of the league, similar to the New York Jets, Boston Red Sox, or Dallas Cowboys. Photo Credit: Rick Bowmer/AP Do you think every time Tim Duncan, Manu Ginobili, or Tony Parker look old and drop a few games that Spurs fans demand change? Or how about when the Thunder traded their third best player, did Thunder fans scream bloody murder? When Chris Bosh's numbers went WAY down and he started playing "soft", did Heat fans tweet millions of times calling for his head? How about when the Celtics Big 3 looked way past their prime heading into the playoffs last season? Yes, there were trade rumors. No, nothing was done. Yes, they were one game away from the Eastern Conference Finals. Why? Stability and trust in the organization, two things the Lakers rank last in the NBA in. Winning is no longer a victory for the Lakers, but rather a relief, and no team will be successful with that mind set. The Lakers are not just your NBA 2K13 franchise where you can put together the highest rated roster, hire a brand new coach, and implement the highest scoring offense. In real life, players aren't programmed to automatically run whatever system they are put in. Players actually have to develop chemistry, and learn the tendencies of the teammates around them. Knee tendonitis, back spasm, torn labrums, sprained ankles, and concussions cannot be ignored by simply pressing A. Nagging injuries linger throughout a season, and actually inflame and become more painful when a team travels. Laker fans: I know patience is thin, trust me, but the more the ******** and moaning continues, the more the team will continue to struggle, which at this point will lead to the team missing the postseason. Give the team a chance. Let them learn defensive rotations. Let them run a system that can be effective if executed properly. Let a game be determined by stats not shown on Sports Center after the game. Act like a Pats or Spurs fan, which understands greatness isn't achieved over night, but rather over the course of an entire system. No, you haven't waited "long enough." This mind set came as soon as the Lakers started 0-2. Last but not least, DO NOT ACT surprised when teams are afraid to play the Lakers come April. -Langer
Original Story:
http://www.takingbadschotz.com/?p=11521
THE BACKYARD
BEST OF MAXIM
RELATED ARTICLES
Kobe Bryant's wife, Vanessa, recently finalized the sale of one of her three Southern California mansions, TMZ reports. Kobe signed the couple's three properties over to her wife when they were beginning divorce proceedings in late 2011. Vanessa listed the 6,000 square foot mansion on sale for $3.75 million in September. TMZ reports and a listing service confirms that the property...
Kobe and Vanessa Bryant didn't give up on their marriage, but Magic Johnson has divorced himself from this Los Angeles Lakers season. Facing their 6th-straight loss against the Thunder on Friday night, the former Lakers legend called it a season for the Lakers as they trailed by 16 at halftime. "It's over for my Lakers. No playoffs, no nothing," The Lakers ended up losing...
This quote from Steve Nash himself, can't be good for Laker fans to hear: "I think three or four weeks ago, people would have said, 'Oh, it will get better, right now, I definitely don't think there's a guarantee it will, so the only remedy is to continue to work hard and give yourself a chance for it to get better…. "I obviously think with time — and that might mean...
It appears the Lakers' best course of action is to keep Gasol and then re-evaluate the situation in the summer.
Los Angeles Lakers forward Pau Gasol was scheduled to miss his fourth straight game on Sunday because of a concussion, but center Dwight Howard might play in Sunday night's game against Cleveland. It will be a game-time decision on whether Howard, who has a shoulder injury, will play against the Cavaliers, according to the Los Angeles Times. Howard will be re-evaluated just before tip-off.
The walk to the team bus was short but still left eons for Steve Nash to ponder the imponderable. Will the Lakers miss the playoffs? "I think about it every day," he said in a quiet moment after their latest loss, Wednesday in San Antonio. "We've got to make some serious ground up here quickly. We're in deep, and we've got to find a way to scratch and...
Sports Media Watch recently caught up with Washington State University professor David J. Leonard, author of the book "After Artest: The NBA and the Assault on Blackness." The primary topic of conversation is race in the sports media, including differences in coverage of Kobe Bryant and Duke Lacrosse, fighting in [...]
Hugh Freeze is Testing the Limits of Our Nation's Postal Service – Friends of the Program Tommy Tuberville, the New Cincinnati Coach, Has Already Pissed off a Powerful High School Football Program in Ohio – The Big Lead Six SEC teams could emerge as national championship contenders in 2013 – Saturday Down South 6 Reasons Notre Dame Can Make Another Run in '13 – UHND Conan...
The Suns have long been associated with the "Seven Seconds or Less" offense that Mike D'Antoni brought in when he was hired as head coach. That has become synonymous with the Suns. Since D'Antoni was let go, there have been several coaches trying to bring a different tact and add a little defense to the team to get them over the top. It worked to some extent in...
I love jock fashion. Today's athletes aren't afraid to express themselves via fashion. Some days that works out really well and other times, it gives us great giggles! Let's take a look at some of my favorite ensembles from last week. Thunder star Russell Westbrook was giving his best Martin Lawrence "You so Crazy" look, [...]
Lakers News

Delivered to your inbox

You'll also receive Yardbarker's daily Top 10, featuring the best sports stories from around the web. Customize your newsletter to get articles on your favorite sports and teams. And the best part? It's free!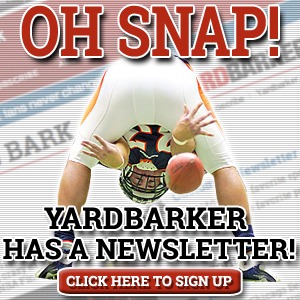 Latest Rumors
Best of Yardbarker

Today's Best Stuff

For Bloggers

Join the Yardbarker Network for more promotion, traffic, and money.

Company Info

Help

What is Yardbarker?

Yardbarker is the largest network of sports blogs and pro athlete blogs on the web. This site is the hub of the Yardbarker Network, where our editors and algorithms curate the best sports content from our network and beyond.