Found July 12, 2013 on Fox Sports North:
PLAYERS:
Chase Budinger
,
Corey Brewer
,
Kevin Martin
,
Flip Saunders
,
Nikola Pekovic
,
Larry Bird
,
Rick Adelman
,
Gorgui Dieng
,
Ronny Turiaf
,
Luke Ridnour
TEAMS:
Minnesota Timberwolves
,
Oklahoma City Thunder
,
Los Angeles Clippers
MINNEAPOLIS -- Welcome back to the start. When the Target Center emptied for a final time during the 2012-13 season April 17, the needs for the team sauntering off the floor were readily apparent. Get healthy. Get bigger. Get deeper. Get shooting. Get defense. Get better. Much, much better. Since then, a front-office regime change has brought an aggressive roster-building approach, which culminated in the past couple days as a busy free agency period came to a head. Holes have been plugged, money's exchanged hands, pieces have been moved, and the finished product is almost complete. Almost. Between the NBA Draft and subsequent free-agent signings of Chase Budinger, Corey Brewer, and Kevin Martin, new president of basketball operations Flip Saunders has built a machine with plenty of interchangeable parts. She's expected to run much better than the one that fizzled to a 31-51 record last year. "We had people we had targeted and what we wanted to do, and we pretty much were able to fill our targets," a triumphant-sounding Saunders told a room full of reporters Friday. "You feel good about that." There's just one final indentation to chisel into the key before it fits the ignition. You've read about him here, and you've watched him grow into one of the most effective old-school big men in the NBA. He was Saunders' No. 1 priority when he took the job in early May, and you can bet that status hasn't changed one iota. There's a very slight, seemingly negligible chance restricted free agent Nikola Pekovic ends up on another team. After inking Brewer and Muhammad on Friday, the Timberwolves are just above the salary cap, Saunders told reporters. Because of their Larry Bird rights to Pekovic, they can exceed the salary cap to retain him. Only an extremely lucrative offer sheet from somewhere else could take him away. There haven't been any reported yet. But the Timberwolves and Pekovic haven't come to terms, either. Conversations continue between both sides, Saunders said, while refusing to get into specifics. "We're not talking about negotiations, but they're progressing," he said. While Pekovic's still technically a wild card, it's progress that's defined Minnesota's offseason activity to date. The league's worst 3-point shooting team of a year ago now has two viable threats in Martin and Budinger, both products of coach Rick Adelman's system. Martin's coming off the best outside shooting season in his nine-year career, and Budinger went 40.2 percent from beyond the arc during his last fully healthy campaign. Retaining Budinger, whom Minnesota acquired through a trade from Houston, required some deeper pocketbook digging. Another team -- reportedly Milwaukee -- offered him more than the Timberwolves did originally, forcing them to dish out a three-year, 16 million salary. Budinger made a little more than 885,120 last year. "We had to do a little more to get it done," Saunders said. "But he was important, the way we looked at it. I know people always look at how guys are overpaid or under-paid, well everybody in our league is overpaid." Minnesota took care of defense across the board, too. Drafting Gorgui Dieng in the first round and signing Ronny Turiaf -- the latter move isn't official, but happening soon, Saunders said -- gives the Timberwolves two solid post stoppers behind Pekovic, and space was cleared to sign Brewer primarily upon his merits as a perimeter defender. That deal took some maneuvering, too, as Saunders worked out a sign-and-trade that sent Luke Ridnour to Milwaukee, brought in Martin from Oklahoma City and put a mid-level exception in play to sign Brewer on Friday. "Everyone's going to say, 'We think you guys will be able to score; are you going to be able to defend?'" Saunders said. "That's why getting Brewer and getting Turiaf, a perimeter defender and an inside defender, I thought was going to be very big for us." So was parting ways with Ridnour, even though he was an Adelman favorite. The sign-and-trade with the Thunder and Bucks relieved Minnesota of Ridnour's 4.3 million salary for next year and helped dissipate a logjam at point guard -- his primary position, though he played a lot of two last year with injuries undercutting the Timberwolves. But improved outside shooting, better defense and a freshly-balanced roster, mean a whole lot more with one of the few true centers left in pro hoops around. If he were to somehow slip away, either a rookie (Dieng) or an eight-year, off-the-bench journeyman (Turiaf) become the next-best options at the five position. The emphasis on keeping Pekovic rings just as clear as it did in April. Minnesota is close, Saunders said. "We have the ability to match anything," Saunders said. "Right now, where we're set . . . in our budget, we have an ability to sign Pek, so we expect he will be back." Follow Phil Ervin on Twitter
Original Story:
http://www.foxsportsnorth.com/nba/min...
THE BACKYARD
BEST OF MAXIM
RELATED ARTICLES
MINNEAPOLIS -- Directing traffic and slicing through frontcourt double teams inside the Target Center Lifetime Fitness center Wednesday afternoon, Alexey Shved gave off every impression of a seasoned NBA veteran. Relative to most of his current workout buddies, the Timberwolves guard fits that description. But it was just four months ago that an overused Shved trudged wearily out...
LAS VEGAS -- Climb up through the lower bowl of the Thomas & Mack Center at 4 p.m. on Saturday afternoon, and every audible conversation is about one 20-year-old rookie in electric yellow shoes. "He played at UCLA." "... the one who lied about his age." "... in high school here in Vegas." "How do you pronounce it? Shabaaazz? Shabaaahhhzz...
MINNEAPOLIS -- Andrei Kirilenko won't leave the Twin Cities many signature moments to remember him by, but that isn't because the veteran small forward didn't make a difference during his one season with the Minnesota Timberwolves. The man nicknamed after a gun just operates more like an M-16 than a bazooka. The guy they call AK-47 takes a knack for steady, persistent...
MINNEAPOLIS -- The sharp and savvy swing man, returning to a Target Center near you. He hates being late. He keeps that California sun-bleached hair tidy. He speaks well, shoots well, and is coming back as part of the Timberwolves' revamped roster. It wasn't a given that Chase Budinger would emerge from unrestricted free agency without requiring a new-home search somewhere...
MINNNEAPOLIS -- It's merely a formality, but Chase Budinger surely can rest a bit easier tonight. After celebrating his agreement to stay with the Minnesota Timberwolves back on July 2, the unrestricted free-agent small forward made it official Friday. The team announced it's signed him to an undisclosed salary, though media reports say he'll make 16 million over three...
AK-47 must have really wanted to get out of Minnesota. After opting out of a $10 million salary with Minnesota, Kirilenko will get the Nets mini-mid level of $3.1 million, per source. — Chris Mannix (@ChrisMannixSI) July 11, 2013
MINNEAPOLIS -- For the rare NBA diehard in Minneapolis who considers three weeks without pro hoops a purgatorial layoff, it's a midsummer oasis in Vegas. For the more casual observer, it's a first glimpse into top draft picks' outlook at the next level. For 13 men who, for at least the next 10 days, will wear matching Minnesota uniforms, it's a proving ground. There...
Minnesota Timberwolves president of basketball operations Flip Saunders told reporters Friday that assistant Bill Bayno has agreed to join the Toronto Raptors staff. Bayno, 51, had worked under Rick Adelman since the Timberwolves' head coach was hired in 2011. Bayno now joins Dwane Casey's staff in Canada, where he's expected to concentrate primarily on defense. The move...
The Nets have been busy this offseason, and they've added one more name to the list of new talent – Andrei Kirilenko. Brooklyn reached a deal with the former Timberwolves forward on a two-year, mini-mid-level exception, according to The New York Post. Kirilenko will now make $3.18 million next season, a surprising pay cut seeing as he opted out of the final year of his contract...
Andrei Kirilenko didn't land a lucrative, long-term deal, but he will join a franchise with zero fear of taking on an extreme financial burden. According to Kirilenko's agent, Marc Fleisher, the Minnesota Timberwolves small forward of exactly one season will sign with the spendthrift Brooklyn Nets. The 11-year pro opted out of the second year of his contract in Minneapolis...
The Minnesota Timberwolves and veteran power forward Ronny Turiaf have agreed to a two-year, $3.2 million contract. Turiaf's agent, Mark Bartelstein, confirmed the deal in a phone interview on Thursday night. Bartelstein said Turiaf was encouraged by the direction of the franchise under new boss Flip Saunders and excited by the style of play used by coach Rick Adelman. Turiaf...
NBA News

Delivered to your inbox

You'll also receive Yardbarker's daily Top 10, featuring the best sports stories from around the web. Customize your newsletter to get articles on your favorite sports and teams. And the best part? It's free!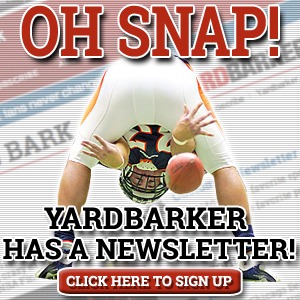 Latest Rumors
The Backyard

Today's Best Stuff

For Bloggers

Join the Yardbarker Network for more promotion, traffic, and money.

Company Info

Help

What is Yardbarker?

Yardbarker is the largest network of sports blogs and pro athlete blogs on the web. This site is the hub of the Yardbarker Network, where our editors and algorithms curate the best sports content from our network and beyond.