Found October 28, 2011 on That NBA Lottery Pick:
Previously on That NBA Lottery Pick, we featured NBA player Al Harrington punching an MMA reporter and competing in the spartan challenge.
Now, Al has decided to embark on a food-related challenge called the "Bugsy Challenge" at Burger Joint at Flaming Las Vegas last weekend:
On Saturday, Denver Nuggets player Al Harrington took the Bugsy Challenge at Burger Joint at Flamingo Las Vegas. The Bugsy Challenge consists of a burger with six one-third-pound burger patties, six types of cheese (American, cheddar, pepper jack, fresh house-made mozzarella, Swiss and panko-crusted deep-fried provolone), chorizo, sautéed mushrooms, black and tan onion rings, three strips of applewood smoked bacon, three strips of cayenne peppered bacon and a fried egg, all oozing with Burger Joint's special pink peppercorn aioli.

The full Bugsy Challenge weighs in at 4.5 pounds and is on the house for anyone who can finish it. Harrington was given 45 minutes to complete the challenge and unfortunately did not succeed. The NBA player is the fifth person to attempt the challenge and the fifth person to be thwarted by it since it launched at the beginning of August.
Somewhere, Adam Richman is warming up in the bullpen to take on that burger.
(Courtesy of Haute Living)


Original Story:
http://thatnbalotterypick.blogspot.co...
THE BACKYARD
BEST OF MAXIM
RELATED ARTICLES
Let me start by saying that it can be fairly difficult to gather information about the CBA. I've yet to find a website published in English that covers the league well, and translations of the Chinese sites usually come out pretty messed up. I mean, you can get the gist of what happened, but that's about it. Fortunately, I do have quite a bit of experience in gathering CBA...
Jr Smith is clearly apart of the "ink my whole body" crew. The latest tattoo pays homage to Michael Jordan. Jr has Jordan's retired Bulls jersey and his jumpman logo squeezed into a random obscure spot on his stomach. Wait, I forgot the Jordan…2′s, I believe that's the pair featured also. :shrug: When JR was with the Hornets he rocked #23 too. Tatted for life I guess.
All signs suggest that Kim Kardashian and Kris Humphires marriage WILL END SOON. Another sign that it'll end soon is coming from a report which says that Kim wanted to date a former N.Y. basketball star before dating New Jersey Nets star Kris Humphries, back earlier this year. Wetpaint.com is reporting that Kim Kardashian had producers at E! Network, which is home to her family...
Oh this Kim Kardashian + (insert athlete here) story line continues to get better and better. Recently we told you that Kim Kardashian and Kris Humphries were having marital trouble. That may be the case, but it's likely a good thing for them because it helps keep Kim in the news. Anyway, on to more [...]
And speaking of Danilo Gallinari … San Diego-based rap band Hemmy Hendrix, perhaps following in the footsteps of O'Grime's lyrical devotion to Jonas Valanciunas, yesterday released a hip-hop track named for The Rooster for public consumption. The YouTube "video" is posted below the break and the track may be downloaded here. BiE thinks Milano needs to play this in the pre...
Last weekend Denver forward Al Harrington tried and failed to eat a six-cheese type of burger featuring two pounds worth of ground beef amongst other accoutrements, and this is both a good and bad thing. A good and not entirely inappropriate go-to joke during the lead-up and duration of this NBA lockout has asked us to guess at who will turn out to be the 2011 (or, more than likely...
 I'm beginning to think that JR Smith couldn't stop getting tattoos if you paid him to stop. It's tough to estimate just how many tattoos JR Smith has, but if you wanted to go ahead and say he that he has mad tattoos, you'd be correct sir. As you can see, no tattoo on his body can wear the number 23 as JR and his tattoo artist have retired Michael Jordan's jersey too....
The Chinese Basketball Association has an insanely high turnover rate for Western players who sign on. The basketball is different, but more so it's the radical culture change that players struggle with, things like the food. J.R. Smith is getting some of that, but he's adjusting. A fascinating post over at Sheridanhoops.com breaks down the…
Why yes, I'd love a stuffed bunny! Thank you, Stevie Franchise! I came across this funny little photo while browsing through images of Kenyon Martin and JR Smith playing in China.  Maybe I'm easily amused, but this pretty much made my day.  Hope it makes yours too!
Nuggets News

Delivered to your inbox

You'll also receive Yardbarker's daily Top 10, featuring the best sports stories from around the web. Customize your newsletter to get articles on your favorite sports and teams. And the best part? It's free!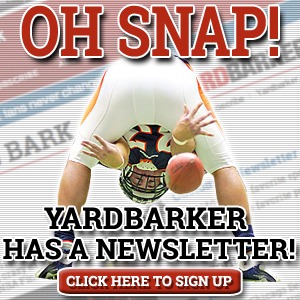 Latest Rumors
Best of Yardbarker

Today's Best Stuff

For Bloggers

Join the Yardbarker Network for more promotion, traffic, and money.

Company Info

Help

What is Yardbarker?

Yardbarker is the largest network of sports blogs and pro athlete blogs on the web. This site is the hub of the Yardbarker Network, where our editors and algorithms curate the best sports content from our network and beyond.