Found January 06, 2013 on New York Sports-Kings:
Three years ago, the Knicks signed Amare Stoudemire to a max contract and gave him the reigns to their rebuilding project.  During the beginning of the season, Stoudemire became "the guy" and proclaimed that "New York is back." The team wanted to bring in another max contract but failed to land Lebron James when he made his decision.  They made a blockbuster trade midseason to get Carmelo Anthony and Stoudemire took a back seat to one of the game's most prolific scorers. Fast forward to this season.  The Knicks started off hot and have continued to play that way through the first 33 games of the season.  Stoudemire was not part of the team's early success and has only played in three games this year while recovering from left knee surgery.  One of the biggest concerns when he returned on New Year's Day was how the team dynamic would be affected when he was plugged back into the lineup and so far there have been no issues. The reason for the smooth transition lies heavily on the shoulders of Stoudemire and how he has handled this situation.  Normally a starter, Stoudemire has accepted a role on the team's second unit where he will not be looked at as the main scoring threat, like he has for most of his career. So far in his first three games, Stoudemire is averaging just nine points and two rebounds in 18.3 minutes per game.  These are well below his career numbers of 21.5 points and 8.7 rebounds per game. Amare Stoudemire (left) and Carmelo Anthony (right) are by far the two biggest stars on the Knicks but Stoudemire has taken a backseat to Anthony because of his scoring prowess. PHOTO COURTESY: HOWARD SIMMONS/NEW YORK DAILY NEWS Stoudemire's main focus this year has to be on playing defense and he has already acknowledged that.  Last week, he claimed that no coach has taught him defense before but he is now finally being taught defensive strategies, which will ultimately help his game. The Knicks came out of the gate playing shut down defense and although they have lost that lately, they still have to pride themselves on the defensive end.  If Stoudemire can't improve his defense he'll see his role diminished even further. The beauty of what Stoudemire is doing is that a lot of guys making that type of money and with that much success in their careers would not be open to this.  It is the ultimate ego check and shows that Stoudemire is willing to put the team before him. Teams obviously want that from all their players but in this day in age, it is not something that is seen very often.  In a time where individual stats mean everything to the player and a culture that loves scoring points, athletes do not often want to take a step back from being the guy and accept a role to benefit the team.  Stoudemire has done this twice in his three years in New York. The Knicks will truly be tested with three months left in the regular season.  Since the two started playing together, many have said that Stoudemire and Anthony can't play together (most recently former Knick Stephon Marbury).  The Knicks are 2-1 record since Stoudemire has been back, but if things take a sudden turn for the worse the blame will most likely fall on Stoudemire. If that does happen it will be extremely unfair to Stoudemire but it will be easy to make him the scapegoat.  The best thing to do right now is to not think about that and assume that Stoudemire and his teammates will stay true to their roles and carry this team deep into the postseason. With the humility shown by Stoudemire the chances seem very high that this will happen. Follow us on Twitter – @NYSportskings Contributor – Dave Ragazzo – @DRagazzo_Sports The post Amare Stoudemire: New York's Humble Superstar appeared first on New York Sports Kings.
Original Story:
http://nysportskings.com/amare-stoude...
THE BACKYARD
BEST OF MAXIM
RELATED ARTICLES
Boston Celtics forward Kevin Garnett got under the skin of New York Knicks superstar Carmelo Anthony during the Celtics' 102-96 win over the Knicks at Madison Square Garden Monday night. KG was so successful in doing so that Anthony apparently tried to confront him after the game, both outside the Celtics locker room and outside the Celtics team bus, which could lead to Anthony...
HARSHING HIS MELO
After a heated, physical game, which ended in a Boston victory, the Knicks star sought to continue the action by the Celtics' locker room.
Knicks 114 Magic 106 Boxscore   Sloppy, sluggish Knicks came back to straighten up and fly right to get a solid win 114-106.  Carmelo Anthony put the team on his back in the 4th period with a total of 40 points for the entire game. This win gives the Knicks 2 in a row and ties them for 1st in the entire Eastern Conference. They now have a record of 23-10 and lead the Atlantic by...
What Happened: In the midst of their worst stretch of the season, the Knicks began the week with a home loss to the Portland Trail Blazers. After falling behind by as much as 19 points in the first half, New York's comeback attempt fell just short when Carmelo Anthony missed what would have been a game-tying three in the waning moments. Carmelo and the Knicks would quickly bounce...
Peter A. Knickswag The post Knicks Post Game Interviews: 1/5 appeared first on Knickswag - A New York Knicks Blog - News, Rumors, and more!.
Knicks vs Magic: MSG 7pm The Knicks are making a quick road trip down to Orlando.  It should be an emotional one for Amar'e Stoudemire who is back in the city where his brother Hazell grew up and passed away just last year.  Hazell would have turned 34 years old on Friday, January 4th.  In honor of Hazell, STAT is inviting 30 kids from his hometown of Lake Wales, Florida to...
All Things Come To An End I remember in 1st grade I was bullied by this kid named Orlando. For an entire year Orlando terrorized me by taking my lunch money, pushing me around, even chased me home on the last day of school, but getting pushed around got tired really fast and when 2nd grade began I stood up for myself and let Orlando have it. The big bad bully was no more and that's...
Carmelo Anthony scored 16 of his season-high 40 points in the fourth quarter, helping the New York Knicks outlast the Orlando Magic 114-106 on Saturday night. J.R. Smith added 18 points off the bench and Tyson Chandler had 14 points and 12 rebounds. The Knicks have won two straight overall and four in a row over the Magic, dating back to last season. Arron Afflalo and Jameer Nelson...
Carmelo Anthony and Kevin Garnett were going back and fourth, to say the least, for most of the second half during Monday night's matchup at Madison Square Garden, and a double-technical called on them didn't quite put an end to it. Following Melo's hard foul on Kevin Garnett, Anthony walks back to the Knicks bench while shouting "F You" to Garnett.
ORLANDO, Fla. (AP) -- Carmelo Anthony scored 16 of his 40 points in the fourth quarter, helping the New York Knicks outlast the Orlando Magic 114-106 on Saturday night. J.R. Smith added 18 points off the bench and Tyson Chandler had 14 points and 12 rebounds. The Knicks have won two straight overall and four in a row over the Magic, dating back to last season. Arron Afflalo and...
Welcome Back Amare From the last article, we discussed how the season progresses in phases.   The NBA season is a constant flow of coming up with new wrinkles for the other team to contend with, then making adjustments to the opponent's adjustments.  Teams are always looking for ways to tweak the offense to take advantage of any match-up that is in their favor.  The injury...
NBA News

Delivered to your inbox

You'll also receive Yardbarker's daily Top 10, featuring the best sports stories from around the web. Customize your newsletter to get articles on your favorite sports and teams. And the best part? It's free!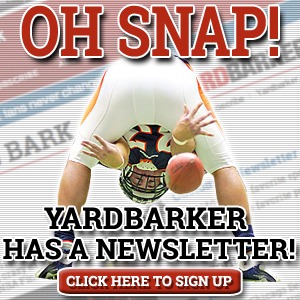 Latest Rumors
Best of Yardbarker

Today's Best Stuff

For Bloggers

Join the Yardbarker Network for more promotion, traffic, and money.

Company Info

Help

What is Yardbarker?

Yardbarker is the largest network of sports blogs and pro athlete blogs on the web. This site is the hub of the Yardbarker Network, where our editors and algorithms curate the best sports content from our network and beyond.