Found April 25, 2012 on Rumors and Rants:
PLAYERS:
Peyton Manning
,
Tom Brady
,
Aaron Rodgers
,
Drew Brees
,
Eli Manning
,
Jeremy Lin
,
Derek Jeter
,
Dale Earnhardt Jr.
TEAMS:
New England Patriots
,
Green Bay Packers
,
New Orleans Saints
,
New York Giants
,
New York Knicks
,
New York Yankees
Move over, Tebowmania. Pound sand, Linsanity. The thing that's really taking America by storm is Johnson Madness. At least according to Forbes Magazine. On Tuesday Forbes released its list of the Top 10 Most Influential American Athletes, which was topped by NASCAR driver Jimmie Johnson. No, seriously. This is fairly impressive considering that this is the first time I can ever recall even talking about Jimmie Johnson, who I assume most people would confuse with the former Cowboys coach/Extenze pitchman of the same name. Forbes compiled the list from a Nielsen survey of 1,100 adults, the majority of which apparently live below the Mason-Dixon Line. The rest of the Top 10: 2. Tim Tebow (A person who the majority of Americans can actually name) 3. Peyton Manning (His influence was pretty apparent on the Colts alone last season) 4. Manny Pacquaio (Uhh… Didn't you guys say "American" athlete? Otherwise I can't argue with the inclusion of an actual Congressman on the list) ...
Original Story:
http://rumorsandrants.com/2012/04/ame...
THE BACKYARD
BEST OF MAXIM
RELATED ARTICLES
New York Knicks guard Jeremy Lin tweeted that he jogged on Sunday for the first time since having surgery to repair a torn meniscus. Lin, who had the surgery on April 2, is on schedule for his return. He was expected to be sidelined for six weeks after the surgery. The timetable will put Lin's return approximately at the second round of the playoffs - should the Knicks advance...
One of the more compelling stories of this lockout-shortened season just might pick up where it left off if all goes right for the New York  Knicks this postseason. After undergoing left knee surgery on April 2, Jeremy Lin returned to practice with the Knicks on Wednesday, leading to questions  surrounding the return of Linsanity for the Knicks if they can extend their season...
New York Knicks star Jeremy Lin failed to complete an assist while sitting with Cardinal Timothy Dolan at the Time 100 Gala at Jazz at Lincoln Center ( LIN-coln Center?) on Tuesday night. "I asked Jeremy to pass me a piece of bread and it's still floating around here somewhere," joked his Holiness (Ho-LIN-ess?) Dolan's promotion from archbishop to cardinal got...
Move over, Kobe and LeBron: Only Derrick Rose could top Linsanity when it came to jersey sales over the past year. The league's reigning MVP has the top-selling jersey at the NBA Store and nbastore.com since April 2011, the NBA says Thursday. Knicks guard Jeremy Lin was No. 2, despite his merchandise not even being available until his stunning breakthrough in February. Bryant...
Jeremy Lin outsold Kobe Bryant in official jersey sales in the past year, the NBA revealed Thursday, even though the New York Knicks phenom emerged to prominence only in February. Fans rushed to get the former undrafted D-Leaguer's name on their backs at an unprecedented rate when "Linsanity" took hold little more than two months ago as his breakthrough performances...
here is a pumper promo for all us knicks fans to keep us pumped throughout this month showcasing our superstars, defense, bench and of course Jeremy LIN in our fight to the playoffs !!! i hope every knicks fan can see this as ill also be trying to make new ones as long as we keep winning of course!!
Herald  Homecourt doesn't seem that important to Celtics Lakers' World Peace says he didn't expect seven-game suspension Magic defeats Bobcats, but Glen Davis joins injured list Bulls, with healthy Rose and company, finishing strong heading to the playoffs Clippers' fate is out of their hands after loss to Knicks Celtics fan who had close call meets Rajon Rondo Derrick...
Tebowmania" and "Linsanity" are catching up with him fast, but NASCAR's Jimmie Johnson is still leading the field as America's Most Influential Athlete, according to Forbes. The 36-year-old perennial Sprint Cup Series champ, whose talent and guy-next-door demeanor endears him to fans, emerged on top of a host of NFL quarterbacks and other elite athletes to...
It's not everyday that an NBA team's superstar also fills the role of X-Factor.But with Amar'e Stoudemire having just recently made his return to the court, that's exactly what he could represent.Overcoming obvious obstacles in the form of injuries to Stoudemire and Jeremy Lin, the Knicks powered through to a 9-4 record with both players sidelined. Thanks to an M.V.P.-like...
Time magazine just released its annual list of the 100 most influential people in the world for 2012. The list includes world leaders, pioneers, moguls, and activists. Also among the 100 are athletes Jeremy Lin and Tim Tebow, who were chosen alongside such people as President Barrack Obama, billionaire Warren Buffet, and Senator Mitt Romney. Whatever criteria Time used to complete...
Paul Flannery, as Paul Flannery does more often than just about anybody, did a fantastic job detailing why Avery Bradley deserves the Most Improved Player Award in a column published three days ago. You should read the entire piece if you haven't already, but here are the meat and bones of Bradley's Most Improved case:Bradley's rise is no less remarkable. He played only 162...
Glen Grunwald had the interim label removed from his title on Tuesday when the New York Knicks named him their executive vice president and general manager. Grunwald joined the Knicks in 2006 as the team's senior vice president of basketball operations. He had been the general manager of the Toronto Raptors from 1994 to 2004. He has served as New York's interim general...
NBA News

Delivered to your inbox

You'll also receive Yardbarker's daily Top 10, featuring the best sports stories from around the web. Customize your newsletter to get articles on your favorite sports and teams. And the best part? It's free!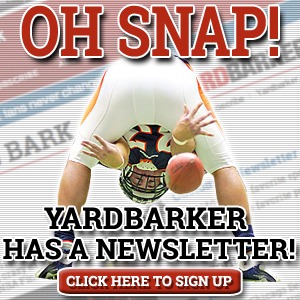 Latest Rumors
Best of Yardbarker

Today's Best Stuff

For Bloggers

Join the Yardbarker Network for more promotion, traffic, and money.

Company Info

Help

What is Yardbarker?

Yardbarker is the largest network of sports blogs and pro athlete blogs on the web. This site is the hub of the Yardbarker Network, where our editors and algorithms curate the best sports content from our network and beyond.