Found August 14, 2012 on CJ Sports NFL Talk:
Andre Igoudala fits perfectly in Denver. There's no way of beating around it. His playing style matches perfectly with Denver's run and gun offense. Both parties have a lot to give to each other. For Denver, Iggy brings a seasoned veteran, albeit a hungry one. Andre is used to being a leader. Ever since Allen Iverson passed the Philly torch to Igoudala, he's taken control of a team that seemingly had no face. Nobody really knew the identity of the 76′ers. Hell, we still don't know their identity. However, Iggy led them…somewhere. Denver gives Iggy a chance to take control of a team that actually does have an identity. Everyone knows of Denver's high octane, reminiscent of Mike D'Antoni's "12 second or less" offense he ran in Phoenix. Denver likes to run; Iggy likes to dunk a lot. Together they make a great combo. There's only one problem; what about the rest of the division. The sad thing about Iggy coming to the west is the fact that it doesn't get any easier for him when competition is concerned. Andre is coming to probably one of the most difficult divisions to compete in, and there's nothing he can really do about it. Denver is still a young team. Even though they gave the Lakers a pretty good scare last post season, there's nothing to say that they can repeat. Therefore, it would be wise not to consider Denver a contender this year simply because of Igoudala.
The projected starting squad for the Nuggets is nice. Ty Lawson will be a definite at point guard. If I were to organize this squad, I would probably put Igoudala in as the starting shooting guard. True, Iggy isn't much of a shooter. However, consider that his stats are sitting at 12 ppg, 6 rpg, and 5.5 apg, and he looks like a shooting guard to me. Also, consider that a lot of the shooting guards in the west are not that big. Iggy brings a muscle to the squad that they've been missing. Long gone will be the days of being bullied around the perimeter. Danilo Galinari and Kenneth Faried will make a nice three and four guard combo, finishing with JaVale McGee as center. That squad would probably be Denver's best chance of competing with the likes of OKC and a ever improving Minnesota.
What Denver can't do is turn this team into a dunkathon. The most questioned part of Iggy's game is his defense. That will prove crucial when guarding Kevin Durant and Kobe Bryant. If Iggy doesn't learn to keep his hands out, it will get ugly for him before he can even get his feet wet. That will surely be something he should get to work on when training camp opens. Also, perfecting a decent jumper will prove handy. Most of Igoudala's 12 ppg has come from crazy dunks and layups. In some ways he almost reminds me of a center. While Iggy can shoot when he wants, he's inconsistent. Inconsistency can haunt him on the floor, and in the locker room. One thing that George Karl doesn't play inconsistency.
Do I expect Iggy's stats to rise in Denver? Sure, I don't see why he stats wouldn't rise. However, do he really need to raise his stats to be successful in Denver. I don't think. so. What Iggy needs to do is be consistent. Pick a point of attack, and stick with it. 12 ppg and 6 rpg will prove just find in Denver as long as Galinari is scoring and McGee is still rebounding. Iggy wasn't sent to Denver to be a savior, he was sent to Denver because they still need need pieces. Iggy is a piece, not a prophet. Take a look at the Nuggets' updated roster; notice how no one is a labeled as captain. Honestly, at this point, it could be anybody. It could be Lawson, Galinari, or Iggy. It all depends on who's most consistent. That will
keep the identity of this team intact.
As far as this team going far this year, I still don't see it. True, Denver is steady improving. However, so is the rest of the division. Likewise, with the Lakers being the team to beat in the conference, I expect that every team will go the extra mile to win games simply to prove a point. Igoudala will be dealing with guards who have a chip on their shoulder. Imagine a determined/focused Kobe in your face. It won't be a pretty thing. Igoudala must realize that it doesn't get easier for him from this point on. It only gets harder. Welcome to the west.
Related articles
Original Story:
http://110sportztalk.com/andre-igouda...
THE BACKYARD
BEST OF MAXIM
RELATED ARTICLES
According to Nuggets.com Andre Iguodala is excited to be joining the Denver Nuggets. "As soon as I made the Olympic Team, my focus was all on USA Basketball and winning a gold medal," Iguodala told Nuggets.com. "I didn't let that change when the trade went down, so it really wasn't until I left London that I started to really think about it and get excited. "I...
  There's been much said about Arron Afflalo, he's annually improved, hard-working offensive player that could play defensive, however Denver saw a opportunity to trade an above average player to obtain a significantly better player in Andre Iguodala. Yes, Arron Afflalo was a key piece to the Denver Nuggets, but the franchise improved — at [...]
  Andre Iguodala. He was undervalued and underappreciated during his eight year tenure with the Philadelphia 76ers, the only NBA home he has ever known. While it's the general consensus that 76ers fans — perhaps — didn't appreciate Iguodala for what he could offer, it doesn't mean he won't be missed by that fan base. However, [...]
  Denver's franchise All-Star Carmelo Anthony was traded away nearly two years ago, and while many dubbed Denver the "Cavs of the West" the day he was traded away, Denver and more importantly Denver's GM Masai Ujiri, has risen beneath the ashes of lottery — as in never missing the playoffs since the Melo Drama [...]
Andre Iguodala believes he'll be a good fit with the Nuggets.
Hola Hollywood!  That's hello in Spanish to me and my American brethren, but for ex-Trail Blazer, current Denver Nugget, and Spanish National Basketball Team member Rudy Fernandez, it's an ode to the acting persona the dainty Spaniard has created for himself via his style on the hardwood. I don't miss Rudy.  Call me callous, but any affection I once had for the budding superstar...
Working above Allen Iverson cannot be easy. In fact, it was probably one of the worst jobs in sports at times during A.I.'s NBA career. Either he's lighting up the arena and leading your team to victory or he's talkin' bout practice. According to former Sixers GM Billy King, the latter nearly resulted in his resignation. During an interview with Andrew Goldman of the New...
Kyrie Irving discussed the evolution of his crossover this past weekend. I wrote about this in a SLAM article where Irving specifically credits Allen Iverson, Kevin Johnson, and Tim Hardaway as being key influences in the move he has today. Hardaway's crossover, for example, is forever celebrated by the Utep Two Step nickname, and I suggested Irving's move deserved a similar...
Andrew Bynum to take the stage in Philadelphia. Imagine if Andrew Bynum is the Allen Iverson we have been waiting to return? Well here is the FaceMosh of Andrew Bynum Sixers and Allen Iverson.
NBA News

Delivered to your inbox

You'll also receive Yardbarker's daily Top 10, featuring the best sports stories from around the web. Customize your newsletter to get articles on your favorite sports and teams. And the best part? It's free!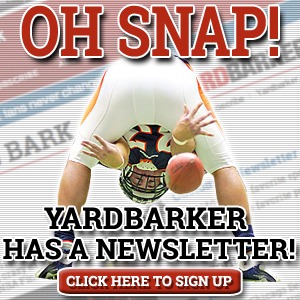 Latest Rumors
The Backyard

Today's Best Stuff

For Bloggers

Join the Yardbarker Network for more promotion, traffic, and money.

Company Info

Help

What is Yardbarker?

Yardbarker is the largest network of sports blogs and pro athlete blogs on the web. This site is the hub of the Yardbarker Network, where our editors and algorithms curate the best sports content from our network and beyond.