Found November 03, 2012 on Pass The Pill:
Until December, Andrew Bogut will only be able to play 20 minutes per game.credit: sbnation.com After acquiring Andrew Bogut from Milwaukee last season in exchange for Monta Ellis, the Warriors have been hoping that he can be the centerpiece big man they have been lacking. With a lot of offensive minded players on the team, Steph Curry, Klay Thompson, and David Lee, the team badly needs a post player who can control the paint on both ends of the floor against the best bigs in the league. He is capable of doing so, but he needs to be healthy. And he probably needs to play more than 20 minutes per game. Andrew Bogut has had plenty of injury issues, with his surgically repaired ankle being the latest problem. He's on the floor, but his doctors and the Warriors are being very cautious with the former number one overall pick. A "20 Minute Rule" is in effect to begin the season, in which Andrew Bogut will not be able to play more than 20 minutes per game. And he's not thrilled about it. Via Real GM: "I'm being pushed and pulled from all angles," Bogut said on Friday. "My agent, the doctors and trainers here, they want me playing (at full health) in February and March and April because if I try to do something stupid now, I could have a setback. I understand both sides of it. "But I'm a rhythm player, so I find it hard to play in four or five minute bursts because I'm not used to doing that. I've got to figure it out. I don't have time to mope. I have to figure it out, how to affect the game as much as I can in the four or five minute bursts that I'm out there for the next month." You can certainly understand his frustrations. The Warriors are a team that can make some noise if they are healthy, and Bogut is a huge part of their plan. The team's other centerpiece, Steph Curry, has also had his fair share of injury concerns. It's tough to believe that this team can make it through a full season in relatively strong health. They also just lost swingman Brandon Rush to a torn ACL, so they can not afford more injuries. As a basketball fan, I can only hope that Andrew Bogut and the rest of the Warriors stay in good health. They can be a fun team to watch, but they'll need more than 20 minutes per game out of Bogut to make a run at a playoff spot. -Mark Evans, Assistant Manager/Editor of Content Follow us on Twitter The post Andrew Bogut Is Frustrated By "20 Minute Rule" appeared first on Pass The Pill.
Original Story:
http://sports-kings.com/passthepill/a...
THE BACKYARD
BEST OF MAXIM
RELATED ARTICLES
CALLED OUT
David Lee appeared to tell Blake Griffin to 'stop flopping' during the Warriors-Clippers game. Here is video of the exchange.
Andrew Bogut is lobbying for more playing time as the Warriors and doctors limit him as he recovers from ankle surgery.
The Golden State Warriors can ill-afford injuries at this point.  They are trying to claw their way out of the basement, and to do so they will need every piece healthy.  Unfortunately, the team may have lost Brandon Rush to a significant knee injury.  He landed awkwardly on his left knee in the first quarter of the team's loss to the Memphis Gizzlies and had to leave in...
On paper, the Golden State Warriors have a solid team.  They seem to be on the rise.  Unfortunately, their stock has plummeted with news of Brandon Rush's injury.  For the second time in his career, Rush has a torn knee.  In 2007, he tore his right ACL.  Now, it's his left.  Rush was injured on Friday against the Memphis Grizzlies.  Yesterday, the injury was confirmed...
Warriors forward Brandon Rush is expected to be out for the rest of the season with a torn anterior cruciate ligament suffered in Friday's game against Memphis, the San Francisco Chronicle reported Saturday night. "It's devastating, but we'll put a plan together with the Warriors' medical team, and we'll get him back to 100 percent," Rush's agent...
Golden State Warriors forward Brandon Rush had to be helped off the floor after he injured his left knee against the Memphis Grizzlies in Friday night's home opener. Rush leaped in the air for a dunk when Zach Randolph fouled him with 4:09 left in the first quarter. Rush landed awkwardly, his knee bent badly and he tumbled to the floor. Rush got up on one leg immediately, waved...
LOS ANGELES -- Playing without star center Andrew Bogut, the Golden State Warriors came into Los Angeles and stole a 114-110 victory over the previously unbeaten Clippers. "It's just a great win for us. A great win for us," Golden State head coach Mark Jackson said. "I'm extremely proud of my guys." Carl Landry came off the bench for Golden State to...
The Golden State Warriors had to deal with adversity on and off the court to pull out a victory over the Los Angeles Clippers and put a happy ending on a difficult day. Stephen Curry and reserve Carl Landry had 23 points apiece, and the Warriors held off the Clippers for a 114-110 victory on Saturday night. ''We don't quit,'' coach Mark Jackson said. '&...
The NBA is trying to enforce flopping this season, and David Lee is apparently willing to become the league's "goon." During Saturday night's Warriors-Clippers game, Lee took some offense to Blake Griffin "acting" like he was getting pushed a little harder than he was. Mid-way through the fourth quarter, after Jamal Crawford drained a...
I would like to personally thank David Lee for telling Blake Griffin what I wish I could tell him at least 20 times a day. During a Clippers and Warriors game on Saturday David Lee took exception with one of Griffin's many flops and had about enough. He yelled at Blake to stop flopping, and though we can't hear it via the audio, and it is fair to say that you don't have to...
Blake Griffin takes his share of abuse each game, but he also has a reputation for acting and overselling contact. Perhaps it's his defense mechanism against the pounding he takes. During Saturday's Clippers-Warriors game, Golden State forward David Lee decided he'd had enough. As you can see in the video above, Lee yelled at Griffin to "stop flopping" during the fourth...
OAKLAND, Calif. (AP) -- Marc Gasol and Mike Conley both scored 21 points, and the Memphis Grizzlies spoiled Golden State's home opener with a 104-94 victory Friday night after Warriors forward Brandon Rush injured his left knee in a scary fall. Rudy Gay added 18 points and eight rebounds and Zach Randolph had 15 points and 14 rebounds to help Memphis rebound from a loss at the...
NBA News

Delivered to your inbox

You'll also receive Yardbarker's daily Top 10, featuring the best sports stories from around the web. Customize your newsletter to get articles on your favorite sports and teams. And the best part? It's free!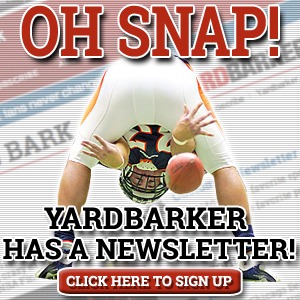 Latest Rumors
Best of Yardbarker

Today's Best Stuff

For Bloggers

Join the Yardbarker Network for more promotion, traffic, and money.

Company Info

Help

What is Yardbarker?

Yardbarker is the largest network of sports blogs and pro athlete blogs on the web. This site is the hub of the Yardbarker Network, where our editors and algorithms curate the best sports content from our network and beyond.