Found July 18, 2012 on CJ Sports NFL Talk:
PLAYERS:
Jeremy Lin
,
James Dolan
,
Patrick Ewing
,
Eddy Curry
,
Carmelo Anthony
,
Tyson Chandler
,
Steve Novak
,
Marcus Camby
,
J.R. Smith
TEAMS:
Houston Rockets
,
New York Knicks
,
Miami Heat
It's over. After almost two and a half months of being a phenomenon in Madison Square Garden is over. Linsanity is over quicker than it began. Howard Beck of the New York Times has reported that the New York Knicks organization will not match an offer from the Houston Rockets to retain restricted free agent Jeremy Lin. Needless to say, I didn't think that James Dolan, owner of the Knicks, could be this, well, senseless.             Without trying, Jeremy Lin made the Knicks relevant again and had them at a peak that, recently, only Patrick Ewing would know of. In a sense, he is the reason the New York Knicks made the playoffs. The Knicks are making a bad decision. The decision can't possibly be for "basketball reasons" as Lin has never gotten a chance to prove if he's a fad or a legit starting point guard. Is he worth $14.8 million in his third year? Probably not, but if you add what he brings marketing wise and look into his upside, he might actually be. As a starter (25 games) Lin averaged 18.8 points and 7.7 assists per game and posted a PER of 19.97 which is well above the league average. You can nitpick Lin's game and point out that he's turnover prone, not an above-average defender or that his left hand isn't great, but for a player entering his third year in the season, you have to look into what can be. There are complains over the poison pill contract that the Houston Rockets prepared in order to deter New York, which pays Lin a total of $14.8 million in his third year. For a team that is already above the salary cap, this is nothing. For a team that has a billion dollar owner, this should be nothing, yet they chose to play a different game. The Knicks stated that "any amount will be matched up to a billion dollars." What changed from then until now? Dolan paid Eddy Curry and Jared Jefferies over $60 million combined. He isn't afraid to break the bank for his players. Amar'e Stoudemire, Carmelo Anthony and Tyson Chandler have a total salary of over $200 million. They have just paid Steve Novak and Marcus Camby a combined $27 million over the next 3-years. Money isn't the issue. Is it the fact that Carmelo Anthony doesn't want Lin on the team because they both need the ball to be effective? Are the Knicks showing their bitterness to Lin because he chose to sit out the playoffs when he was healthy enough to play? Is it because there would be animosity in the locker room over Lin's contract like J.R. Smith noted? Whatever it is, it's going to lead the team to mediocrity over the next few years. A great man once said "All great things must come to an end" and it looks like it's time for the Linsanity to end. Along with it marks the beginning of what the Knicks have been since the Ewing era. James Dolan, once again, has settled for mediocrity. Lin may never turn into a superstar but he's the player the Knicks need at point guard. He made Steve Novak and Landry Fields productive during his stretch showing he can get his teammates into the game. He runs a great pick and roll game which Amare thrives at. He can take some of the stress from Anthony. Yet Dolan doesn't realize this. He hasn't realized it yet, and he may never get it. For all the Knicks fans out there, get used to what you are witnessing which is an owner not committing to his team's best interest.  By: Trisity   Please join us on our Facebook Page and follow us on Twitter @DailyShootout Related articles
The Houston Rockets rolled the dice...(110sportztalk.com)
Why Lakers need Howard more than Bynum to win a ring(110sportztalk.com)
Marcus Camby comes home back to New York(110sportztalk.com)
Original Story:
http://110sportztalk.com/are-the-new-...
THE BACKYARD
BEST OF MAXIM
RELATED ARTICLES
Knicks fans may need a few days before it officially sinks in, but Jeremy Lin is a Houston Rocket. Between the knee injury last season and New York letting Lin walk in free agency, Linsanity ended about as quickly as it began. With New York's decision to not match Houston's $25.1 million offer, Jeremy's life will undergo yet another rapid change. During an interview with Pablo...
DON'T LET GO
Knicks owner James Dolan reportedly felt "deceived" by Jeremy Lin who opted to sign with the Rockets and leave New York.
THAT'S KOOKY TALK!
Carmelo Anthony strongly expressed his opinion regarding the contract the Rockets offered his teammate and added it's not up to him to decide whether the Knicks match it.
Not only is Houston Rockets guard Jeremy Lin working with shot doctor Doc Scheppler, he's doing one legged squats at Sparta. SPARTA, Knicks fans, SPARTA! Why not click the Google +1 & the retweet... Full story at Bob's Blitz ~ http://www.bobsblitz.com
According to Marc Berman of the New York Post, this whole free agency thing has gotten out of hand for Jeremy Lin. We've touched on how Lin still has some growing to do when it comes to the business side of the NBA. And his handling of his free agency continues to prove it. In an attempt to get the most lucrative contract he could, Lin signed an offer sheet with the Houston Rockets...
NOC does it again with classic son parody about Jeremy Lin signing with the Houston Rockets. Couldn't help but to start singing along about 2 minutes into video…LMAO!
HOUSTON If the general manager of the Houston Rockets were in public office, Daryl Morey would be in big trouble this election cycle. Approval ratings would be way down. And it probably wouldnt even matter whom he was running against. Are you better off now than you were even one year ago? Morey's opponent might say. No. One year ago you had Goran Dragic. Now you have Zoran...
With the trade to bring former Knicks Raymond Felton and Kurt Thomas back to New York now official, hope that the team will match Jeremy Lin's offer sheet with the Rockets continues to fade.Losing Lin would be devastating, to say the least. His impact and value both on and off the court makes him a key potential piece to the puzzle moving forward. Whether he played alongside...
Herald  Celtics newbies adjust to NBA game Christmas spirit spreads to Vegas Knicks' Kidd in hot water; Lin is in limbo; Carmelo chimes in Ray Allen becomes latest to choose shot at rings over money U.S. men's basketball team in shadow of 1992 team Timberwolves make $45.5-million offer to Nicolas Batum Heat's Chris Bosh expects role to change with new acquisitions Dwight...
The New York Knicks troubles continued as the team decides if Jeremy Lin is worth $58.3 million in 2014-15. The New York Post reports that if the Knicks matched the Rockets offer sheet for Lin, owner James Dolan could pay the $58.3 million because of the new CBA's luxury-tax penalties. The Knicks seem to have decided to pair Jason Kidd with a cheaper point-guard in Raymond Felton...
It's looking more and more likely that the Knicks won't be matching the contract the Houston Rockets gave to Jeremy Lin. In light of comments made by Carmelo Anthony and JR Smith, for chemistry's sake, it seems like that is probably not a bad thing. In an interview with Sports Illustrated, Smith was extremely candid about [...]
NBA News

Delivered to your inbox

You'll also receive Yardbarker's daily Top 10, featuring the best sports stories from around the web. Customize your newsletter to get articles on your favorite sports and teams. And the best part? It's free!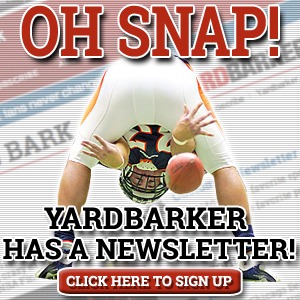 Latest Rumors
Best of Yardbarker

Today's Best Stuff

For Bloggers

Join the Yardbarker Network for more promotion, traffic, and money.

Company Info

Help

What is Yardbarker?

Yardbarker is the largest network of sports blogs and pro athlete blogs on the web. This site is the hub of the Yardbarker Network, where our editors and algorithms curate the best sports content from our network and beyond.