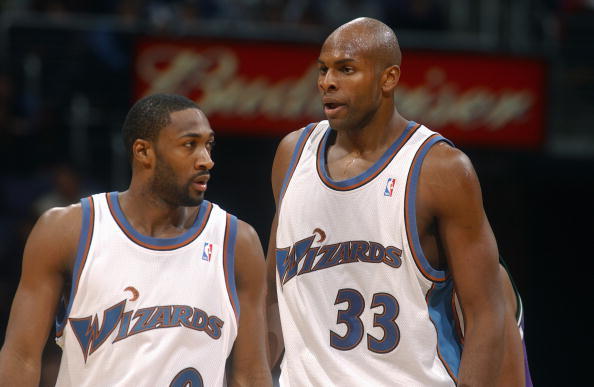 Washington Wizards Gilbert Arenas falls hard after committing a foul on the Miami Heat during the fourth quarter at the Verizon Center in Washington on November 4, 2009. The Heat defeated the Wizards 93-89. UPI/Alexis C. Glenn Photo via Newscom
Getty Images
Now that Gilbert Arenas has cleared waivers after being "amnestied" by the Orlando Magic, he is available for any team to sign him. And he has reportedly made a list of teams he would like to play for next. According to ESPN, Arenas has narrowed his wish list down to the Lakers, Heat, Knicks, or on whichever team Dwight Howard lands should he get traded. The article gave reasons for or against the teams Arenas listed. But I want to chime in on if any of these teams should take a chance on Arenas, considering his less-than-stellar playing days with the Magic and how he is often injured. Lakers have Derek Fisher, Steve Blake and rookie Darius Morris and frankly, adding Arenas might not be what the doctor ordered considering the team is still gripping with the loss of Lamar Odom. Factor Morris' solid debut with the Lakers (11 points versus the Clippers in preseason action) adding Arenas might stunt the development of the rookie seeing how minutes would be given to Arenas. Knicks are s...
Read the rest of this story...
MORE FROM YARDBARKER

NBA News

Delivered to your inbox

You'll also receive Yardbarker's daily Top 10, featuring the best sports stories from around the web. Customize your newsletter to get articles on your favorite sports and teams. And the best part? It's free!