Found January 14, 2013 on NBA 24/7 365:
PLAYERS:
Arron Afflalo
,
J.J. Redick
,
Josh McRoberts
,
Andrew Nicholson
,
David West
,
Deron Williams
,
Gerald Green
,
Michael Beasley
,
Amir Johnson
,
Ed Davis
,
Hakeem Olajuwon
,
John Henson
,
Larry Sanders
,
Brandon Jennings
,
Alexey Shved
,
Ricky Rubio
,
Luke Ridnour
,
Tony Parker
,
Gary Neal
,
Manu Ginobili
,
Will Bynum
,
Brandon Knight
,
DeMarre Carroll
,
Nicolas Batum
,
Wes Matthews
,
Isaiah Thomas
TEAMS:
Orlando Magic
,
Indiana Pacers
,
Brooklyn Nets
,
Phoenix Suns
,
Toronto Raptors
,
Milwaukee Bucks
,
Minnesota Timberwolves
,
San Antonio Spurs
,
Detroit Pistons
,
Portland Trail Blazers
,
Sacramento Kings
***The Orlando Magic have proven once again that they are not to be slept on.  The Clippers, after getting off to a 16-5 start, took their collective foot off the gas, allowing the Magic to hang around.  The Magic went on to outscore the Clippers 29-18 in the fourth quarter, leading to a 104-101 victory.  Arron Afflalo, a Los Angeles native, dropped 8 of his 30 in that very fourth quarter, and none other than JJ Redick knocked down the go-ahead triple with 42 seconds to go.  Afflalo and Redick combined for 51 points on 7-11 from distance.  Meanwhile, Ish Smith, Josh McRoberts, and Andrew Nicholson got their J-Will/C-Webb/Vlade on… Orlando's victory snapped a 10-game losing streak.  Redick's season scoring average has nearly eclipsed 15 points, which must make him one of the leaders amongst all bench players (where would I go to look this up?). ***David West had himself a weekend.  On Saturday, West recorded his first career triple-double (14/12/10) as the Paul George-less Pacers knocked off the Bobcats 96-88.  On Sunday, he went five for his first five in Brooklyn and finished the game with 27 points on 11-19.  The Pacers went on to lose, however, as the Nets outscored them 28-11 in the fourth quarter.  Deron Williams led the way with 22, inspiring a faint but audible "M-V-P" chant from the Barclays Center crowd.  One can only hope they were being sarcastic.  Gerald Green scored 15 on 5-13 in his first game against the Nets. ***The was a Michael Beasley sighting in Chicago.  As the Suns beat the Bulls by 16, Super Cool came off the bench to drop 20 points in 21 minutes.  He did so by making 10 of 14 attempts from the floor, which is highly unusual, as Beasley has attempted more shots (343) than he has scored points (329) this season.  Sadly, this is just the eighth time he's shot 50% as a member of the Suns.  Only once has he done it twice in a row, so don't expect this to be the start of a new trend. ***Amir Johnson and Ed Davis played more like Shaquille O'Neal and Hakeem Olajuwon on Sunday, recording combined totals of 42 points, 26 rebounds, and 6 assists.  Each of them finished with 20/10 lines, which is pretty weird considering that they'd only had seven such games between them in seven collective seasons (including this one) with the Toronto Raptors.  Despite the eye-popping numbers posted by Johnson and Davis, the Bucks bounced back from a terrible first quarter (outscored 34-18) and beat the Raptors 107-96.  John Henson helped the Bucks do so by holding his own against Davis.  Henson, a collegiate teammate of Davis at North Carolina, had 19 points and 6 boards.  Meanwhile, Larry Sanders — who spent the first three quarters of his afternoon getting dominated by Amir Johnson — took control of his individual match up in the fourth, outscoring Johnson 6-4 and making his presence felt on the defensive end with seven rebounds and a blocked shot.  Sanders also smashed home the alley-oop dagger which was so swaggerishly lofted up to him by Brandon Jennings… ***San Antonio's bench scored 55 points in a 106-88 rout of the Timberwolves, who have now lost three in a row and five of their last seven.  To say that Minnesota suffered from some lackluster guard play would be an understatement; Alexey Shved and Ricky Rubio failed to make any of their 13 shot attempts while JJ Barea went 4-11 and Luke Ridnour got owned by Tony Parker.  Meanwhile, the Spurs got 15 points on 6-9 from Gary Neal.  Neal could really help the Spurs by sustaining such production over the next couple games, as Manu Ginobili will miss a week or two with a pulled hamstring. ***A couple of unusual finishes that nearly turned epic took place in Detroit and Portland.  On Saturday, the Pistons trailed the Jazz by 13 with just 3:26 to play.  They went on to lose by just three, 90-87.  Utah had built their advantage with a sudden 19-6 run, but as quickly as they'd surged ahead, Detroit came roaring back.  The catalyst in the unlikely turnaround was Will Bynum, who scored four straight layups over the course of a minute and 22 seconds. Following his individual 8-1 run, Bynum made a crucial play at the defensive end by diving to the floor twice in 10 seconds in order to secure a steal that led to a Brandon Knight layup… Bynum's incredible hustle would ultimately earn the Pistons a shot to tie with 4.1 seconds to go.  Their inbounds play failed to yield a clean look, though, and the Jazz hung on (I felt that Brandon Knight was fouled by DeMarre Carroll, but the officials did not). ***A similar situation unfolded in Portland on Sunday.  Down 10 to the Thunder with 3:30 to go, the Blazers closed to within one by virtue of a dramatic 9-0 run.  Portland, who turned OKC over twice on consecutive crunch-time possessions, actually had an opportunity to take the lead on a layup, but Nicolas Batum flipped up some left-handed ******** that failed to even draw iron.  As you can see, he inexplicably failed to pass the ball to Wes Matthews, who was wide open for an even easier layup.  F@ck you, Batum. ***How bad are the Sacramento Kings? That bad.  Props to Mario Chalmers on his career-high 34 points and franchise-record-tying 10 three-pointers, but he'd have encountered tougher defense in an over-40 pickup game.  In mean seriously, take another look at his second score of the game.  That's just… I mean… wow.  It's one thing to get blown out and stop trying; it's another thing to never start trying in the first place.  What a joke the Kings are. ***Isaiah Thomas, the league's clear frontrunner for garbage time MVP, matched Chalmers with 34 points of his own.  The Kings lose by an average of 11 points when Thomas scores 20 or more (not that it's his fault… he just has a tendency to light it up when he's inserted into games with forgone conclusions).
Original Story:
http://nba247365.com/?p=9660
THE BACKYARD
BEST OF MAXIM
RELATED ARTICLES
Little did Nikola Vucevic know he was studying the man he eventually would replace. When Vucevic came to Simi Valley, Calif., from Montenegro in 2007 at the age of 17, he began watching Orlando Magic games on TV. That continued after he enrolled in 2008 at Southern California for what would be a three-year stint. I watched Dwight Howard, Vucevic said. Hes one of the best rebounders...
Jameer Nelson spoke with members of the media following Magic's 91-120 loss to the Wizards. Obviously disappointed in the game's outcome, Nelson gave his opinion on what hurt his team tonight and how they can correct these issues from here on. The veteran point guard finished with great individual numbers, 19 points and 12 assists. [...]
I can confidently say that this is the first Ish Smith post that we've attempted on That NBA Lottery Pick and he had to do something pretty impressive to earn it.Earlier tonight, the Orlando Magic guard was playing some solid defense on Wizards guard John Wall.As he went up to attempt a block, Ish cleared Wall and leapt over him: 
WASHINGTON (AP) -- Emeka Okafor had 19 points and 11 rebounds, leading six players in double figures for Washington in a 120-91 victory over the Orlando Magic on Monday night for the Wizards' third straight win. The Wizards were just 4-28 before their streak, but beat Oklahoma City, Atlanta and now Orlando -- all at home -- to nearly double their wins total. Washington leaves...
Glen Davis has been in the background for the Magic since spraining his shoulder at the end of the Magic's Dec. 19 win over the Wizards. Orlando has gone 1-10 in that time and the team is hungry to have its emotional leader and linchipin back. It appears Davis is close to making his return. Although when his return might happen is up to Jacque Vaughn and Vaughn has said with...
The schedule is never an excuse for a loss. Everyone plays whatever the schedule makers give them whether they want to or not. The schedule does not care if you had to travel 2,668 miles a few days earlier. When the schedule says you play, you play. It cannot be used as an excuse -- each game still counts the same and each game starts at 0-0 with the chance to win in the next...
Yesterday, we posted a video of Orlando Magic guard Ish Smith leaping over Wizards guard John Wall and blocking his shot.Well, later in that game...Mr. Wall got revenge by dropping Ish with a pretty solid crossover that sent him to the ground and gave John the opportunity to find Kevin Seraphin for the easy bucket:
Washington, D.C. (13-23) vs. (6-28)    Time/TV: 7 p.m./FSFlorida Line: Wizards by 1.5 Tickets: $1-$850 on Vivid Seats Season Series: Won 90-83 in Orlando on Dec. 19; Lost 105-98 in Washington, D.C. on Dec. 28; Today in Washington, D.C.; March 29 in Orlando   Pace Off. Rtg. Def. Rtg. eFG% O.Reb...
Wizards PG John Wall's second game resulted in the another win. The team's third straight win at home and second consecutive win over the Orlando Magic, a 120-91 win vs Magic. The Wizards are now 2-1 against the Magic this year but more importantly, they feel as though they're beginning to gel. Wall's return has given these [...]
In his first season in Orlando, Arron Afflalo has played well for the Orlando Magic. Never in a million years did I think we'd be sitting just months out from the four team blockbuster that sent Dwight Howard to Los Angeles thinking: "Orlando really got off well in that trade." Orlando didn't get the best player in the deal, nor did they get the second or the...
J.J. Redick was constant movement, and Matt Barnes was visibly tired chasing him around. Somehow the Magic had to know that would play a role in deciding this one. So when Redick gave pump fake to Barnes after coming around a screen at the top of the key, Barnes went flying, knowing he had to worry about the sharp shooter. Redick clamly dribbled to the side and pulled up for...
J.J. Redick gave Orlando its first lead on a 3-pointer with 42 seconds left, Arron Afflalo tied his season high with 30 points, and the Magic beat the Los Angeles Clippers 104-101 on Saturday to snap a 10-game skid. The loss ended the Clippers' franchise-record 13-game, home-winning streak and provided them with a scare when All-Star guard Chris Paul went down holding his right...
NBA News

Delivered to your inbox

You'll also receive Yardbarker's daily Top 10, featuring the best sports stories from around the web. Customize your newsletter to get articles on your favorite sports and teams. And the best part? It's free!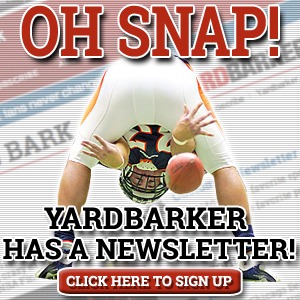 Latest Rumors
Best of Yardbarker

Today's Best Stuff

For Bloggers

Join the Yardbarker Network for more promotion, traffic, and money.

Company Info

Help

What is Yardbarker?

Yardbarker is the largest network of sports blogs and pro athlete blogs on the web. This site is the hub of the Yardbarker Network, where our editors and algorithms curate the best sports content from our network and beyond.