Found February 15, 2013 on Fox Sports Carolinas:
Charlotte, N.C. -- The G.O.A.T, a moniker of reverence short for Greatest of All Time, is how Michael Jordans known by ardent hoops junkies. To the center of his Charlotte Bobcats, Jordan is the palpable greeting to the realization of a lifelong dream. That introduction didnt come when the draft card placard placing Bismack Biyombos name beside the Bobcats was slid in the spot of the 7th pick of the 2011 NBA Drafta selection Jordan was said to have pushed for. Not when he received his first Jordan-signed paycheck, either. When I came here to work out for the draft, I saw Jordan and that was one of the best moments of my career, Biyombo said earnestly. The last day I worked out here I went back to New York and I was just kinda like, Wow, this is going to be crazy if he has to be my owner. And down the road some good things happened and I just appreciate the chance. As Jordan celebrates his 50th birthday Sunday, his legacy isnt that of the leagues most illustrious player. His legacy is what the game has become. That one of Biyombos most memorable moments entering the league is just being in the same room as a man who last played when Biyombo was just 10 years old. Jordan not only made the NBA popular again, he turned it global, and its showed no signs of slowing down since. When I was back home in the Republic of Congo, we were watching the Finals and stuff and all those big shots he hit in the Finals. I was a kid and it was just impressive, Biyombo said of the 1998 NBA Finals. You were kinda like going crazy like, O.M.G., this guy! Think about that: 9,000 miles from the United States, a six-year-old kid knew he couldnt miss the greatest show in sneakers. Thats one of the biggest reasons why the NBA exploded in the '80s and '90s and why lines still form around shoe shops hours before the latest sneakers with his namesake are released. Jordan seems to have a way of bringing everyone back to their childhood, when every young hoops star was simulating breaking Bryon Russells ankles like Jordan infamously did in Salt Lake City in Game 6. You see it every time Kobe takes the floor. Or LeBron. Bobcats power forward Byron Mullens doesnt have that same appreciation that so many in the NBA have of growing up watching and emulating Jordan because he didnt start playing basketball until high school. His foremost memory of Jordan is in the 2003 NBA All-Star Game. But even this basketball newbie cant believe how blessed he is to be in a situation where his phone frequently lights up after games with postgame instruction from the man who knows basketball like no one else. He just says, I want you down in the post more, but also saying, Dont give up on the three. This is my second year playing basically so hes given me all the confidence in the world, Mullens said of Jordan. You get a text from Michael Jordan, its not like getting a text from your coach. Its that savvy and wisdom that had people think maybe Jordan wasnt really joking when he said he may come back and play at 50 in his Hall of Fame speech. Is it really that far-fetched coming from a guy who averaged 20 points per game at the age of 40? Could the G.O.A.T, who is old enough to be the majority of the players in the leagues father, still contribute on an NBA team nearly a decade after his final retirement? If he played for the Bobcats, yeah, Mullens cracked. All jokes aside, Biyombo and head coach Mike Dunlap, who both witnessed Jordan go one-on-one with Gerald Henderson and Michael Kidd-Gilchrist after practice a month ago, both say unequivocally, Yes. Yeah, he could, Dunlap said. Short minutes but he could definitely get minutes. Theres no doubt in my mind he could get minutes." Added Biyombo: He still can play. I saw him going against Gerald Henderson and MKG and he killed them. He killed them, so I can only believe that he still can play and still has his game going. But we dont know how long he could play in a full game cause of the full speed up and down. But I believe he can play. I mean, hes MJ! Come Sunday, Feb. 17, Jordan may be 50, but his legacy remains unchanged. The game of basketball can never say the same.
Original Story:
http://www.foxsportscarolinas.com/02/...
THE BACKYARD
BEST OF MAXIM
RELATED ARTICLES
Ben Gordon may be on the market for those interested, but it sounds like buyers should beware. Yahoo! Sports reports that the Bobcats are more likely to explore the possibility of trading the guard after an incident with head coach Mike Dunlap. According to the report, Dunlap was trying to speak to the team prior to its game against the Celtics on Monday, but Gordon kept dribbling...
The Charlotte Bobcats really got me. Perhaps it was in fact only me, but I had hopes that they'd get off to a decent start and maybe even be competitive in 2012-13. Turns out, for the first month anyways, I was right. The Bobcats were at one point 6-4, and exited November a reasonable 7-8. [...]
Charlotte Bobcats rookie Michael Kidd-Gilchrist lost a one-on-one basketball game to his boss. That sounds bad, until you realize the greatest basketball player of all time is the Bobcats' majority owner. Michael Jordan turns 50 on Sunday, and he was still able to beat the 19-year-old Gilchrist. "It was hard for me," the No. 2 pick in the 2012 NBA draft told USA Today. "I...
Could Michael Jordan play at 50? I'm sure he could, and his longtime trainer, Tim Grover is prepared for the call. Grover says "Michael is still the best player on the Charlotte Bobcats." According to Adrian Wojnarowski, Yahoo! Sports: On Jordan's Hall of Fame induction speech: "I heard that speech differently than everybody else," Grover said. Grover heard Jordan raising...
  Michael Jordan might be 50, but they don't call him the greatest for nothing. According to CSNHouston.com,19 year old Michael Kidd-Gilchrist, admitted to getting beat 1-on-1 by Michael Jordan. Kidd-gilchrist who plays for the Bobcats says Jordan, who is the majority owner of the Bobcats, beat him unexpectedly. He is 50 right? "He did play me 1-on-1 one time," Kidd-Gilchrist...
(source feed provided no summary content for this entry)
Ben Gordon's act of defiance toward Mike Dunlap has increased the Bobcats' motivation to trade him.
Desperate to unload Ben Gordon, the Charlotte Bobcats are offering the disgruntled shooting guard to the Toronto Raptors for Andrea Bargnani. ESPN's Marc Stein reported that the Raptors don't appear to be interested in taking on Gordon with a bench full of younger, cheaper wings. The Cats are "determined" to dump Gordon after the guard had several run ins...
The Raptors are unlikely to trade Andrea Bargnani for Ben Gordon given the presence of Terrence Ross and Alan Anderson at shooting guard.
Hornets News

Delivered to your inbox

You'll also receive Yardbarker's daily Top 10, featuring the best sports stories from around the web. Customize your newsletter to get articles on your favorite sports and teams. And the best part? It's free!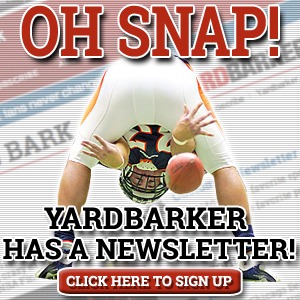 Latest Rumors
The Backyard

Today's Best Stuff

For Bloggers

Join the Yardbarker Network for more promotion, traffic, and money.

Company Info

Help

What is Yardbarker?

Yardbarker is the largest network of sports blogs and pro athlete blogs on the web. This site is the hub of the Yardbarker Network, where our editors and algorithms curate the best sports content from our network and beyond.