Found September 12, 2012 on Purple and Gold Blog:
Could it be that the Lakers aren't done bolstering their bench? Probably.
According to SportingNews' Sean Deveney, 9-year veteran Leandro Barbosa could end up with the already revamped Lakers. In the article, Barbosa expresses his patience in his decision due to his desire to be "in the right place" rather than his salary dictates the city he'll end up playing for.
As of now, only the Lakers and the Phoenix Suns are interested in adding the speedy guard from Brazil. The Brooklyn Nets were part of the equation at one point but decided any further pursuit would be to no avail.
You probably may have to thank former teammate and close friend Steve Nash for that. According to Barbosa, Nash reached out to him via texting to sign with the Lakers. The idea of reuniting with the point guard who helped shape his career and a chance to earn his first championship ring just might be too good to pass up.
On the flip side, having someone like Barbosa who can blitz by defenders and be a streaking cheetah on a fastbreak just might still be on the wishlist of the Lakers front office.
Then again, maybe the reason why the Lakers signed Meeks in the first place is because Barbosa and his agent (Dan Fagen) think that $1.2 million is way too low of an offer for the 29-year old NBA player/Olympian. Perhaps, this is the reason why Barbosa is still in the market despite showing to the world at the Olympics in London what he's still capable of doing.
Either that or the new CBA and the thought of giving a player that's never been in the same sentence as defense without the word "no" before it are keeping the other GMs away.
Yes, he did say that money won't matter much in his decision-making, but he also didn't exactly say that he'll be happy with the veteran's minimum in which the Lakers can only offer him.
There's also a strong possibility that Barbosa wants a contract that will net him closer to the $7.6 million paycheck and with more years attached to it than what could potentially be no more than a 2-year deal with the Lakers.
Just because he says his camp and the Lakers are talking doesn't mean it's true. Remember, dropping names in interviews is a common strategy in the world of professional sports management in order to get a bigger bid for their client.
But should the Lakers still pursue Barbosa?
Absolutely! It isn't everyday where any team that can get a player like Barbosa at the veteran's minimum. In an era where speed and perimeter shooting is the now the norm, having a surplus of players that fit that mold is never a bad thing.
Just as long as it doesn't break the bank.
Original Story:
http://www.purpleandgoldblog.com/2012...
THE BACKYARD
BEST OF MAXIM
RELATED ARTICLES
Steve Nash always has been a beloved basketball player during his many stops on his NBA tour, and while it appears to only be a decorative piece as an accomplished professional musician would have to be 20-feet-tall to wield it and take it on a tour of his or her own, for$10,000, one of his [...]
The Lakers say center Dwight Howard won't finish his rehabilitation from back surgery in time for the start of training camp or Los Angeles' first preseason game. The Lakers gave an update on the newly acquired center's condition on their website Thursday night. Howard recently began working with the Lakers' training staff on his recovery from spinal surgery in...
COULDN'T TURN AWAY
Stan Van Gundy took some time to give his perspective on his role in the bizarre press conference with Dwight Howard, one of the most awkward scenes of recent memory.
Lakers' General Manager Mitch Kupchak has announced the addition of three new assistant coaches to Mike Brown's staff. Eddie Jordan, Steve Clifford and Bernie Bickerstaff will join the Lakers staff this year. Eddie Jordan, a former NBA player and head coach, played for the Los Angeles Lakers from 1980-1983, helping them win the 1982 NBA [...] [[ This is a content summary only...
HOLLYWOOD, CA -- Kobe Bryant admitted on Wednesday that he's been thinking about the inevitable. My career is winding down, Kobe said during his annual news conference at My Friend's Place, a shelter and education center for people who are currently homeless. And at the end of my career, I don't want to just look back and just say that I had a successful career because...
Dwight Howard participated in his first practice with the Los Angeles Lakers on Tuesday, going through a lengthy workout with no apparent concerns about his surgically repaired back. Howard worked out with the Lakers' new starting five during much of the afternoon practice at the Lakers' training complex, running offensive drills with Steve Nash and playing a little 1-on...
Since it has been a little awhile, let's check-in with a former Los Angeles Lakers star for their take on newly acquired center, Dwight Howard. James Worthy, one of the Showtime Lakers, had some harsh words for Dwight during a conference call on Thursday. 'Big Game James' wasn't on board with the trade with the [...]
While the 2012-13 season is still over a month away from tipoff, many NBA fans and pundits have been quick to name the Los Angeles Lakers and Miami Heat the participants of the 2013 NBA Finals. If only it were that easy. Among those that are skeptical of the Lakers' Finals chances are former San Antonio Spurs forward Robert Horry, who had a few Finals appearances in purple...
You know how it goes. A team acquires a player, and there is a rush to analyze the move and declare immediate winners and losers. The L.A. Lakers were declared big winners this summer for their acquisitions of two marquee guys in Steve Nash and... oh... what's his name. It is yet another "super team" that's expected to become an instant contender. But Mark...
NBA News

Delivered to your inbox

You'll also receive Yardbarker's daily Top 10, featuring the best sports stories from around the web. Customize your newsletter to get articles on your favorite sports and teams. And the best part? It's free!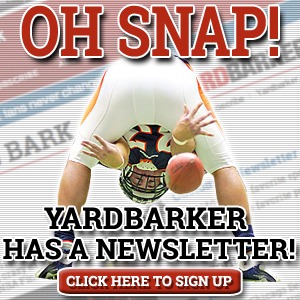 Latest Rumors
Best of Yardbarker

Today's Best Stuff

For Bloggers

Join the Yardbarker Network for more promotion, traffic, and money.

Company Info

Help

What is Yardbarker?

Yardbarker is the largest network of sports blogs and pro athlete blogs on the web. This site is the hub of the Yardbarker Network, where our editors and algorithms curate the best sports content from our network and beyond.