Found April 01, 2013 on Purple and Gold Blog:
The magic number for the Laker's hope for the playoffs is now down to 8. Well, actually 5 and 12. After basking in what used to be a solid 2-game lead over the Utah Jazz for the 8th and final seed in the west, the Lakers now see themselves back outside looking in. The Jazz have won their last 4 games while the purple and gold, as well witnessed, gave up 4 of their last 6. That result in a similar record between these 2 teams. But the kicker is the Jazz hold the tie-breaker over the Lakers having taken the season series, 2-1. That puts the Lakers back in the 9th spot. If they want to steal the 9th spot back, the Lakers can no longer afford to pick and choose which of the final 8 games in the regular season they decide to come and play. The Jazz have 3 more straight games at home before they round off their remaining schedule with 3 road games and 2 home games. Utah is one of the better teams at home having lost only 9 times out of the 27 games so far. So, the Lakers are looking at possibly 5 games they'll need to match with victories in order to stay in the playoff hunt. The Lakers only have 2 road games left with one at Staples Center against the Clippers. So technically, they only have 1 true road game left, and it's a good one. They'll go up against the Trailblazers at the Rose Garden — where the Lakers have only won twice in their last 10 visits there. That should give you an idea on how important it is for the purple and gold to win ALL of their remaining home games. Needless to say that the Lakers better understand what they'll need to do as a team these next 8 games. But Steve Blake and Dwight Howard are the ones who really need to shine in order for the Lakers to keep playing beyond April 17 this season. With Steve Nash nursing his hip and hamstring, the Lakers can't rely on him to help them get back in the playoff picture — at least not in the next couple of games. But even if Nash turns out fine by the time they meet again with the Clippers on Sunday, the Lakers will need him to be as healthy as possible should they make it to the playoffs. So Blake have to sort of take over the driver's seat for Nash, especially on defense, from here on out. He certainly did a solid job against the Kings with 15 points on 5-of-9 shooting from the field, including 5-for-8 from distance. While his offense is a huge plus, it's really his defense that is going to be a key for him and the Lakers as these next few games. And speaking of defense, Howard has to continue to be pro-active on that end of the floor, also. In the last 3 games, Dwight is averaging a dominant 4.3 blocks per game. He had 5 versus Sacramento on Sunday. But his job doesn't stop at blocking and altering shots, obviously. Howard has to put it in his mind that no one owns the paint than him. He can't let his free-throws affect how aggressive he needs to be on offense. But at the same time, teams won't stop going to that Hack-a-Dwight unless he starts making them. The important thing for Dwight to remember though is his domination of the paint is more crucial to than his free-throw shooting since that area of his game is much less predictable than his decision to just put forth the effort on the court the entire game. The Lakers know they have a lot of work ahead of them these next 3 weeks. While the verdict is still out on how they'll fair in the playoffs until we see them play, they stand a better chance at getting there if they just keep plugging away each quarter of every game the rest of the way. Hopefully, Blake and Howard understand what's at stake more than ever.
Original Story:
http://www.purpleandgoldblog.com/2013...
THE BACKYARD
BEST OF MAXIM
RELATED ARTICLES
Shaquille O'Neal has always prodded Dwight Howard, if not overtly criticized him. Why? The Big Aristotle provided a Big Reveal before returning to Los Angeles to have his Lakers jersey retired Tuesday at halftime against Dallas. "I love Dwight and I see his potential. Hopefully when I say these things he gets mad," O'Neal said in an interview. "Just think...
Dwight Howard and Shaquille O'Neal have a lot in common. Both players have dominated the center position. They're both flamboyant, lovable big men. They were both drafted by the Orlando Magic. Both of them eventually ended up in Los Angeles, as members of the Lakers. But the legendary Shaq seems to be Howard's biggest critic. Is it because Dwight recycled Shaq's alias as...
Dwight says a lot of things, but they don't necessarily come true. At least he has confidence that the Lakers, who have barely shown the ability to put together three or four wins in a row, can string together nine at the end of the season. Here is his quote via Sports Glory. "We need every game," Howard said after practice Monday. "We just got to come out and play with...
Ever since arriving in Los Angeles to play for the Lakers, there have been incessant comparisons between Shaquille O'Neal and Dwight Howard.  Aside from sharing the same "Superman" nickname, their [...]
Dwight Howard stated the obvious when he said the Lakers "need" every game.
((HT: AJC/Garner)) It has been a fall of prolific and quick proportions for former Atlanta high school, college, and NBA'er Javaris Crittenton... He was a teammate of Dwight Howard, played at Georgia Tech, and was drafted in the first round by the Los Angeles Lakers. Now, he's up on charges that'll keep him in prison for a long time if convicted. Fulton County...
Photo Credit: Jeff Gross/ Getty Images NA Overvalued Blake Griffin has provided more flare than substance in recent weeks, with his thunderous jams no longer overshadowing diminishing returns on the court. Over a seven-game span since March 20th, Griffin is clocking in at 14 points on 35% shooting (31/88), six rebounds, 0.4 steals, 0.3 blocks and 2.4 turnovers per game. During the...
Los Angeles Lakers guard Kobe Bryant moved into fourth place on the NBA's all-time scoring chart in the second quarter of Saturday night's Lakers' 108-98 win over the Sacramento King's, passing Wilt Chamberlin. Bryant pulled-up from the foul line with
Louisville guard Kevin Ware has begun his road to recovery in the wake of suffering one of the most gruesome injuries you will ever see in sports. The sophomore is a long way away from playing basketball again, but he has undergone successful surgery and already begun moving around on crutches. The amazing amount of support he has received has undoubtedly helped accelerate the...
Only Important Injuries: -Steve Nash likely out (stock up for Kobe Bryant, Steve Blake) -LeBron, Wade, Chalmers out (stock up for Chris Bosh, Ray Allen, Shane Battier, Norris Cole) -Noah, Belinelli likely out (stock up for Jimmy Butler, Carlos Boozer, Taj Gibson, Nate Robinson) Lineup 1 (60K) PG Nate Robinson ($5800) Steve Blake ($3700) SG Kobe Bryant ($9500) Vince Carter ($5600...
NBA News

Delivered to your inbox

You'll also receive Yardbarker's daily Top 10, featuring the best sports stories from around the web. Customize your newsletter to get articles on your favorite sports and teams. And the best part? It's free!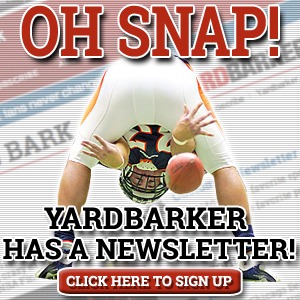 Latest Rumors
Best of Yardbarker

Today's Best Stuff

For Bloggers

Join the Yardbarker Network for more promotion, traffic, and money.

Company Info

Help

What is Yardbarker?

Yardbarker is the largest network of sports blogs and pro athlete blogs on the web. This site is the hub of the Yardbarker Network, where our editors and algorithms curate the best sports content from our network and beyond.