Found November 22, 2012 on Fox Sports:
Michael Jordan's Bobcats are the NBA's most surprising team so far this season. Charlotte (6-4) has won five of its past six games and is one win away from matching last year's win total. The turnaround is impressive considering the Bobcats finished last season 7-59 and with the worst winning percentage (.106) in league history. They lost their final 23 games of the season. But under the direction of defensive-oriented coach Mike Dunlap, they've been competitive and have developed a knack for closing games. Charlotte is 5-0 in contests decided by four points or less - and without much NBA experience on the roster. That's doesn't bother Dunlap. ''The most important part is to sell your system and what you're doing with a purpose,'' Dunlap said. ''There's nothing like wins to help that out.'' If players had any doubt about Dunlap's style, the six wins have helped eliminated that. What Dunlap has been preaching is defense, which meant a summer full of intense workouts, some of those lasting as long as four hours. He knew the Bobcats wouldn't be the most talented and or the most experienced team in the NBA - not even close, in fact - so he wanted to be better conditioned than anyone out there and use his team's young, fresh legs to his advantage. ''I think our defense is getting better and I'm selling that first and foremost,'' Dunlap said. ''We have a ways to go with it. It's far from where it needs to be but it's getting there and we have the numbers to prove that.'' Charlotte is allowing 98.8 points per game, but they rank in the top ten in the league in steals (86) and blocked shots (76). They're forced 14.6 turnovers per game. ''Coach Dunlap, it all starts with him,'' said second-year point guard Kemba Walker. ''He's a real tough guy, really intense. We all feed off him.'' On Wednesday night the Bobcats led Toronto 98-97 with 28 seconds left. The Raptors had four shots on their final possession, but the Bobcats blocked two of those and withstood a furious final few seconds to win the game. If Dunlap needed to emphasize a point about defense winning games this was it. ''I think it just shows what kind of toughness we have from the point guard all the way up to the center,'' said rookie guard Jeffery Taylor. ''We have a lot of tough guys who know how to win games.'' The Bobcats are still extremely young, particularly with guard Gerald Henderson out with a foot injury. Right now their starting five consists of two rookies in Taylor and Michael Kidd-Gilchrist, the No. 2 overall pick who has had an immediate impact averaging 11.9 points and 6.8 rebounds per game. Forward Byron Mullens, who sat for two years in Oklahoma City before being acquired last year in a trade, is essentially in his second season like Walker. The only starter with significant experience is center Brendan Haywood, who was claimed off waivers from Dallas. But the Bobcats are getting quality play off the bench from offseason acquisitions Ramon Sessions and Ben Gordon, two scorers brought in to give the team some needed experience down the stretch in tight games. Both have provided a huge boost with Sessions averaging 16.3 points per game and Gordon 13 points per game, second and third best on the team. ''It's an interesting group because we are young and I think there's an exuberance and a little bit of being excited about the game of basketball, and I think the veterans have picked up on that,'' Dunlap said. ''It's been a joy to coach them and I think we're learning as we play each game. That exuberance is an intangible.'' That exuberance is evident in Walker, who has developed into the team's leader and flourished working alongside Sessions in practice and down the stretch in tight games. Walker is averaging 18.8 points and 5.5 assists per game. Despite being 6-foot, Walker is fearless driving to the basket and has improved in his ability to finish. ''He's our quarterback,'' Dunlap said. ''We're developing him. He's setting the culture for us. There's a lot on his plate, but he can handle it. When he was coming out of college a year ago I thought he was the best player in America.'' Just how long the Bobcats are able to keep things up remains to be seen. The Bobcats have some quality wins against Dallas, Milwaukee and Minnesota, but have yet to play the league's elite teams like Miami, Oklahoma City and the New York Knicks. That may be when the true test comes. When it does, Dunlap hopes the foundation for success has been established and the Bobcats will be confident enough to compete with the best. ''We're trying to build a winning culture here, and every win helps,'' Dunlap said.
Original Story:
http://msn.foxsports.com/nba/story/Bo...
THE BACKYARD
BEST OF MAXIM
RELATED ARTICLES
Bismack Biyombo is on his way, he's making it.  Asked by Stephanie Ready what was going through his mind in the frantic final 28 seconds of zaniness that led to a Bobcats win over the Toronto Raptors, Mack answered, "We have done a pretty good job as a team, and it was just big time."  [...]
CHARLOTTE, N.C. -- Ramon Sessions hit a 16-footer with 28 seconds left and the Charlotte Bobcats made a late defensive stand to beat the Toronto Raptors 98-97 Wednesday night for their fifth win in the past six games. The Bobcats led by as many as 10 in the fourth quarter, but the Raptors took the lead after a late run. Sessions made a jumper from just beyond the foul line that...
I got a hard time from some fellow Bobcats enthusiasts this week for a gaffe on Charlotte's winning streak. That was my bad. A few people also said I was over-reacting to the Bobcat's 5-4 start. I disagree there. It was another narrow win, but the Bobcats got past the Toronto Raptors 98-97 on Wednesday [...]
THEIR BAD
The Bobcats edged the Raptors by a score of 98-97 Wednesday, but the NBA conceded that referees missed a call at the end of the game that may have affected the outcome.
Ramon Sessions hit a 16-footer with 28 seconds left and the Charlotte Bobcats made a late defensive stand to beat the Toronto Raptors 98-97 Wednesday night for their fifth win in six games. The Bobcats led by as many as 10 in the fourth quarter, but the Raptors took the lead after a late run. Sessions made a jumper from just beyond the foul line that hit the rim twice before falling...
Already the biggest surprise of the young season, the Charlotte Bobcats believe this is only the beginning. The Bobcats will try to record their best start in the nine-year history of the franchise and match their entire win total from last season on Friday night when they host the Atlanta Hawks. Just one season removed from finishing with the worst winning percentage in NBA history...
The Charlotte Bobcats appear much improved on the heels of their historically woeful season. The Washington Wizards, meanwhile, are currently stuck in their own forgettable futility. Two teams headed in different directions meet Saturday night when the host Wizards look to end their worst start in franchise history against the surprising Bobcats. Charlotte knows a little something...
DeRozan thinking..."...sometimes I dream...that he is me..."Tonight, the recap will be a short one. There isn't a whole lot to tell in terms of amazing details. We beat the Toronto Raptors by a score of 98 – 97. I could go into all sorts of amazing detail of the boring nature of the game, but then why would you read the article. The best part of the game was the...
CHARLOTTE, N.C. (AP) -- Atlanta Hawks coach Larry Drew warned his team to take the Charlotte Bobcats seriously and forget all about their record last season. It sure looked as if his players were listening. Al Horford had 26 points and 13 rebounds, and the Atlanta Hawks beat the Charlotte Bobcats 101-91 on Friday night for their fourth consecutive victory. Horford called it one...
posted by Mike MasayaPOUND THE ROCK STARS - On a nightly basis, no matter how good or bad the Raps play, no matter if they blow out a team or if they get blown out and no matter if they win or lose, these are the Raptors with the best 'Pound the Rock' status for the night.FINAL SCORE:   BOBCATS 98, RAPTORS 97    SEASON RECORD: 3W-9LPOUND THE ROCK STAR #1: JONAS VALANCIUNASLINE...
Not sure what these guys see, but they didn't want to ge any close to it.I'll admit it. If anyone had told me that we would have our first chance to surpass the entire win total of last season before the Thanksgiving leftovers were gone I'd have been skeptical. If I had the chance to make a bet against someone saying the Cats would be shooting for their second three game...
By BILL KISER, Sports XchangeCHARLOTTE, N.C. -- Al Horford and Jeff Teague both had double-doubles as the Atlanta Hawks held off a late rally to beat the Charlotte Bobcats 101-91 on Friday night. Horford had 26 points and 13 rebounds, while Teague added 13 points and 12 assists for the Hawks (7-4), who won their fourth straight game despite seeing the Bobcats erase double-digit...
NBA News

Delivered to your inbox

You'll also receive Yardbarker's daily Top 10, featuring the best sports stories from around the web. Customize your newsletter to get articles on your favorite sports and teams. And the best part? It's free!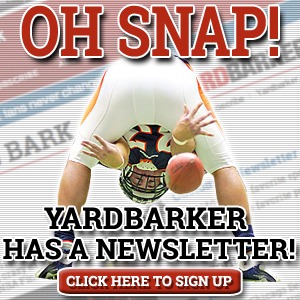 Latest Rumors
The Backyard

Today's Best Stuff

For Bloggers

Join the Yardbarker Network for more promotion, traffic, and money.

Company Info

Help

What is Yardbarker?

Yardbarker is the largest network of sports blogs and pro athlete blogs on the web. This site is the hub of the Yardbarker Network, where our editors and algorithms curate the best sports content from our network and beyond.