Found November 30, 2012 on Fox Sports Carolinas:
As Brendan Haywood quietly sits with ice packs on both knees, legs bent and sore, his eyes dart around the visitor's locker room searching for a connection. The question concerns his frontcourt running mate, Byron Mullens, an unorthodox big man whose game Haywood is having trouble to compare, flickers of similarities and differences visibly going off in his head. He's only played 14 games with his fellow 7-footer. He looks across the cramped room at the fourth-year player out of Ohio State, who is parked next to the teams mini-buffet and donning a dress shirt, and shrugs his shoulders. "Uh, guys that shoot like that? Haywood asked, rhetorically. Dirk (Nowitzki) shoots the ball like that. I mean, its a little premature to compare him to Dirk right now at this stage in his career but I think thats where he has to head to. Mullens is not Nowitzki. Everyone agrees. However, the Charlotte Bobcats' forward is experiencing another season of improvement, the second-consecutive year in which his name has floated under the radar among NBA circles for Most Improved Player considerations. The quirky, dangerous combination of length and range at seven feet tall, he's shooting 29 percent from 3-point range this season is averaging 12.9 points per game in 2012-13. Last season, in what was, overall, a forgettable campaign in the Queen City, Mullens raised some eyebrows when given more playing time, improving his scoring average by 7.4 points after coming over from Oklahoma City, where he was a scarcely-used reserve. He played 6.5 minutes per game for the more-talented Thunder. He was afforded an average of 22.5 minutes last season. So when new coach Mike Dunlap arrived as an assistant coach from Rutgers, he already had a plan for his skilled big man: Make him a big man. In his first meeting with Mullens this past summer, then throughout the NBAs Summer League, Dunlap did not want to talk offensive skill sets, shooting mechanics, off-the-ball movement, pick-and-roll logistics or post moves. He wanted to talk about things that transpired in and around the painted area. We didnt even worry about the offensive side. He said defense and rebounding, which I knew after last season thats what I needed to work on, Mullen said. With me being the four its kinda harder for me to get rebounds just because Im playing other fours. But yeah, the rebounds are coming. These guards are stealing some of them, too. Mullens rebounding has, to say the least, shown improvement, especially on the defensive end. His renewed focus has yielded an increase of more than three boards per game. An increase in playing time would suggest direct correlation to his numbers jump, but Mullens efficiency has shown marked progress: Entering Friday nights game against the 76ers, he was snatching 14.1 percent of available rebounds when he was on the floor this season (albeit in a limited sample size), as opposed to 12.9 percent in 2011-12. Its an unremarkable, gradual outline of his improvement, but such is the norm with project players. He ended up with 10 points (3-of-12 shooting) and six rebounds in a 104-98 loss versus the undermanned Philadelphia frontline. It was an off night, but those do not come as a surprise to the Bobcats staff. Were trying to reshape how people view him, and a lot of that is that therell be some setbacks, Dunlap said. But theres been way more successes than failures with him. By no means is Mullens without his flaws, particularly on the defensive end where his offensive repertoire does little to help match up with some of the leagues best forwards. Though his defensive efficiency has improved under Dunlaps tutelage, statistics show the Bobcats allow nearly four fewer points per 100 possessions with Mullens on the bench. Through 14 games, the team is ever-so-slightly more efficient overall with him sitting on the sidelines, too. A star? No, at least not yet. Not even close. A valuable commodity with room to grow on a 7-8 team that has already matched its win total from last season? Yes, certainly. Hes posted scoring nights of 27, 19,18 and 24, respectively, this season; hes logged double-digit rebounding numbers in three games. There are signs. I mean, its not my team, but I think that with a player like that I would definitely play through him, Hawks forward Josh Smith said after Wednesday nights task of occasionally checking Mullens. You got the pick-and-pop, you gotta honor it, you gotta honor his shot. He can drive. Hes athletic enough where he can finish at the rim. It just adds another dimension to playing defense on him. Hes young, so its only gonna get better. Hes gonna be in this league for a long time. Brendan Haywood, icing his knees after that loss to the Hawks, was not ready to make a leap of faith with Mullens. No one is. But the potential is there: Dunlap, Haywood and Smith, along with others around the NBA, can picture it. All seven feet of it. Hes got a long way to go. Luckily for Mullens (and his playing time), so do the young Bobcats.
Original Story:
http://www.foxsportscarolinas.com/11/...
THE BACKYARD
BEST OF MAXIM
RELATED ARTICLES
The Charlotte Bobcats have surprised everyone with a solid start to the 2012-13 NBA season, sitting at 7-7 and for the moment holding the eight and final playoff spot in the Eastern Conference. Whether or not that spot holds 68 games from now is anyone's guess, but trade talk is going to swing around eventually. [...]
SMOOTH MOVE
Kemba Walker helped the fans who attended Friday's game win tickets to an upcoming Charlotte Bobcats game. See how he did it.
CHARLOTTE, NC For most of Friday night, the Charlotte Bobcats were done in by their defense; their not-so-good defense. Call it lackluster, call it weak in the paint, call it strategic miscommunication. Whatever it was, the Philadelphia 76ers took advantage in a 104-98 victory over the home team at Time Warner Arena. It didn't have to be that way, however. Bobcats coach...
We're in December now, and as I flipped my 2012 Bobcats wall calendar to reveal Matt Carroll as this month's pinup, I noticed a disturbing trend.  The six featured players in this year's calendar were Stephen Jackson, Carroll, Shaun Livingston, DJ Augustin, Gerald Henderson, and Tyrus Thomas.  In other words: traded, traded, traded, traded, injured, [...]
We really need to get the conference room cleaned up... You know, here at Trade Street Post, we strive to give you every game recap, any interview we can score, and any news nugget that we can find about our beloved Charlotte Bobcats.  Other times we do not share emails that we all have back and forth among one another, when we decide to start discussing articles.  We typically...
Here's NASCAR Sprint Cup champion Brad Keselowski "hooping it up" during halftime at a Charlotte Bobcats game, and I'd make more jokes about how he's terrible, but he's not much worse than the Charlotte Bobcats. (via The Nosebleeds)- Follow us on Twitter @withleather - Follow me personally @MrBrandonStroud and Burnsy @MayorBurnsy - Like us on Facebook.LinksThe 'Rock...
CHARLOTTE, N.C. -- Jason Richardson hit four clutch 3-pointers in the fourth quarter to help lift the Philadelphia 76ers to a 104-98 win over the Charlotte Bobcats on Friday night. Richardson's 3-pointer with 7:30 remaining gave the Sixers the lead for good at 86-83, then he drilled two more in the next three minutes as the Sixers pulled away and eventually led by as many as...
NBA News

Delivered to your inbox

You'll also receive Yardbarker's daily Top 10, featuring the best sports stories from around the web. Customize your newsletter to get articles on your favorite sports and teams. And the best part? It's free!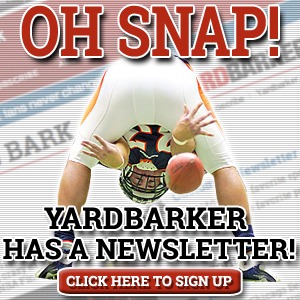 Latest Rumors
The Backyard

Today's Best Stuff

For Bloggers

Join the Yardbarker Network for more promotion, traffic, and money.

Company Info

Help

What is Yardbarker?

Yardbarker is the largest network of sports blogs and pro athlete blogs on the web. This site is the hub of the Yardbarker Network, where our editors and algorithms curate the best sports content from our network and beyond.