Found December 29, 2012 on Fox Sports Carolinas:
PLAYERS:
Nick Parker
,
Kemba Walker
,
Michael Kidd-Gilchrist
,
Eric Gordon
,
Ben Gordon
,
Gerald Henderson
,
Ramon Sessions
,
Hakim Warrick
,
Anthony Davis
,
Gerald Wallace
,
LeBron James
TEAMS:
Charlotte Hornets
,
New Orleans Pelicans
,
Brooklyn Nets
,
Miami Heat
By Nick Parker FoxSportsCarolinas.com CHARLOTTE, N.C. When a team has lost 18 games in a row like the Charlotte Bobcats, the manner of losing varies. But the frustration doesnt as each additional loss seemingly acts as another brick added to a building wall of pressure. As Kemba Walker sat in the locker room still in uniform 30 minutes after the game with a towel draped over his head, it was evident that this one hurt just a little more than the rest. No loss is easy, but its hard to conceive a more frustrating or excruciating way for a loss to unfold than Saturday nights 98-95 setback against the New Orleans Hornets. The first-half script couldnt have been any more beautiful for the Bobcats. In the battle of the top two picks from Junes draft, Bobcats rookie Michael Kidd-Gilchrist delivered 18 points and seven rebounds as the Bobcats built a 57-40 halftime lead behind 63 percent shooting. But that lead one that had ballooned as high as 21 in the first half was erased as the Hornets tied it up at 73 after three. Coach Mike Dunlaps answer was pretty succinct in explaining a quarter that saw the Hornets put up 33 points: Ball pressure and just fundamental principles of our defense. But give the Bobcats credit, they didnt fold in the fourth. Despite falling behind by nine with a little over a minute to play, they cut into the lead and forced an Eric Gordon turnover with 11 seconds left, clearing the way for a final possession to tie it. The play out of the timeout was beautifully executed, with Ben Gordon firing off a fallaway three that just missed. But there was Gerald Henderson, snagging the rebound and firing it out to a wide open Ramon Sessions. That shot wouldnt go down either, and the streak continued. They did a really good job of taking us out of our offense when they went to their zone, Hakim Warrick said. They did a really good job of knocking down some big shots when they needed to. It was a tale of two halves for Kidd-Gilchrist too, but one that showed the mettle of the Bobcats prized rookie. Diving for a loose ball late in the second quarter, Kidd-Gilchrist suffered a scratched cornea and didnt play the final minute of the half. He came back out in the second with protective goggles on but was never quite the same and only mustered four more points in 10 minutes. There were two performances. One was his 18 points in the first half. In the second half because of the kick to the head he was different. That happens. It is part of the game, Dunlap said. The thing that was incredible and typical MKG is he just played through it. Hes a competitor. He gave us what he had in the second half. A lot of that was just sheer willpower. It was pretty remarkable. Coachs admiration or not, that wasnt enough for him or the Bobcats. I mean I was just not being aggressive in the second like the first, Kidd-Gilchrist said. Thats what happened to all of us. We werent attacking enough and didnt make enough shots. Six months prior Kidd-Gilchrist was seemingly the consolation prize in a draft in which everyone was enthralled with his Kentucky teammate Anthony Davis. Davis was the one anointed with the Tim Duncan comparisons a seven footer with guard-like agility in a league with a limited supply of elite big men. He was the obvious choice. Kidd-Gilchrist? Not so much. He was projected as the elite glue guy with Gerald Wallace comparisons but a questionable jump shot. Instead, he's been nearly as impressive as Davis, winning November Rookie of the Month honors and joining only LeBron James as players who have scored 25 points and 12 rebounds in at least two games before the age of 20. Kidd-Gilchrist admitted after the game that it was a matchup that was special to him, and one he seemed to take personally in the first half, with the two surprisingly matched up against each other a great deal as the Bobcats went three guards with Kidd-Gilchrist at the four. One play late in the first half perfectly epitomized the twos long-term prospects. Kidd-Gilchrist drove hard left, the type of first-step burst from a 6-foot-8 wing that no seven-footer should be able to slide his feet and stay in front of. But there Davis was, still in excellent position. Yet, with the same grit that hes shown throughout his rookie season, Kidd-Gilchrist used his strength to get up a runner that managed to drop. I know where hes coming from. He knows how I am going to attack, and I know how hes going to attack, said Kidd-Gilchrist of his teammate on Kentuckys 2012 national championship winning team. That wasnt unusual for me.
Original Story:
http://www.foxsportscarolinas.com/12/...
THE BACKYARD
BEST OF MAXIM
RELATED ARTICLES
A teenage boy from Atlanta is claiming to the world that he's indeed Michael Jordan's secret son.The young man in the video, Taj Jordan, and his mother Pamela Smith have been holding this secret in since he was a little boy. In the video (below) Taj claims that he has been emotionally scared because of this whole phenomena, not having a father in his life. He goes on...
Last week, Charlotte Bobcats sideline reporter Stephanie Ready was trying to help sell some apparel from the team's website during a report from the Staples Center.Ready was trying to show off a team sweatshirt that had a special deal attached to it being held by a Bobcats fan.For some reason, the cameraman shooting the report didn't pan over right away to the shirt and Stephanie...
Charlotte Bobcats guard Ben Gordon and forward Hakim Warrick connected for a beautiful no-look, alley oop slam on Saturday night. The play occurred during the second quarter of their bout against the visiting New Orleans Hornets.Gordon displayed amazing awareness, court vision, and touch on the play, which resulted in 2 of Warrick's 12 points on the evening.Charlotte's commentators...
The Bobcats' 21-point lead in the second quarter was like a violent bout of diarrhea: explosive and cathartic but with a very messy ending. At least we'll always have that second quarter. Ahead by 3 against the Hornets, the Bobcats raced to a 10-point lead to start the second. Then Michael Kidd-Gilchrist scored 12 of [...]
CHARLOTTE, N.C. (AP) -- Eric Gordon had 24 points and seven assists, helping the New Orleans Hornets overcome a 21-point first-half deficit and extend the Charlotte Bobcats' losing streak to 18 games with a 98-95 victory Saturday night. The Bobcats are one game away from a winless December. They haven't won since Nov. 24. Gordon, who hadn't played since April 22 following...
That's me in the gift store of the Barclays Center last night. As you can see, because I was in enemy territory, I opted for a stealth approach (I'm the one in the middle). The Barclays Center, resembling a Death Star that crash-landed into my home world of Planet Hipster, is only about a 10-minute [...]
Eric Gordon made his return to the lineup Saturday night. And for the better part of 24 minutes, he looked as if he'd never been away. Gordon had 24 points and seven assists, helping the New Orleans Hornets overcome a 21-point first-half deficit and extend the Charlotte Bobcats' losing streak to 18 games with a 98-95 victory Saturday night. The Bobcats are one game away...
Well, MKG is developing well, and he showed up his old college teammate tonight...so I guess that's a bright spot... Oh boy! It's one of those games nobody in sports journalism cares about! ESPN's presence will be limited to a guy in a ratty t-shirt that interned for them in 2002. Nobody cares. That is of course, unless you're a fan of one or both teams. Truth be told...
If they hope to finally snap their lengthy skid, the Charlotte Bobcats must find a way to be more competitive on the road. For the Chicago Bulls, back-to-back games against two of the NBA's bottom feeders might be just what they needed to get back on track. The Bobcats will try to avoid their 19th consecutive loss on Monday night when they visit the Bulls, who have won five...
By John Delong, The Sports Xchange CHARLOTTE, N.C. – It didn't take long for Eric Gordon to make an impact on the New Orleans Hornets. In his season debut after missing the first 29 games with an injured right knee, Gordon led the way as the Hornets rallied from a 21-point first-half deficit and beat the Charlotte Bobcats 98-95. Gordon scored a game-high 24 points in 24...
NBA News

Delivered to your inbox

You'll also receive Yardbarker's daily Top 10, featuring the best sports stories from around the web. Customize your newsletter to get articles on your favorite sports and teams. And the best part? It's free!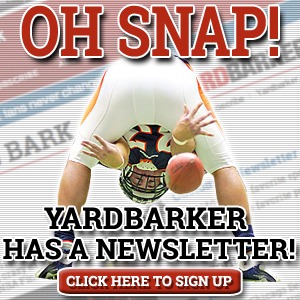 Latest Rumors
The Backyard

Today's Best Stuff

For Bloggers

Join the Yardbarker Network for more promotion, traffic, and money.

Company Info

Help

What is Yardbarker?

Yardbarker is the largest network of sports blogs and pro athlete blogs on the web. This site is the hub of the Yardbarker Network, where our editors and algorithms curate the best sports content from our network and beyond.