Found February 15, 2013 on Project Spurs:
After all the campaigning and pleading for Matt Bonner to land a spot in the 3-point shootout finally paid off, now what? Is anyone actually thinking he's going to win? Is anyone excited to see him there or was it more about getting the chance? Like many things in life, the build up will probably end up being a lot more exciting than the main event. I don't think Bonner will do very well, but then again, I said the same thing about Kevin Love last year, and he won. Whether he comes in first or last, Bonner is clearly just happy to be there. "I am incredibly excited," Bonner said. "I don't know how I'm going to sleep the night before. This is something that, on a personal level, I've wanted for a long time. To be finally selected for it, after all these years, seems surreal." It's one thing to be there, it's another to show up and not embarrass yourself after you made so much noise trying to get there. Bonner's shooting motion doesn't look like it would adapt well to nailing a string of threes from a rack, so is he going to change things for the competition? "It's definitely different," Bonner said. "It's much more difficult shooting off a rack than from catching a pass. My strategy is to go as fast as I can so I finish all the shots and try to take a little extra time on the money ball." Be sure to tune in on Saturday night to watch Bonner prove me wrong. I expect everyone to come back and laugh at me when the Red Rocket comes away with the trophy.
Original Story:
http://www.projectspurs.com/2013-arti...
THE BACKYARD
BEST OF MAXIM
RELATED ARTICLES
Photo Credit: Eric Gay, Associated Press It seems as though ever since Popovich has been at the helm of the Spurs in 1996 they have been a dominant force. Some say he has been blessed by having David Robinson, Tim Duncan, Tony Parker, and Manu Ginobili. Now that Duncan and Ginobili being in their late thirties the Spurs are still the NBA's best team at 41-12. Here are the reasons...
HOUSTON — Kawhi Leonard has been having a great quiet season for the San Antonio Spurs. He's shooting the ball at 40% from 3-point range and rebounding the ball at 5.5rpg. He's become the Spurs' primary defensive stopper at the beginning of games and clutch situations, but it hasn't really been showcased with the Spurs not being "media friendly" to some...
  HOUSTON – 12 days ago, I wrote a column with some very specific data that was showing several parallels on the defensive side of the ball between the current 2013 San Antonio Spurs and the teams of their past championships: 2003, 2005, and 2007. Being that it is All-Star weekend, I was presented with the opportunity to ask Spurs All-Star forward Tim Duncan about some...
The last time we heard of Ryan Richards, his Polish experience with Asseco Prokom ended with both sides going their own way. That's nothing new with Richards as his professional career so far has been filled with controversy and disappointment. It seems Richards as found a new home with BC Zepter Vienna of the Austria League. BC Zepter Vienna decided to sign the British...
Cory Joseph has been having a great year with the Austin Toros, averaging 19.9ppg, 5.1rpg, and 4.7apg in 18 games while splitting the seasons along with the San Antonio Spurs. He was recently selected to play in the NBA D-League All-Star festivities but, to the dismay of Toros and Spurs fans alike, he's having to be replaced because of an injury: Injury replacements:...
He is lightning fast. Capable of getting from one point to another in a blink of an eye leaving opponents baffled as to how he gets to where he wants to be with minimal effort. That description sounds like the character "Nightcrawler" from Marvel's comic book series "X-Men" who has the mutant-ability to teleport. However, it can also describe San Antonio...
HOUSTON - San Antonio Spurs sophomore forward Kawhi Leonard made the most of his appearance in the BBVA Rising Stars Challenge on All-Star Friday Night. Leonard, who was selected to the game last year, but had to sit out due to injury, started for Team Chuck and got rolling early on a dunk that woke up the crowd in a 163-135 rout of Team Shaq. Leonard followed that up later...
San Antonio Spurs' Manu Ginobili has many tricks up his sleeves when it comes to passing and his return against the Cleveland Cavaliers wasn't going to be an exception to the rule. In his return, he only played 10 minutes and scored 5 points to go along with 7 assists. Those assist numbers are impressive for just 10 minutes, but there's one assist that stole the show...
San Antonio Spurs' legend George Gervin was as cool as cool can be. His silky-smooth style on the court, swagger, and his ABA basketball roots earned him the nickname "Iceman" along with his signature shot, "the finger roll" which only added to his cool persona. Gervin was also one of the first players to sport Nike sneakers and have his own signature...
With plenty of representation in Houston for All-Star Weekend, Project Spurs is providing a 2013 NBA All-Star Weekend Guide highlighting the current and former San Antonio Spurs players competing in different events throughout the weekend. We are presenting the guide free of charge to our readers in a digital magazine format that you can read via the embed below, read on your...
Kyrie Irving was featured in the 3-Point Contest on Saturday night, a skill he's not known much for in the league despite shooting 42% from beyond the arc. The men he was going up against were known for this and probably viewed as favorites for the event, namely San Antonio Spurs' Matt "Red Mamba" Bonner and New York Knicks' Steve Novak. These two reserves don...
Spurs News

Delivered to your inbox

You'll also receive Yardbarker's daily Top 10, featuring the best sports stories from around the web. Customize your newsletter to get articles on your favorite sports and teams. And the best part? It's free!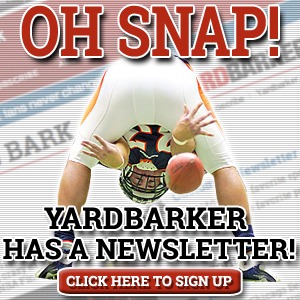 Latest Rumors
Best of Yardbarker

Today's Best Stuff

For Bloggers

Join the Yardbarker Network for more promotion, traffic, and money.

Company Info

Help

What is Yardbarker?

Yardbarker is the largest network of sports blogs and pro athlete blogs on the web. This site is the hub of the Yardbarker Network, where our editors and algorithms curate the best sports content from our network and beyond.