Found January 17, 2013 on Blog So Hard Sports:
2013 – The Rise of the Beal   Bradley Beal has had an up and down season so far for this Washington Wizards team who has struggled to find an identity with John Wall sidelined until recently. On the year, he is averaging 13.7 points, 3.6 rebounds, and 2.7 assists per game. He is only shooting 38.4% from the floor and 35.4% from long range. Much of the ups and downs can be contributed to not only being a 19 year old rookie, but playing on a below average team with poor spacing. However, as the New Year rolled in, Beal has found a rhythm in his game and has been playing extremely well for the Wizards in January. In 2013, Beal is averaging 18.8 points, 3.6 rebounds, and 3.4 assists per game. He is attacking the basket more aggressively which is one thing that has helped his shooting percentage in January jump up to 46.3%. The most outstanding stat of this month so far, in my opinion, is how well he is shooting the ball from outside. Beal is hitting 61.1% of his three pointers going 22/36. What is most impressive, and encouraging for that matter, is the confidence with which he is shooting it. Earlier in the year it didn't look as though he was trusting his shot, and often looked like he was forcing it even on open looks. He now looks to be settling into the game and letting his naturally great form do all the work, and as they say a little bit of confidence can go a long way. Speaking of open looks, how great was it during last night's game to see John Wall pushing the ball and finding Bradley Beal wide open for a nothing but net three pointer? I know some of the excitement got pushed down as the Wizards went all Wizards and let the game slip away in the last few minutes, but one play should have fans thinking about all the future possibilities for this this back court. Wall is still rounding into playing shape and is working on a minutes limit, but he was still able to deliver a double double with 14 points and 10 assists and showed just how important he can be to this offense. Bradley Beal still has a lot of growing to do, especially on the defensive side of the ball, but what we have seen out of him this month on offense is more than encouraging. With John Wall's minutes set to ramp up very soon, Beal should find things coming even easier for him. The Wall/Beal combo is just getting started. Let's just hope that Beal's climb continues for the second half of the season, and that 2013 is going to bring much more promise than 2012 for Wizards fans.   Related posts: Still Waiting for the Bradley Beal Breakout Wizards Workout Preview: Bradley Beal Wizards Debut Bradley Beal Today
Original Story:
http://blogsohardsports.com/wizards-2...
THE BACKYARD
BEST OF MAXIM
RELATED ARTICLES
This is a two part highlight post. First up is Ish Smith jumping completely over John Wall when he stops and pump fakes on a layup:     Apparently, Wall was none to please that Ish jumped over him, and decided he would get a little payback on the court. In this video, he puts Smith on ice skates and crosses the Ish out of Ish:     I bet players may think a little harder next...
Wednesday Wizards Report Photo courtesy Glorioso Photography   Damn, how good does it feel to have John Wall back in the line-up? With two victories in as many games (and 3 in a row), Wall is averaging 13 points and 5 assists in just a hair over 20 minutes a game. The team has a great feeling of rejuvenation and us Wizards faithful are excited as these youngsters to tune into Comcast...
As has been the case for quite some time now, the Washington Wizards have long been considered the league clowns of the NBA. There's really no need for clarification as the factors for the team's prolonged suckassness has been on full display and well documented: slow starts, slow finishes, offensive ineptitude, defensive struggles, lack of talent, poor coaching, managerial mishaps...
The Philadelphia 76ers announced Thursday that they signed guard Shelvin Mack to a 10-day contract. Mack averaged 20.5 points, 8.0 assists, 4.9 rebounds and 1.43 steals and shot 46.2 percent from the floor, 41.8 percent from 3-point range and 89.6 percent from the free-throw line in 14 games with the Maine Red Claws of the D-League this season. He ranks third in the D-League in...
Is Beal for Real? Bradley Beal has exploded since John Wall returned to the Washington Wizards leading many fantasy owners and fanalysts to ponder whether or not Beal can keep up his pace. Yes, he can. Beal was always destined to do better with a superior backcourt mate who could space the floor, command defensive attention and get Beal the ball where he needs it to be at his most...
wizards 120 magic 911/14/2013 - Verizon Center, Washington, DCESPN BoxscoreNBA.com Game Highlights (Photo courtesy of Wizards Extreme/Joe Glorioso)   It's really tough to just pick one MVP from last night's game because you could probably give it to at least three or four different guys. With that said, I'm going to have to give it to Emeka Okafor with strong...
The return of John Wall even in limited minutes has seemed to ignite the Washington Wizards, who are on the verge of a four-game winning streak that would double their previous win total. Accomplishing that feat requires beating the Sacramento Kings on Wednesday night to begin their five-game, eight-day western road trip. One game after rookie Bradley Beal hit a jumper with 0.3...
Bradley Beal scored 23 points, John Wall blocked Ty Lawson's attempt for a tying layup in the final seconds and the Washington Wizards hung on to beat the Denver Nuggets, 112-108, on Friday night to snap an eight-game road losing streak. Kevin Seraphin added 18 points and Wall and Trevor Ariza each added 14 points for the Wizards, who picked up just their second win away from...
kings 95 wizards 94 1/16/2013 - Sleep Train Arena, Sacramento, CA ESPN Boxscore NBA.com Game Highlights (Photo courtesy of Getty Images)   No doubt the MVP for this game was Bradley Beal.  The rookie is not playing like such and is showing confidence in his game.  He had a career high in 3 point shooting, shooting 6-7. Beal and the Wizards seemed...
Earlier this week, rumors surfaced that the Wizards entered the Rudy Gay bidding battle, making what was reportedly a "good" offer to Memphis.  Shortly thereafter, The Memphis Commercial Appeal published an article stating that Washington's offer would have included Wizards rookie Bradley Beal. Although the rumor of Beal being packaged was quickly extinguished by Beal's...
DENVER -- The Washington Wizards used an 18-4 run to start the fourth quarter to rally past the Denver Nuggets 112-108 on Friday night. Washington's Bradley Beal blocked Ty Lawson's lay-up attempt in the final seconds to deny Denver a chance to tie the game and force overtime. The Wizards won their fourth game in their past five and improved their road record to 2-16...
Wizards News

Delivered to your inbox

You'll also receive Yardbarker's daily Top 10, featuring the best sports stories from around the web. Customize your newsletter to get articles on your favorite sports and teams. And the best part? It's free!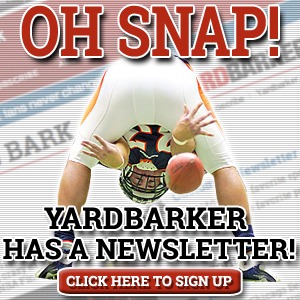 Latest Rumors
Best of Yardbarker

Today's Best Stuff

For Bloggers

Join the Yardbarker Network for more promotion, traffic, and money.

Company Info

Help

What is Yardbarker?

Yardbarker is the largest network of sports blogs and pro athlete blogs on the web. This site is the hub of the Yardbarker Network, where our editors and algorithms curate the best sports content from our network and beyond.