Found July 15, 2013 on Knickswag:
J.R. Smith had patella tendon surgery & arthroscopy for a tear in the lateral meniscus, of his left knee, at the HSS in NYC. — NY_KnicksPR (@NY_KnicksPR) July 15, 2013   J.R. Smith's injuries were chronic and gradually worsened. Recovery time is approximately 12-16 weeks. — NY_KnicksPR (@NY_KnicksPR) July 15, 2013   Knickswag Notes:  This news is shocking and unbelievable at first glance. After signing a 4 year deal worth 24 million, J.R. Smith is now on the shelf for the next 4 months. My first thought is, did the Knicks know that this was an issue? If so, what were they thinking? If not this is another unfortunate blow to the Knicks. The Reality: With J.R. out New York will have to fill in with Iman Shumpert and first round pick Tim Hardaway Jr. Four months from now would take us into November, which is right around the start of the season. J.R. will need time to get back to full strength by the end of training camp, so I would expect him to miss maybe a month of the season at worst. If this timetable is accurate then the blow to the roster is not as bad as first glance. Especially if Hardaway Jr. and Shump can hold down the fort. This injury to J.R. might have a silver lining. This might allow Hardaway Jr. to get some serious playing time. This might be a good thing for the future of the Knicks, as well as Hardaway Jr. The post BREAKING KNICKS NEWS: J.R. Smith out 12-16 Weeks with Knee Surgery appeared first on Knickswag.com.
Original Story:
http://knickswag.com/breaking-knicks-...
THE BACKYARD
BEST OF MAXIM
RELATED ARTICLES
Less than a week after his four-year, $24.7 million dollar extension became official, the Knicks announced J.R. Smith would miss up to four months due to surgery to repair the meniscus and patellar tendon in his right knee. The Knicks said Smith's injuries, which were treated at the Hospital for Special Surgery in New York City by team orthopedist Dr. Answorth Allen, were...
I don't think you can ever say J.R Smith isn't smart…well you can but this isn't one of those times. The Sixth Man of the Year made sure he got paid before announcing that he was set to get surgery. Smith has had patellar tendon surgery and an arthroscopy for a tear in the lateral meniscus in his left knee. The Knicks said that Smith's injuries were chronic and have been...
The revelation about J.R. Smith's knee surgery on Monday had a lot of people wondering where the shooting guard's school of thought was. The New York Knicks' Sixth Man of the Year reportedly knew he needed surgery in May, had it done in July, needs four months of rehab and the season begins in October. Do the math the next time, J.R. Now another little tid-bit...
LATimes.com Metta World Peace and the New York Knicks agreed on a two-year deal Monday, with the first year guaranteed, reports ESPNNewYork.com's Ian Begley. The deal is worth approximately $1.6 million per season with a player option in the second year, the 
The revelation that J. R. Smith had knee surgery Monday — just four days after signing a rich, new four-year contract — made the Knicks' investment look instantly suspect and possibly ill-advised. But the surgery was not a surprise to team officials. And the investment was not as extensive as first believed. Smith's deal covers a maximum of three years, with a total value...
JR Smith will need 3-4 months to recover from knee surgery, and he may not be ready at the start of training camp, the New York Knicks announced on Monday. Smith re-signed with the Knicks on a four-year, $24.7 million deal earlier this month. He had patella tendon surgery and an arthroscopic procedure for a [...]
The New York Knicks officially signed Metta World Peace AKA Ron Artest to a 2 year deal yesterday. Beyond that, it was revealed JR Smith is getting surgery on his patella tendon and is out 3-4 months. Naturally, Joe Caporoso and Chris Celletti had to break into one of their famed, rant-based discussions on it. So what of PEACE and #Pipe?  Joe Caporoso - JR Smith and Metta World...
Shane Larkin, pictured above in the middle – with his damn name on his jersey….not really sure why I don't think you can read – has undergone surgery on his broken ankle. His recovery time is expected to be about 3 months. Meanwhile, JR Smith's surgery to repair his torn meniscus will set him back 3-4 months himself. Both COULD be ready for the start of the season. And...
Every Wednesday at Turn On The Knicks our staff will debate an issue of the week surrounding the team here in Roundtable Format. Make sure to give everybody a follow on Twitter, along with follow the site right here. Let us know if you agree/disagree. What are your thoughts on the New York Knicks performance in the NBA summer league? Joe Caporoso - My biggest take away is that...
He'll Fit In 10) On a team with Amar'e Stoud- amire, Andrea Bargnani, JR Smith and Carmelo Anthony, his chances of looking like the Defensive Player of the Year are going to skyrocket 9) He's from the area, and it's always a good idea for crazy people to have more day to day contact with their relatives 8) He's only 23 more teams away from having a jersey from...
With one spectacular tweet – "Where Brooklyn at?" – Metta World Peace announced he will be joining the New York Knicks. The deal is for 2 years and $3.2 million, with a player option in Year 2. It's a great signing for the orange and blue, who needed toughness and a hometown tenacity last year's playoff team at times sorely missed. Another thing they missed? A ******...
Some links from around the World Wide Web late on this Monday evening: • As expected, the Knicks agreed to terms on a two-year deal with Metta World Peace this afternoon. The Clippers were another rumored NBA destination, as well as the tease by World Peace that he would play in China. In the end, the Knicks were able to add the former Ron Artest and native New Yorker to the roster...
Knicks News

Delivered to your inbox

You'll also receive Yardbarker's daily Top 10, featuring the best sports stories from around the web. Customize your newsletter to get articles on your favorite sports and teams. And the best part? It's free!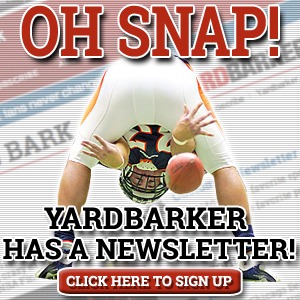 Latest Rumors
The Backyard

Today's Best Stuff

For Bloggers

Join the Yardbarker Network for more promotion, traffic, and money.

Company Info

Help

What is Yardbarker?

Yardbarker is the largest network of sports blogs and pro athlete blogs on the web. This site is the hub of the Yardbarker Network, where our editors and algorithms curate the best sports content from our network and beyond.