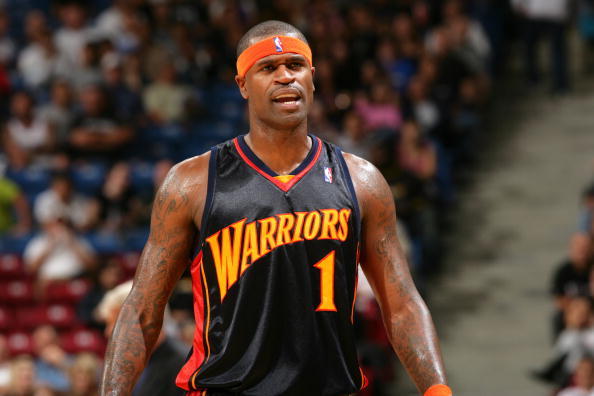 Golden State Warriors head coach Don Nelson, left, restrains Stephen Jackson, after Jackson had been whistled for a technical foul during the second quarter against the Milwaukee Bucks at Oracle Arena in Oakland, California, Wednesday, December 10, 2008, The Warriors defeated the Bucks, 119-96. (D. Ross Cameron/Oakland Tribune/MCT) Photo via Newscom Photo via Newscom
Getty Images
Leave it to Stephen Jackson to stir things up.
After the Spurs' 104-87 victory over the Mavericks on Friday night, the recently acquired Jackson felt compelled to give his two cents on a flagrant foul Mavs forward Brian Cardinal committed on Tim Duncan. Cardinal, aka "The Custodian," aka that guy who looks like a dad sitting at the end of the Mavs' bench during games, hit Duncan in the face as he prevented the Spurs big man from having an easy lay-in. That kinda play don't fly with Jackson, via ESPN Dallas:
"To me, it was a dirty play," Jackson told the San Antonio Express-News. "When you can't play no more, I guess all you can do is go out and try to hurt people."
Cardinal,  who has averaged a dazzling 4.7 points and 2.3 rebounds per game in his career, looked at the gibe as a compliment:
"The thing I take from that is that he thinks I once could play. Boom! I'll take it!"
I always knew Cardinal was one of the cool dads.
[Kudos, I am a GM; Photo via Danny B.]
Read the rest of this story...
MORE FROM YARDBARKER
NBA News

Delivered to your inbox

You'll also receive Yardbarker's daily Top 10, featuring the best sports stories from around the web. Customize your newsletter to get articles on your favorite sports and teams. And the best part? It's free!