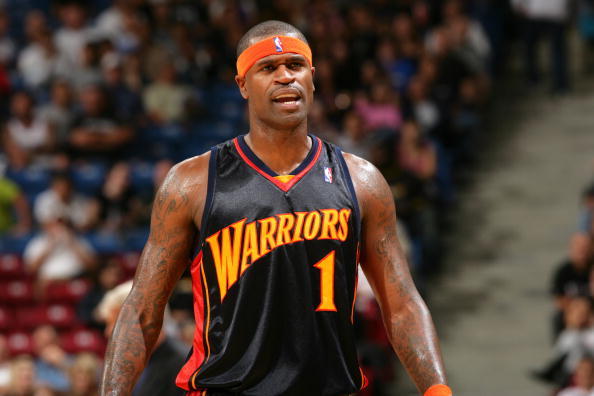 Golden State Warriors head coach Don Nelson, left, restrains Stephen Jackson, after Jackson had been whistled for a technical foul during the second quarter against the Milwaukee Bucks at Oracle Arena in Oakland, California, Wednesday, December 10, 2008, The Warriors defeated the Bucks, 119-96. (D. Ross Cameron/Oakland Tribune/MCT) Photo via Newscom Photo via Newscom
Getty Images
MILWAUKEE At long last, Stephen Jackson was finally able to make his Bucks debut.Sidelined through much of training camp with nagging hamstring and back issues, Jackson was in uniform Wednesday night for the Bucks final exhibition game an 84-83 loss to Minnesota and wasted little time winning over his fans and teammates.Jackson connected on his first two shots, both of them from beyond the three-point arc."That's what I do," Jackson said. "I wasn't surprised when I made them."Before the game, head coach Scott Skiles said that he would be cautious in how he used Jackson in the final exhibition game of the season. The plan was to use him for a few minutes in the first half, reevaluate the situation, and if both parties agreed more minutes wouldn't cause issues, he'd see some more time in the second half.Jackson finished with 15 minutes of playing time, scoring seven points on 2-of-7 shooting (2-of-6 three-point attempts) along with two rebounds and a pretty impressive block of Derrick Williams in the first half.He spent much of the game facing the Timberwolves' Michael Beasley, who torched the Bucks for 21 points when the teams met last weekend in Minneapolis. Jackson welcomed the opportunity to face the opponent's best player, even in his first action of the season."I take pride in guarding the best player," Jackson said. "That's the only way I'm going to get in shape; by pushing myself and guarding the best guy."The numbers aside, Jackson was most pleased about the relative lack of pain he felt after the game."I'm not sore right now so that's a good thing," Jackson said. "We'll see how I feel in the morning."With three days of practice left before the regular season opener Monday night against Jackson's former team, the Charlotte Bobcats Jackson's focus will be on getting himself into game shape and ready to go for the real deal."Being able to get up and down the court, get my legs, my rhythm back," Jackson said. "Not just me, but for the whole team."If Jackson's health holds up, he's likely to be in the starting lineup against the Bobcats Sunday night in Charlotte."If nothing happens between now and opening night, there's a bout a 99.99999 percent chance that he starts," Skiles said. "We anticipate that being the case."Tough ending: The Bucks appeared to be in position to even their exhibition record before a couple of late gaffes gave Minnesota a one-point victory.Milwaukee led, 84-73 late in the game before Minnesota's Kevin Love scored 10 straight points to pull the Timberwolves within one, at 84-83. With 9.1 left to play, Beasley was fouled and hit both free throws to put Minnesota up by one and the Bucks' chance to pull out the victory failed when Jon Leuer's shot bounced off the rim just before time expired.Skiles said afterward that had it been a regular season game, he would have called a timeout to set up a final shot."I wanted to see what happened and we panicked," Skiles said. "There's going to be a time in the game when we don't have a timeout and we've got to be able to handle that situation."Skiles got balanced scoring from his roster. Drew Gooden led the way with 15 points while Luc Richard Mbah a Moute finished with 14 and Mike Dunleavy, Jr. added 13 in his Bucks debut. Andrew Bogut had seven points on 3-of-6 shooting and pulled down five rebounds in 23 minutes of work.The Bucks, though, struggled at the free-throw line, where they connected on just nine of 23 attempts."I'm not too worried about that," Skiles said. "We've got guys who can hit free throws. That's kind of a fluke."Harris, Livingston sit: Neither Tobias Harris or Shaun Livingston were active for the game.Livingston was held out of the game in the hopes of giving him a day of rest as opposed to any sort of health issue."He's been going so hard that I didn't want to overdo it," Skiles said. "I thought we'd give him a full day of rest today and come back tomorrow. I want to make sure we don't over do him. He came to camp in very good shape and he's played very well. But with Shaun, we just want to stay ahead of the game."Harris is still recovering from a bout of dehydration suffered earlier in camp.Starting lineup: Skiles started Brandon Jennings, Carlos Delfino, Mike Dunleavy, Jr., Luc Richard Mbah a Moute and Andrew Bogut Wednesday night but warned against reading too much into it."We're not married to anything yet," Skiles said. "We'll just take a look at it and see how it goes."
Read the rest of this story...
MORE FROM YARDBARKER
NBA News

Delivered to your inbox

You'll also receive Yardbarker's daily Top 10, featuring the best sports stories from around the web. Customize your newsletter to get articles on your favorite sports and teams. And the best part? It's free!