Found March 14, 2013 on Wizards Extreme:
PLAYERS:
John Wall
,
Ersan Ilyasova
,
Monta Ellis
,
Larry Sanders
,
J.J. Redick
,
Martell Webster
,
Bradley Beal
,
A.J. Price
,
Brandon Jennings
,
Garrett Temple
,
Trevor Ariza
TEAMS:
Washington Wizards
,
Milwaukee Bucks
wizards 106 bucks 93 3/13/2013 - Verizon Center, Washington, DC ESPN Boxscore NBA.com Game Highlights Ned Dishman The fearsome glare in John Wall's eyes during the 4th quarter was enough to tell the tale of the Washington Wizards tonight. And what a night it was for our beloved star. From just about every facet and every cylinder of the game, tonight simply defined what kind of player John Wall is expected to be in this league. His skill set, passion, poise, resilience and ultimate WILL TO WIN steered his team to accomplish just that tonight, as the Wizards shed off a 3rd quarter meltdown to defeat the Bucks 106-93 at the Phone Booth. We'll get to a lot more John Wall further down in the recap. For nearly the entire first half of play of tonight's game, the Wizards had the visiting Bucks under their control. Aside from sporadic buckets from Ersan Ilyasova, Monta Ellis and Larry Sanders, along with a brief scoring spurt from JJ Redick, the Bucks were missing a ton of shots in the first 24 minutes of play, while the Wizards were scoring at will. And for the second consecutive night, Martell Webster came out the tunnel running and gunning, pouring in 13 points in the 1st quarter alone, including three 3-pointers. He had 17 in the half and finished with 20 for the game. The Wizards took a 60-44 lead into the locker room at halftime and led by as many as 20 in the 3rd before the Bucks had just about enough. They answered with a stomach churning 25-6 run in a span of about 5 minutes to cut the lead to one. After being outscored 32-15 in the 3rd, the Wizards avenged their meltdown with a dominating 4th quarter, lead by John Wall and....Trevor.....Booker? Yup, THAT Trevor. Book reemerged as a force on the Wizards front line with a hard-nosed performance as he snatched down 12 rebounds (6 offensive) and displayed plenty of that hustle and tussle we've all dearly missed. This was definitely one of the more satisfying wins of season. More below... Yeah, we're going to keep the John Wall love train rolling into this segment. As  detailed by Martell Webster in his post-game interview, Wall simply carried the team on his back. On a night where the Wizards were sorely depleted in the backcourt with the absence of not only Bradley Beal, but also A.J. Price, Jonathan Hildred rose to the occasion beautifully. He knocked down jumper after jumper (including another 3!!!). He zipped up and down the court with uncontainable speed. He sacrificed his body on the pavement time and again. He also had an intense exchange with his coach during a timeout, an exchange that apparently was the driving factor in the Wizards' game-sealing surge in the final period. And while all was well with John's game tonight, he did mention after the game that he's still working his way back into top shape with every game. After seeing this type of performance from him tonight, I sure as hell can't wait for that to happen. John Wall: How about that defense? Wall was simply all over the court, stifling his opposing ball handler along with assisting his teammates defensively as well. Wall, who is generally hammered for his subpar pick and roll defense, had little trouble moving through screens and getting back to his man. And Brandon Jennings did very little to counter John's aggressiveness, and his numbers showed. Brandon Jennings: For the second straight game against John Wall and the Wizards this season, Jennings suffered a poor performance. Tonight he was only 2-for-8 from the field for only 8 points but did manage 10 dishes. For the record, here are Jennings' season average vs. the Wizards this season: 3-for-11, 9 points. :-) The Good While John Wall was marvelous, you've got to offer some of that love to Garrett Temple. Temple played a season-high 41 minutes tonight, rising to the occasion when the Wizards desperately needed it. He finished with 13 points on 6-for-7 shooting. Temple knocked down a few jumpers, but most of his points came right at the rim in transition. Trevor Ariza also played surprisingly well, considering he was a game-time decision nursing a knee injury. Ariza finished with 14 points in 30 minutes, continuing to help fill the void on offense with Beal out.   The Bad Once again, the Wizards couldn't complete a game without a messing with a man's emotions. Although the 3rd quarter was quickly forgotten thanks to a vengeful performance in the 4th, it doesn't erase the fact it happened. Outscored 32-15, the Wizards suffered through an awful lapse of turnovers, missed shots and bad defense. Coach Wittman, who was noticably pissed off, barked at his players during a timeout, which helped turn things around for the Wizards quickly and enabled them to finish the game strong.   The Ugly J.J. Redick will never escape the wrath of DC hecklers. Fans barked at him all night long and at times Redick was even noticed responding. But the crowd really intensified their disdain for Redick when he was at the free throw line in the 4th quarter, a time when we all know the noise level of the arena is usually at it's peak anyway in hopes for a free Chick-Fil-A sandwich. With Redick at the line, not only was the arena noise blaring, but fans were heard collectively chanting "J.J. SUCKS!" as he attempted his free throws. Redick's first attempt bounced off the side of the rim, which as you can image triggered an even louder crowd noise for the second attempt, which he sunk. Oh well, guess what -- Duke still sucks.
Original Story:
http://www.wizardsextreme.com/2013-ar...
THE BACKYARD
BEST OF MAXIM
RELATED ARTICLES
(AP Photo/Jim Prisching) This has certainly not been the season that all of us fans, the organization, and especially Trevor Booker thought he would have.  Wednesday night vs the Bucks, Booker showed what he can do and came up big for the Washington Wizards in a big win. The Wizards had blown a 20-point lead they had built in the first half and trailed by three entering the fourth...
Former number 1 overall pick John Wall has had an up and down career so far. He's battled injuries and the Wizards for the most part have been an underwhelming team during the John Wall era. Perhaps a slap in the face for the hopes the franchise had for him when they decided to take [...]
MILWAUKEE -- Monta Ellis has been asked multiple times this season when the dangerous offensive player everyone saw in Golden State was going to show up in Milwaukee. Ellis kept shrugging off the question, saying he was just playing within the offense. But since the trade deadline, something has clicked. Maybe the weight of numerous trade rumors are finally off of his mind, but...
Milwaukee Bucks center Larry Sanders was letting the officials know what he thought of their job performance. Unfortunately, they didn't see the humor in it. After being called for a charge with 2:45 left in Thursday's loss to the Washington Wizards, Sanders turned to each member of the officiating crew -- Bennie Adams, Kevin Cutler and Bennett Salvatore -- and gave them...
Larry Sanders may have gotten ejected against the Wizards, but he thinks the refs are doing a great job with three thumbs up.
wizards 96 hornets 87 3/15/2013 - Verizon Center, Washington, DC ESPN Boxscore NBA.com Game Highlights Ned Dishman No Beal. No Price. No Problem, thanks to John Wall. For the second game in a row, Wall had at least 23 points and 9 assists. For the second game in a row the Wizards leaned on their role players for points and for the second game in a row they did...
Not only does Milwaukee Bucks rookie center Larry Sanders, look like a future star in the NBA, but he may also have a future in comedy if he chooses to go that route. In the fourth quarter of the Bucks 106-93 loss to the Washington Wizards, Sanders got called for an offensive foul and he didn't like the call to say the least, repeatedly voiced his frustrations which resulted in...
The folks over at Grantland have chosen to get in spirit of March Madness by constructing a bracket of the most hated college players of the last 30 years — and letting readers decide the champion. Duke was awarded an entire region unto themselves, for two reasons, mainly: 1) they have that many hated players (for a multitude of irrational reasons the public has decided on), which...
MILWAUKEE -- As the Milwaukee Bucks get three back from injury Tuesday night, starting small forward Luc Richard Mbah a Moute will sit out the game against the Mavericks with turf toe. Power forward Ersan Ilyasova, center Larry Sanders and guard J.J. Redick all will be available against Dallas, with Ilyasova and Sanders returning to the starting lineup. Mike Dunleavy will start...
If you are going to get ejection a game why not go out in style and give the refs a thumbs up along the way? After all, since the refs keep the game safe and fair they deserve the support of the players, right? I'm sure that was exactly what Sanders was doing too. Hey--at least he gave them a thumb instead of another finger like most guys would...
The Milwaukee Bucks have been playing much better on the road lately. The Washington Wizards have definitely been a much more dangerous team in the nation's capital. Milwaukee goes for its fifth road win in six tries on Wednesday night while the Wizards look for a 13th victory in their last 17 home games. Back from a 2-1 Western road trip, the Bucks (32-30) lost for just the...
NBA News

Delivered to your inbox

You'll also receive Yardbarker's daily Top 10, featuring the best sports stories from around the web. Customize your newsletter to get articles on your favorite sports and teams. And the best part? It's free!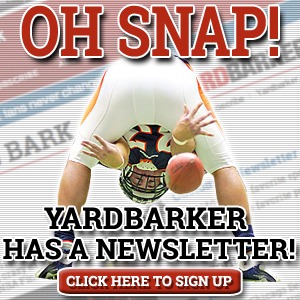 Latest Rumors
Best of Yardbarker

Today's Best Stuff

For Bloggers

Join the Yardbarker Network for more promotion, traffic, and money.

Company Info

Help

What is Yardbarker?

Yardbarker is the largest network of sports blogs and pro athlete blogs on the web. This site is the hub of the Yardbarker Network, where our editors and algorithms curate the best sports content from our network and beyond.